Tough as the land it was built on: Wolfdancer Golf Club near Austin, Texas

By
David R. Holland
,
Contributor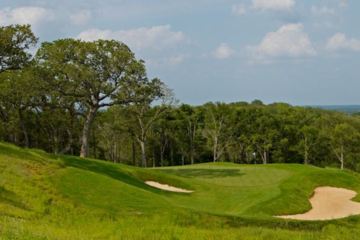 View large image | More photos
Wolfdancer Golf Club's par-3 12th hole is one of the most photographed holes in central Texas. (Courtesy of Wolfdancer G.C.)
LOST PINES, Texas -- Wolfdancer Golf Club pays homage to the Tonkawa tribe of central Texas, who lived on this dramatic land -- dotted with pecan trees, cedar elms and oaks with the Colorado River flowing along its final holes.
Life was tough when the Tonkawas survived on the terrain and did a ritualistic dance -- on all fours, covered by a wolf hide -- in honor of the wolf.
And "tough" is a theme Kelly O'Donnell, director of golf, noticed quickly when he opened the course back in 2006, and it was honored on Golf Magazine's "Top 10 New Courses You Can Play List."
"Many times a golfer will tell me Wolfdancer is the hardest golf course they have ever played," O'Donnell said. "But they can't wait to play it again. It doesn't really beat you up from the forward tees, but there are no easy holes. And the slope rating is fourth hardest in Texas (76.1/137)."
Wolfdancer Golf Club: Embrace the topography
Designed in 2006 by the team of Arthur Hills and Steve Forrest, this 7,205-yard, par-72 test rolls over 150 of the massive, 405-acre Hyatt Lost Pines Resort property. In 2012 the course was awarded Certified Audubon Cooperative Sanctuary status.
The acreage was once a cattle ranch owned by Marjorie "Tiny" Leach, who still frequents the property and owns an Austin leather shop -- and, yes, she was a golfer. Now in her 80s, Leach worked a half-century on behalf of the Texas Women's Amateur Golf Association. Each year, the TWAGA Championship trophy is given in honor of Tiny as a tribute to all she has given to the organization.
The golf course's defense comes from its "topography and wind," said O'Donnell. "It is kind of like Colonial in Fort Worth -- sometimes it seems like the wind never favors you."
Rolling prairie land takes you through the first four holes, then a wooded ridge line comes into play on 5 through 12. The finishing holes 13 through 18 take you on a journey along the trees and shade of the valley that borders the Colorado River. You will appreciate the GPS on the carts.
Wolfdancer Golf Club: Some fun holes
No. 15 -- a 333-yard par 4 -- may be short, but the entire right side is a forest of pecan trees, which can be flown over, and the elevated green with two kidney-shaped bunkers left, reminds O'Donnell of an old American classic hole.
Par the sixth, a 180-yard par 4, and you just might win a bet. This beauty has a water feature in front and going up the left side, but the beast is the green. There are four quadrants, and it will leave many a golfer mumbling.
"One of my solutions for this difficult green," O'Donnell said, "is to cut two holes on the green, just for the fun of it. Hit your drive and play to the better option." If you are a stickler for rules, just declare to your partners which hole position you will be playing.
Elevation fun is yours at the par-3, 155-yard 12th, one of the most photographed holes in Central Texas. This downhill shot must be precise, because it appears there's very little margin for error. The panorama opens up to views of the course, the river and the resort.
Wolfdancer Golf Club: The verdict
Wolfdancer Golf Club's fairways are generous, the terrain beautiful and the greens remind O'Donnell of Donald Ross.
"I think Hills is a disciple of Ross, who liked small greens with false edges and quick run-offs," O'Donnell said. "This course may be tough and the greens fast and difficult at times, but most good golfers like fast greens better than slow greens."
This is fun, challenging golf in an awesome location.
The practice area includes a 13-acre driving range, a full-scale practice facility with 10 target greens and eight tee boxes, a short-game area with two chipping greens and bunkers. Wolfdancer also offers the Callaway club rental program, as well as annual family and individual memberships.
The Wolfdancer Academy of Golf was established to deliver a customized golf learning experience by offering individual instruction as well as family or group clinics led by PGA certified instructors. A Callaway club rental program is also available.
Where to stay: Hyatt Lost Pines Resort
This is one of the best resorts in Texas by a long shot. The 405-acre Hyatt Regency Lost Pines Resort and Spa is a 491-room destination resort adjacent to the 1,100-acre McKinney Roughs Nature Park.
Bring the kids or grandkids -- there's the Crooked River Water Park with a two-story water slide, full-service Spa Django, rooms you will love, horseback riding, river rafting and horseshoe pitching.
Major Neighbor's Grill, one of nine year-round and seasonal dining options at the resort, is located in the clubhouse. Two other dining options are Stories and the Firewheel Cafe.
Hyatt Lost Pines is approximately 25 minutes of east of the "Live Music Capital of the World" and just 13 miles east of Austin-Bergstrom International Airport off State Highway 71.
More photos
«
»
May 21, 2013
David R. Holland is an award-winning former sportswriter for The Dallas Morning News, football magazine publisher, and author of The Colorado Golf Bible. Before launching a career as a travel/golf writer, he achieved the rank of Lieutenant Colonel in the Air Force reserve, serving during the Vietnam and Desert Storm eras. Follow Dave on Twitter @David_R_Holland.