Weak U.S. dollar means big savings for Europeans on golf trips and gear

By
Brandon Tucker
,
Managing Editor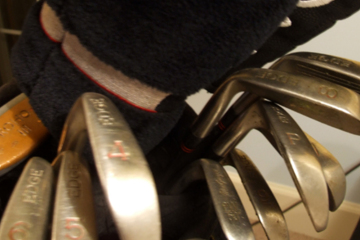 View large image | More photos
More and more Europeans are replacing their old clubs in the United States. (Brandon Tucker/GolfPublisher.com)
The tumbling dollar is great news for European golfers used to shelling out big euros and pounds for equipment. Myrtle Beach and Orlando are two top U.S. destinations for great golf and deals on clubs and other gear.
European golfers, there's never been a better time to take your cash and frivolously spend it in the States.
A global superpower America may be, but its currency is as weak as linguini compared to the other side of the pond. The euro was worth a near record $1.36 to the greenback in early May, and the British pound is hovering around $2.
Much like Americans might venture to Mexico for cheap tequila, Europeans are jumping budget flights to the United States for electronics, clothing, even golf gear. The exchange-rate discounts only boosts the savings overseas shoppers get by avoiding the import costs and sales taxes that can boost European equipment prices by 30 to 60 percent.
"We just had someone in here from the Netherlands who bought $2,000 worth of equipment," said Brantley Wilkins, a manager at Golf Dimensions, a golf-gear superstore in Myrtle Beach.
"Then someone else from Europe was trying to decide between the Superquad [driver, $400] and the Superquad TP [$800]. He decided on the TP because he figured if he went home and decided he didn't like it, he could sell. They go for $1,200 over there."
Depending on what you're shopping for and how high-end you want to go, the savings can be significant.
Looking for a driver? Nike's new Square Sasquatch runs £249.99 (about $500 U.S.) at OnlineGolf.co.uk, versus $399 at Edwin Watts. TaylorMade's R7 Quad series, £199 overseas at British online outlets, can be found on sale for $199 at some U.S. stores.
Irons? Nike Combo Tour Irons and Titleist 755s run as low as $699 in the States compared to £499 in the U.K.
Don't forget to stock up on balls stateside. Online retailer Direct Golf U.K. lists a box of Pro-V 1s at £32.99, or $66 - $20 more than you'll pay at Edwin Watts.
But you're not going to fly transatlantic just to stock up on cheap goods and head back to Europe, are you? Who wants to wait to play with all those new toys? On the east coast, Myrtle Beach and Orlando offer a great combination of super savings on gear and great golf courses to try it out on.
Where to shop and golf in Myrtle Beach
First off, bring your old clubs with you - you'll be able to trade them in outlets like Martin's PGA Tour Superstore and Golf Dimensions. You won't get top dollar, but you will get convenience and $150-$250 trade-in value on a good set.
Not for nothing is Myrtle Beach nicknamed the "Supermarket of Golf." With more than 110 golf courses fighting it out for customers, few golf destinations offer more bang for your buck.
Just about every course on the Grand Strand offers discounted replays, and plenty of packagers include sweeteners, like a free round if you play at least five over a three-or-more-night stay.
Many Grand Strand courses are simply good deals in their own right. Local favorite Possum Trot Golf Club charges $79 in peak season, and it's as well-conditioned as many an upscale track. Myrtlewood Golf Club has two popular mid-level tracks, both in solid shape and always priced under $80.
If you want to blow through a little more of that money you saved on equipment, Pawleys Island, about a half-hour drive south from the heart of Myrtle Beach, is home to high-end ($120-$200) courses like Caledonia Golf & Fish Club, Heritage Club and Pawleys Plantation.
There's value even in this upscale neck of the woods, though, including River Club and Willbrook Plantation.
For more information on Myrtle Beach golf vacations and tee-times, call 866-409-2177 or click here.
Orlando: Great golf and direct flights
As befits what might be America's tourism capital, Orlando is easier to get to than Myrtle Beach, with nonstop flights from most European and U.K. hubs.
As Orlando is theme-park central, its golf scene is relatively unheralded, but there are more than 100 courses, tending toward the upscale. Golf superstores abound here too. The Edwin Watts National Golf Clearance Center on I-Drive will have the best bargains; America's Golf Outlet is down the road.
Disney World alone has five tracks at three separate facilities, including designs by Tom Fazio (Osprey Ridge) and Pete Dye (Eagle Pines).
Other top Orlando golf options include Bay Hill Golf Resort & Lodge, an Arnold Palmer design that hosts the PGA Tour's Arnold Palmer Invitational, and Grand Cypress Resort, with 45 holes Jack Nicklaus golf and one of America's top-rated golf shops.
The Orlando area's most complete golf facility is Orange County National, which features two championship courses, a par-3 track, a massive practice facility and a teaching academy.
More photos
«
»
May 14, 2007
Brandon Tucker is the Managing Editor for Golf Advisor. To date, his golf travels have taken him to over two dozen countries and over 500 golf courses worldwide. While he's played some of the most prestigious courses in the world, Tucker's favorite way to play the game is on a great muni in under three hours. Follow Brandon on Twitter at @BrandonTucker and on Instagram at BrandonTuckerGC.