Vijay Singh reflects on his record-setting year
By Anam Arsalan,
Contributor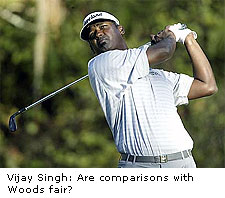 NEW DELHI, India - Plop, plop, plop and plop: four white balls came from nowhere and fell on the finely-cut green grass.
The four balls came from Indian-born, Swedish player Daniel Chopra, reigning British Open champion Todd Hamilton and the self-proclaimed skins format expert, Justin Rose.
But that's just three - who hit this one so close to the pin? That's what you might have asked if you were at the DLF Golf Course in Gurgaon, near the Indian capital, where the Bilt Skins 2004 Golf Tournament was played.
It was Vijay Singh, for few golfers can hit it so far and accurately. Singh's strength and technique, as well as his relentless practice habits, helped him clinch the number one spot in the world this year, pushing Tiger Woods behind.
"He (Tiger) is basically a good guy and a good player," Singh said, before relating a Tiger tale. "This happened at Deutsche Bank Championship (Norton, Massachusetts), where we both were playing. He was trying very hard not to give way, so the only way I could have defeated Tiger was by hitting as close to the pin as I could.
"Tiger, on any given day, is a better putter," Singh added. "But I think it was bound to happen some time or other. If it would not have been for me, then somebody else would have overcome him, maybe Ernie Els."
Singh said he never targeted Woods specifically.
"I never wanted to beat him," Singh said. "I just wanted to be the very best and for that I had to be on the top. I could have displaced just about anyone for that slot. That is one of the biggest thrills you can actually have in golf. But I think the hardest part will be to keep it. I think one of the hardest things to do is to constantly stay up there, no matter what profession you are in. And I think that will be my goal for next year, to see how long I can stay up there."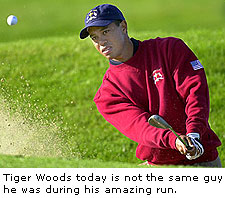 On the ranking system, Singh said: "There are different systems for ranking a player, but I think the current two-year ranking system is the most consistent and fairest method, and going by that system, I would try to remain in the top slot for long."
Reflecting on the key points that helped him succeed this year, he said: "I think confidence is one, because when you are playing well, you get a lot of confidence in your game. When you are playing well you are looking forward to going out there and winning the tournament, not just playing well or making the cut. Secondly, it's focus. Basically, it all comes down to focus and confidence. And then I was lucky to have won nine tournaments this year."
Those nine victories saw him finish off the season with a record $10 million. What does he plan to do with all that money, now that the season is over?
"Well, I really don't know," he said, and then went on to speak on his forthcoming engagements, evading the moolah factor as best he could.
"The season is over and now I am relatively free," said Singh. "So I will just concentrate on my personal routine and doing my exercises, going to the gym. and all. But, first I will be playing two tournaments. First the Grand Slam event in Hawaii and second the Father and Sons Tournament in Orlando. Then I head back home, take a few days off and prepare for the next season starting in January."
Pressed further on the first question, Singh admitted he had a project in mind.
"I have plans for designing a golf course in Fiji," said the 41-year-old pro, who has been working on the project for the past seven years. "I just have a great interest in building a good golf course back home."
The course will be at Natadola Marine Resort, a short drive from Nadi, where Singh grew up.
Apart from golf, Singh runs a charity foundation, the Vijay Singh Foundation in the U.S.
"The foundation is based in Florida, where I live," Singh said. "It does not cater to something specific, but tries to help out people from different areas and having different needs."
Singh was asked if he ever tried to trace his Indian roots.
"Yes, I did, but since I have never met my grandparents, it was a tough task for me," he said. "But, I am still interested in finding about my ancestors. Hopefully, some day I may just stumble on something interesting in that regard."
The question invariably came up about why India is not doing well in the game abroad.
"Not enough (Indian) golfers are coming out and playing abroad," Singh said. "There are only four Indians playing on the U.S. PGA. You need a constant flow of talent, and the society and businesses need to lift the local players (to the international circuit). Only then can the sport flourish."
Singh gave the example of India's Order of Merit leader, Ashok Kumar, and added, "He is good, but he can't play as he doesn't have enough sponsors."
Singh praised the Indian hospitality, noting the 4,000-strong crowd which came to cheer him at the DLF golf course, where he was busy showing his prowess against Hamilton, Rose and Chopra. He did admit, however, that the occasional buzzing of cell phones distracted him a bit during the game.
"The hospitality was good and so was the crowd, but next time around, I hope they forget to carry their mobiles with them," he said.
November 22, 2004