Nine Las Vegas golf holes that are both beautiful and treacherous

By
Bill Bowman
,
Contributor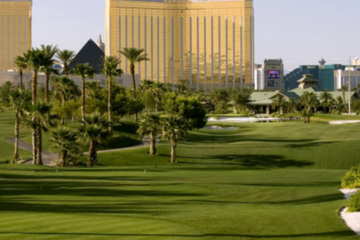 View large image | More photos
Bali Hai Golf Club's 18th hole is as tough to play as it is visually stunning. (Courtesy of Bali Hai G.C.)
With courses such as Bali Hai Golf Club, Cascata and Desert Pines Golf Club, it's no surprise Las Vegas has lots of tough holes. Here are the nine that combine the hardest hits with the prettiest sights.
LAS VEGAS -- They say beauty is in the eye of the beholder. That's also true on the golf course where one man's beautiful golf hole can be another man's nightmare.
Well, we've combined both in picking out nine Las Vegas golf holes that are stunning to look at and -- at times -- a nightmare to play. Go ahead, take them on. We dare you.
The par-4 18th at Bali Hai G.C. has it all: lush green foliage, sparkling blue pond, brilliant white-sand bunkers and length -- try 486 yards from the tips.
When the duo of Schmidt/Curley finished up on this masterpiece of a golf hole, they had to just sit back and smile, knowing they just created a golf hole that is as tough to play as it is visually stunning.
Bear's Best, a Jack Nicklaus layout, features 18 of his best designs from Southwest courses including the 18th, which is a replica of PGA West's Resort Course in La Quinta, Calif.
The par 4 reaches 463 yards from the tips with sand and water running the entire right side of the hole making for tough tee shots and even tougher approach shots. The approach is to a sloping green with water lapping right up next to it.
Intimidating doesn't even begin to describe this thrilling hole from one of the world's best players and designers.
From the tips, Cascata, a Rees Jones design, reaches just 434 yards, which isn't all that intimidating. But there are two tough shots here: the tee shot from an elevated tee to a small landing area guarded by a stream and trees on the right side (it's a dogleg right hole, so going left adds yards on to approach shots).
That sets the stage for the second tough shot, the approach into a green with a huge pond right in front of it. One hint: Don't be short, as balls will gently roll back into the pond. A pair of bunkers around the green also add to the challenge.
On the scorecard, this 12th at Desert Pines Golf Club should be easy. A par 4 measuring just 425 yards from the tips, it's not the length that makes this one tough. It's the intimidating surroundings.
On the tee, players must navigate between two stands of tall pines on this hole aptly named Tunnel Vision. In the fairway (hopefully), players will then get an eyeful of the traditional Dye-designed, railroad tie-bordered bunkers.
Add in desert landscaping, and this hole is a gorgeous test of golf.
It's not every day a par 5 is on a beautiful/tough list, but this one at Legacy Golf Club makes it with ease.
This one, designed by Arthur Hills, plays just 515 yards from the tips and features a wide landing area. That's the good news. Then comes the challenge: Hitting a second shot here brings up that favorite question, "Do I lay up or go for it in two?"
Either way is tough. Laying up requires a shot into an area that looks like a man's tie -- long and narrow. Add in the fact that the fairway slopes toward a menacing pond, and the shot just got a little tougher. Going for it in two? No problem.
Just avoid the four bunkers that guard the green and that ever-present pond, and you're home free. It's one short -- and tough -- golf hole.
OK, so we have another par 5 in the mix. Shoot me. Better yet, shoot for this green in two -- if you've got the game.
Rees Jones came up with another test here at Rio Secco G.C. that will have players checking their blood pressure before pulling a club and taking on this 566-yard brute. Only the biggest of hitters need try.
For others, even the third shot is tough as this sloping green will hold only the best of shots so better work on that short game in order to get up and down.
TPC Las Vegas played host to the PGA Tour for many years, so it definitely has its share of tough holes. But one in particular can wreak havoc on a scorecard: the par-4 14th.
Playing just 365 yards from the tips, this hole on the course, designed by Bobby Weed and Raymond Floyd, isn't long but it is tough. A blind tee shot to an angled fairway is the first tough task. It's all carry over a gorge (hence the name -- "Gorge-ous.")
If players do find the fairway, the task is halfway complete. The second half features a short shot to a green tucked right behind a deep ravine. One hint: Don't be short unless you have climbing boots, pitons and a 75-degree wedge. It's a 15-foot drop to the floor below, and you'll see plenty of golf balls from players who didn't take enough club or who went flag-hunting on this short but dangerous hole.
That's not a mirage in front of you, it's a huge pond, and it's surrounding the front, left and right sides of this Ted Robinson-designed finishing hole at Chimera Golf Club.
This 440-yard hole plays straightway off the tee and looks anything but intimidating ... until you get to your ball off the tee. Then players will see a lush green that seemingly sits smack in the middle of a deep-blue pond. Breathe deeply as you try to pick the right club to avoid a watery grave. (Chimera Golf Club was formerly known as Tuscany Golf Club.)
We've saved the best for last. Vegas' version of TPC Sawgrass' famed island hole, the 15th on the Wolf course at Las Vegas Paiute Golf Resort is just as impressive to look at from the tee. Now hitting a shot onto this green, that's a whole different story.
Playing 182 yards, this island green floats beautifully in front of your eyes. Try not to add to the thousands of golf balls that were so close to finding land.
There you have it -- nine of Vegas' most beautiful and treacherous golf holes. Oh, there are plenty more golf holes in Vegas that are just as beautiful -- and just as challenging.
But these nine holes will have you smiling on the tee box as you try to take in the beauty of each hole before taking your best shot.
More photos
«
»
September 6, 2010
Bill Bowman is a Las Vegas-based writer who has more than 40 years in the sports-writing business. He's spent the past 16-plus years covering the golf scene in Vegas and has teed it up for magazine profiles with celebrities including comedian Bill Engvall, actor Jeffrey Donovan (USA's Burn Notice), ESPN personality Colin Cowherd, NASCAR's Kurt Busch, Collective Soul's Ed Roland, the Baltimore Ravens' Jonathan Ogden and many others.