New Jersey golf: The scoop on the best places to tee it up around Atlantic City

By
Katharine Dyson
,
Special Contributor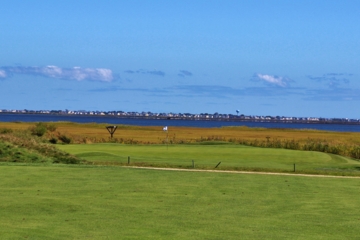 View large image | More photos
Donald Ross designed the Bay Course at Stockton Seaview Hotel and Golf Club in 1914. (Jason Scott Deegan/TravelGolf)
Set along New Jersey's south shore, Atlantic City has weathered storms and economic ups and downs with panache. A brash, gritty metropolis, its gleaming flashy casino hotels stand tall against the sky, while its historic boardwalk continues to draw visitors eager to experience the salt air, the sea and the energy. People come to Atlantic City to roll the dice, spin the wheel, dig into a White House Sub and, yes, play golf on more than 20 courses. And just like blackjack or poker, you have choices.
Here are some of the best.
Atlantic City Country Club
In the early 1900s -- when trolleys carried golfers back to Atlantic City from the exclusive Atlantic City Country Club in Northfield -- a bell would ring announcing the last car, a tradition reflected today in the club's logo.
Designed by William Flynn (1897), the club was hallowed ground for golfing legends such as Walter Travis, "Babe" Zaharias and Sam Snead. Since then, the course has been updated, most recently by Tom Doak (2000) who lengthened some holes, shortened others, but, in general, stayed true to the original bones. He retained the roll-up greens, basic routing and character.
It's an historic beauty with a few Doak twists, such as two new holes reaching out into the thick marshes. Some holes reveal cool views of Atlantic City over the wetlands, while others are cut through groves of trees. Playing the course reminded me of legendary links such as Royal Porthcawl in Wales and Royal West Norfolk in England. Did the terms "birdie" and "eagle" originate here? So they say.
The Bay Course at Stockton Seaview Hotel and Golf Club
I love classic Ross, so I found the Bay Course at the Stockton Seaview Resort in Galloway a joy to play. Basically flat with thick rough and heavy bunkering around the greens, Bay was designed by Donald Ross in 1914.
Stretching out to the marshes and Reeds Bay with views of the glassy Atlantic City Skyline in the distance, it has few trees but plenty of tall grasses that enthusiastically suck up errant balls. Ross aficionados won't be disappointed to find the master's legendary domed greens rising up through the reeds. Restored in 1998 by Robert Cupp Jr., Bay is in excellent form under Troon Golf's keen penchant for conditioning.
Beware the winds sweeping off the Atlantic as you play Bay. Also, tee up at Seaview's other golf course, The Pines by Howard Toomey and William Flynn's, dating from 1929. Carved out of Jersey pinelands, it's a very different animal from Bay.
Blue Heron Pines Golf Club
At 6,777 yards, you might consider it short by today's standards, but Blue Heron Pines Golf Club in Cologne is by no means short on much else.
Stephen Kay has crafted many memorable holes set on gently rolling terrain with fairways cut through native pinelands. Opening in 1993, it's one of the more scenic tracks in the area. From the first hole, it just keeps getting better, with subtly undulating greens, fairways and bunkers. By the time you hit the par-5 14th and go on to play the remaining back nine, you'll understand why it was selected by The Press of Atlantic City, Casino Connection Magazine and numerous other publications as the best 18-hole course on the Jersey Shore.
Close to Atlantic City's regional airport, Heron Pines is perfectly located for those high rollers who want to fly in to get to the course quickly, play some golf, then hit the casino.
Twisted Dune Golf Club
If you have a tendency to spray your drives, the open, treeless fairways of Twisted Dune Golf Club in Egg Harbor Township should be a welcome feature. Hitting off-course into the fescue and other tall grasses and heather or into the hard Jersey sand is another matter.
The course has some surprising elevation changes especially for this part of New Jersey. It is evident the architect, Archie Struthers, pushed, shoved and dug a lot of earth -- about 2 million cubic yards -- to create the vast waste bunkers and rugged dunes that define the fairways, some rising to 40 feet.
Wind can be a big factor in how you play, especially if it's blowing right at you on holes such as the par 3s, 13th and 16th, where you have to carry water or a ravine. Greens are large (up to 75 yards wide), so that helps. If you've played links courses in Ireland or Scotland where it's often hard to determine which way to go, you'll get the picture.
Ballamor Golf Club
Throwing its hat in the ring of top Jersey shore courses, Ballamor Golf Club, also in Egg Harbor Township, was formerly a private club going the more traditional route with manicured grounds, stonewalls and classic bunkering.
Designed by Brian Ault, Dan Schlegel and Tom Clark (2001), like Twisted Dune, it has wide-open fairways plus a peaceful setting unmarred by houses, but if you're a walker, forget it. Distances from greens to the next tee are long, and the ninth is far from the clubhouse.
When it first opened, the behemoth, multi-tiered greens were lightning fast, the fescue a bear to deal with. Both have been notched back a bit to make it more playable for all levels. Ballamor has tall trees, ponds to carry, hills to climb, but the generous landing and bailout areas make it quite possible to play a round without losing a ball.
More photos
«
»
June 11, 2014
Katharine Dyson is a golf and travel writer for several national publications as well as guidebook author and radio commentator. Her journeys have taken her around the world playing courses and finding unique places to stay. She is a member of the Golf Writers Association of America, Metropolitan Golf Writers of America; Golf Travel Writers Organization and Society of American Travel Writers. Follow Katharine on Twitter at @kathiegolf.