Tips for planning your winter golf vacation in Myrtle Beach

By
Brandon Tucker
,
Managing Editor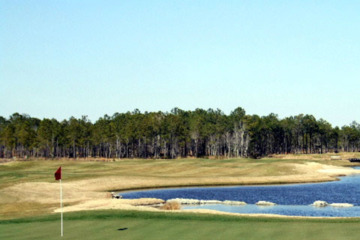 View large image | More photos
The rough at Myrtle Beach courses like Leopard's Chase go dormant in the winter, but playing conditions don't differ much on most area fairways. (Brandon Tucker/WorldGolf.com)
Snow birds from the east coast can't get enough of Myrtle Beach golf. Once fall rolls around, the carousel at Myrtle Beach Airport is full of golf bags, especially on flights from New York's LaGuardia Airport.
Local booking agents say early October is when winter times start selling like hot cakes at Myrtle Beach golf courses, and those coveted 10 a.m. slots begin disappearing. Though not as popular a time of year as the spring, fewer hours of daylight means less tee times are to be had.
What can the starved golfer from the north expect of winter golf in Myrtle Beach?
Winter temperatures in Myrtle Beach aren't exactly balmy, but rest assured snow is all but unheard of and courses are open every day. Cold spells can reach the mid 40s during the day, while days in the 60s or even 70s are possible as well. From December through February, historical average highs in Myrtle Beach are around 60 degrees.
During a cold spell, frost delays can push tee times back an hour or so, but higher-end courses usually don't start their tee times until after 9 a.m. in the winter months to allow an hour or so for the frost to burn off. It's best to check the weather forecast the night before and call the course in the morning so you know if your tee time has been pushed back.
Conditions on the golf course aren't as good as ideal spring conditions, but the fairways and greens play similar. Most courses over-seed the greens and fairways in the fall to cater to winter players. The rough at most courses is not over-seeded and often goes dormant - turning brown. They aren't as pretty to look at - and the azaleas aren't blooming anywhere, but the golf courses are going to play the same.
Myrtle Beach golf: Replays more likely during holidays
Replays are a big draw in Myrtle Beach all times of year and most courses set tee times aside in the afternoon to allow for discounted play. This is true in the winter as well, but the smaller window of daylight can make more than 18 holes a stretch if courses have full tee sheets.
If you're especially keen on replays, from Dec. 10 through the New Year, out-of-towners tend to be stuck with family and can't escape on a buddy trip for an extended golf weekend. These are the weeks where courses are the emptiest during the winter, receiving mostly local play. You're most likely to play faster and get in 27 or possibly 36-holes in a day.
Book early Myrtle Beach tee times
There are plenty of tee times and hotel rooms to go around in the winter months, since all the summer beach bums are long gone, so you're going to find a bed and golf course any day you want. The only thing last-minute golfers should worry about is that if you book a tee time into the afternoon, frost delays could push your tee time back further, and you run the risk of hitting dusk before you finish. In most cases, it's best to try and find a tee time on the earlier than later side. Most high-end golf courses won't oversell their courses in order to allow for everyone to finish. But lower and mid-ranged courses will book times later into the day.
More photos
«
»
October 16, 2007
Brandon Tucker is the Managing Editor for Golf Advisor. To date, his golf travels have taken him to over two dozen countries and over 500 golf courses worldwide. While he's played some of the most prestigious courses in the world, Tucker's favorite way to play the game is on a great muni in under three hours. Follow Brandon on Twitter at @BrandonTucker and on Instagram at BrandonTuckerGC.