Tiger Woods to announce his retirement from golf

By
William K. Wolfrum
,
Contributor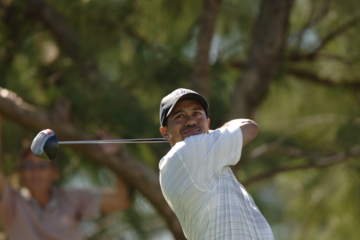 View large image
What will Tiger Woods' retirement mean to pro golf? (Courtesy PGA of America)
After he winds his way down the 18th fairway of Augusta in this year's Masters, Tiger Woods' epic chase for golf's most hallowed records will come to an end.
Woods will announce his retirement from competitive golf, say sources unwilling to be identified. A press conference is rumored to be scheduled for Friday.
"That's it, it's over," the source said April 1. "Tiger is moving on to full-time fatherhood and other challenges.
The source went on to say that there are rumors that Woods, who has been in the public eye since the age of three, has burned out on golf, and may even look to other sports as a way to unleash his legendary competitiveness.
"Tiger and Roger Federer have been spending a lot of time working on Tiger's tennis game," said the source. "Tiger's serve is already approaching the 125-mph range, so I wouldn't be surprised to eventually see him try to add a Wimbledon trophy to his golf accomplishments.
Woods will retire with at least 64 career PGA Tour victories and 13 major triumphs. At least one Woods fan claimed disbelief in the possibility of a PGA Tour without the venerable Tiger.
"This is the worst news I've ever heard," said Donald Trump. "Seriously, why in the hell would anyone want to watch the PGA now?"
Some anonymous sources have added that there are rumors that Woods will work full-time with Michelle Wie, both as a tutor and golf coach.
"Tiger's been to Stanford and been at the top of golf," said the source. "Plus, if he worked with Wie, that would likely take care of his commitments to Nike."
The news of Elin's pending triplets was accidentally leaked on the television show "Oprah."
With Woods leaving the game, caddie Steve Williams has let it be known that he will stay in golf, but no longer as a looper. He will be accepting a position with Sports Illustrated as a golf photographer.
Aside from an eventual tennis career, work with Wie and a job as a father of four, Woods will also continue his work with his charity, The Tiger Woods Foundation, as well as work as a consultant for the Tavistock Group.
Woods could not be reached for comment, but someone who could have been a spokesman said "Dude, what are you on?" when asked about Woods' imminent retirement.
Nonetheless, the anonymous sources stand by their rumor.
"He's done. Face it, this will basically end golf as we know it," said the source. "But man, could it be good for tennis, or what?"
April 1, 2008
William K. Wolfrum keeps one eye on the PGA Tour and another watching golf vacation hotspots and letting travelers in on the best place to vacation. You can follow him on Twitter @Wolfrum.