The Tiger era: Ten years in and golf will never be the same

By
Brandon Tucker
,
Managing Editor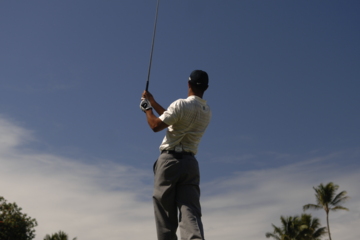 View large image | More photos
Tiger Woods has been on the PGA Tour for just a decade, but has changed, but has changed golf in numerous ways. (Courtesy PGA of America)
Almost from the day he was born, Eldrick Woods showed a passion for golf. From his first practice swing to his Nike deal to his 12th major and 52nd PGA Tour victory, WorldGolf.com charts Tiger's long list of accomplishments.
Tiger Woods made his PGA Tour debut in 1996. But from his TV appearances as a swinging 2-year-old to his unprecedented dominance at the junior and amateur levels, the golf world certainly saw him coming.
So did Nike, which signed a $40-million deal with Woods as soon as he turned pro, using the ready-made icon to enter a golf market then dominated by Titleist, Callaway and Taylor Made.
Financially set before he'd won a dollar in official prize money, Woods quickly went about justifying the hype. He won twice in his abbreviated rookie season. The following year he captured the Masters in his first entry as a pro, playing the final round in his trademark (and trademarked) red shirt. He claimed the world No. 1 ranking at age 21, eight years younger than anyone had done it before (the previous youngest No. 1 was 29-year-old Bernhard Langer in 1986).
The golf world quickly reacted to his uncanny blend of power and precision, "Tiger-proofing" courses in a bid to restore balance to the Tour. Augusta National and numerous other stops installed new championship tees and bunkers designed to corral 300-plus-yard drives. New courses were built to 7,500 yards and beyond; classic 1920s designs were deemed obsolete if they didn't add length.
A decade after he brought heretofore unseen power to professional golf, at least some of the field appears to have caught up with Woods. In his first five on the Tour he finished either 2nd or 3rd in driving distance, but recently he has recently slipped to as low as 12th.
As Woods' dominance ebbed, critics weighed in. Most Tour pros reach their peak in their early or mid-30s (Phil Mickelson didn't win a major until age 33), but the physical wear and tear of Woods' powerful swing was said to accelerate the cycle, causing his peak to come, and go, early.
Others suggested that, virtually unchallenged at the top of the pyramid for so long, he was losing his edge - a theory his father and mentor, the late Earl Woods, dismissed.
"He doesn't need a challenge," Earl Woods said. "I think that is the worst misconception going, that the No.1 golfer needs a No. 2 golfer to push him. Tiger is pushed by history and by records and by his own goals. He doesn't need anybody pushing him."
But as Tiger struggled in 2003 and 2004, the criticism grew louder. Woods cited swing changes designed to make him better over the long haul, but many thought he made a mistake leaving his former swing coach, Butch Harmon. In 2004, the unthinkable happened: Vijay Singh pushed Tiger out of the No. 1 ranking he'd held for 264 consecutive weeks.
After going two full seasons without a major championship, Tiger finally broke through at the Masters in 2005, then claimed the British Open. His No. 1 ranking solidified again.
His 11th major title, at this year's British Open, silenced those who claimed he lacked control and hadn't mastered course management. Playing at a sun-dried Royal Liverpool Golf Club, Woods used his driver just once, manipulating the course with 2- and 3-irons and controlling the tournament wire-to-wire.
Jack Nicklaus came to grips long ago with the likelihood that Woods would surpass most of his records, as indeed he has done.
"There isn't a flaw in his golf or his makeup. He will win more majors than Arnold Palmer and me combined," the Golden Bear famously back ihn 1996. "Somebody is going to dust my records. It might as well be Tiger, because he's such a great kid. He has the finest, fundamentally sound golf swing I've ever seen."
While Woods maintains the majors mean the most to him, he has racked up regular PGA Tour victories too - 51 of them, giving him a real shot at catching Sam Snead's all-time record of 82.
"It's going to be a lifetime, a career, to get to that point and attain something like that," Woods said of Snead's mark. "It took me 10 years to get here. Hopefully I can continue playing well over the next 10, 20 years."
2006: Father and mentor Earl Woods dies in May after long bout with cancer. Woods sits out tournaments between Masters and U.S. Open, where he misses his first major cut as a pro. Returns to form at the British Open at Royal Liverpool, taking his 11th major, then wins the Buick Open for his 50th Tour title. At 30, he is the youngest player to reach 50 wins, breaking Jack Nicklaus' record by three years. He then follows that up by winning his 12th major, the PGA Championship, at Medinah. Woods then wins his next two events, including the Bridgestone Invitational, to give him four consecutive victories and 52 overall.
More photos
«
»
August 28, 2006
Brandon Tucker is the Managing Editor for Golf Advisor. To date, his golf travels have taken him to over two dozen countries and over 500 golf courses worldwide. While he's played some of the most prestigious courses in the world, Tucker's favorite way to play the game is on a great muni in under three hours. Follow Brandon on Twitter at @BrandonTucker and on Instagram at BrandonTuckerGC.