New golf movie 'The Squeeze' weaves quality golf through a compelling plot

By
Kiel Christianson
,
Senior Writer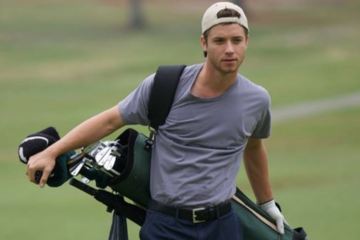 View large image | More photos
Set to release April 17, "The Squeeze" stars Jeremy Sumpter as Augie, an amateur drawn into a world of high-stakes golf. (Courtesy photo)
The list of "watchable golf movies" is shorter than the list of Career Grand Slam Winners (Masters Era). The latter is five (Sarazen, Hogan, Nicklaus, Player, Woods). By my count, the former is just three: "Caddyshack," "Happy Gilmore" and "Tin Cup."
And, to be quite honest, in order to even make a list of golf movies, the term "golf movie" needs to be applied quite loosely for all three of these: Little to none of the on-course action felt authentic at all, including the swings of the main characters.
Enter Terry Jastrow, seven-time Emmy-winning producer/director, with an extensive pedigree in televised golf. In his new movie, "The Squeeze," Jastrow relates a story based on the real-life experience of a man named Keith Flatt.
The main character, Augie (based on Flatt), is a young amateur golfer of limited opportunities who gets drawn into a world of high-stakes golf matches by a Titanic Thompson-esque character named Riverboat, played by Christopher McDonald (Shooter McGavin in "Happy Gilmore").
The rather remarkable characteristic of "The Squeeze" is that the on-course action -- i.e. the golf -- is a real strength of the movie. The camera shots are major-quality, and the courses, especially Wynn Las Vegas, are beautifully framed.
Jeremy Sumpter ("Friday Night Lights"), who plays the hero Augie, has a very credible, athletic swing (aside from the slightly slouched shoulders at address), as does most everyone else who hits a ball on screen.
And the action of the high-stakes matches is also believable, bringing to mind the legendary money match between the hot young PGA star Ray Floyd and an unknown Mexican kid (who turned out to be Lee Trevino), organized by Titanic Thompson himself.
In contrast, the off-course action, motivation, and backstory are less convincing. Augie's girlfriend, Natalie (played by the stunningly beautiful Jillian Murray), is kind to a homeless alcoholic in one scene and then inexplicably rude to complete strangers in the next. She veers mercurially between adamant opposition to Riverboat's schemes to willing accomplice.
There's a weird undertone of religiosity early on, which plays out as nothing but lip service by any character.
Perhaps that's the point, actually -- it's not clear. There are also a number of unresolved conflicts and questions, but again, these are all off-course.
If there is any knock on "The Squeeze" as a "golf movie," though, it is that it lacks witty, pithy catch phrases that golfers can use on the course. These, after all, are the soul of the watchable golf movies listed above. ("A Cinderella story!" "You eat pieces of sh*t for breakfast?" "Well, I tend to think of the golf swing as a poem.")
In short, "The Squeeze" is as rare as the Single-Season Grand Slam: It's a golf movie that actually revolves around realistic golf action. And the plot, which is so implausible that it is paradoxically believable as a true story, keeps you wondering from start to finish.
The quality of the golf and the story has drawn advanced praise from the likes of Phil Mickelson, Tom Watson and Jack Nicklaus. With the addition of "The Squeeze," the elite pantheon of watchable golf movies has expanded to four.
"The Squeeze" will be released on April 17 via several outlets.
Groupon, the global leader in online local commerce, has entered new territory by making the movie its first-ever digital download movie. Customers can order the movie plus Tom Watson's "Lessons of a Lifetime" DVD set, the most popular golf instructional video ever, for $19.99 (a $47.95 value).
It will also be available in selected theaters, VOD and iTunes on April 17.
For more information, see wwww.thesqueezemovie.com, or follow "The Squeeze" on Twitter @Thesqueezemovie and on Facebook here.
More photos
«
»
April 17, 2015
Kiel Christianson has lived, worked, traveled and golfed extensively on three continents. As senior writer and equipment editor for WorldGolf.com, he has reviewed courses, resorts, and golf academies from California to Ireland, including his home course, Lake of the Woods G.C. in Mahomet, Ill. Read his golf blog here and follow him on Twitter @GolfWriterKiel.