Squeeze in some Orange County golf during the Stanley Cup finals in Anaheim

By
William K. Wolfrum
,
Contributor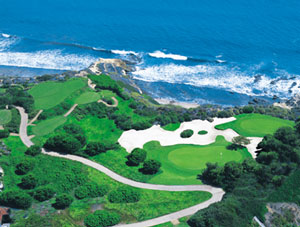 View large image
Orange County golf fans don't fret: Pelican Hill will once again be ready for play in Fall of 2007. (Courtesy Pelican Hill)
The National Hockey League's team from Anaheim was created by Walt Disney Co., and was originally named for the kids' movie "The Mighty Ducks." Time has seen the "Mighty" drop off and Disney drop out for the Anaheim Ducks, but the team has moved to the big time and is facing the Ottawa Senators for the NHL's holy grail, the Stanley Cup trophy.
Of course, golfers who know about Anaheim and the surrounding Orange County area in Southern California have long known that the golf is big time here - and has been long before the local hockey team ever got good.
Even the hockey players enjoy the great golf in the area, like superstar Ducks forward Teemu Selanne, who recently snuck in 15 holes at Coto de Caza, where he is a member.
So here's a look at where you - and the stars from the Ducks, Angels, Dodgers, Lakers, and other sports teams from the area - can enjoy some great Orange County golf.
Orange County golf courses in California
Selanne, like many other professional athletes in the Orange County area, has also spent some time on the fairways of Strawberry Farms Golf Club. In fact, stars like Mark McGwire, Roger Clemens and Deacon Jones have chased birdies on this popular Irvine run, which carries a hefty 136-slope rating from its back tees, which play to more than 6,700 yards.
Designed by Jim Lipe of PGA Tour legend Jack Nicklaus' design team and opened in 1997, Strawberry Farms is not just a challenge for players, it also presents a unique landscape.
"[It] traverses through former strawberry fields, and to this day, part of the acreage, as you drive into the property, is still farmed," wrote David Holland for GolfCalifornia.com. "It's a rare pastoral setting inside one of the world's most populated metropolitan areas."
Coyote Hills Golf Course in Fullerton was designed by Cal Olson and the late Payne Stewart and continues to dazzle duffers with elevation changes, a rustic canyon setting, and eye-popping scenery. And feel free to just ignore the nearby oil pumps you'll see cordoned off in the rough.
"The crafty layout is extremely fun to play for both women and men," wrote Kelly A. Saul for GolfCalifornia.com. "The par-70 course starts climbing the hillside after hole two and continues changing elevations dramatically, so players never know what excitement lurks around the corner. Each hole is unique and no yardage unbearable.
Possibly more than any other course in the area, Aliso Viejo Golf Club captures the possibilities of Orange County golf. With a backdrop of the Saddleback Mountains in south Orange County, Aliso Viejo Golf Club is set on 240 acres of spectacular Southern California landscape.
Playing Aliso Viejo means you'll be taking on the first public fee facility designed by Nicklaus. Aliso Viejo's 27-hole layout consists of three diverse nine-hole runs and has consistently drawn rave reviews from golfers across Southern California and beyond.
Orange County is a large, sprawling area that will take you from miles inland to the beach. It's in Newport Beach that you'll find the Pelican Hill Ocean course.
"Designer Tom Fazio went with a links style look at this second Pelican Hill design and it's paid off with gorgeous views and the feeling of playing golf with sea mist in your face," wrote Chris Baldwin, in ranking Pelican Hill's Ocean course as the No. 2 play in all of Southern California.
Due to the building of the Pelican Hill Resort, the course won't be open to be played until Fall of 2007. However, much like many of the great golf options of Orange County, it's a golf course you'll want to play when opportunity arises.
May 30, 2007
William K. Wolfrum keeps one eye on the PGA Tour and another watching golf vacation hotspots and letting travelers in on the best place to vacation. You can follow him on Twitter @Wolfrum.