From Austin to San Antonio, five must-play Texas Hill Country golf courses

By
Brandon Tucker
,
Managing Editor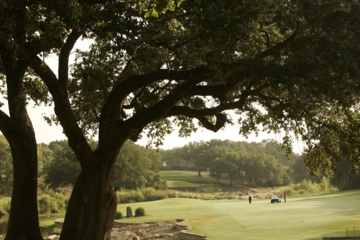 View large image | More photos
Apple Rock is one of three golf courses at Horseshoe Bay resort that bring the Texas Hill Country to life. (Courtesy of Horseshoe Bay)
AUSTIN, Texas - Can't decide on a "Keep it weird" Austin golf trip or a pure, deep-in-the-heart-of-Texas San Antonio getaway?
San Antonio and Austin are only about an hour's drive from one another in the Texas Hill Country, home to some of the state's most dramatic landscape. And good news for tourists, San Antonio and Austin are more compact and tourist-friendly compared to sprawling Dallas and Houston, so you can choose between downtown hotels or escape to a golf resort just outside the city.
No pancake-flat deserts with tumbleweeds rolling by around here; the Hill Country is where lush, rugged terrain provides for many of the state's most exciting golf courses.
Here are five of the area's top Hill Country plays:
Westin La Cantera Palmer, San Antonio
Of the two La Cantera courses, it's the newer Westin La Cantera Resort's Palmer course that makes better use of the rugged Hill Country terrain and is more secluded compared to the Resort course that famously hugs Six Flags Fiesta and hosted the Valero Texas Open through 2009.
The Palmer offers plenty of cliff-hanging holes, like the par-4 10th, to holes played around waterfall complexes like on the ninth and steeply downhill 18th. But this dramatic terrain also calls for a plethora of partially blind tee shots, so keep an eye out for the barber shop poles.
Barton Creek Resort & Spa: Crenshaw Cliffside
Barton Creek Resort & Spa is just a few minutes outside of downtown Austin, but you'd never guess that based on green, rolling hill country terrain spanning 4,000 acres full of canyons and rocky outcroppings. Among the three courses on site (the Palmer Lakeside is 30 minutes away off Lake Travis) Tom Fazio has built two 18-hole courses, the Foothills course and the Canyons course.
But don't discount native son Ben Crenshaw's Cliffside course, which was laid more naturally and is more player-friendly with fewer forced carries.
The real beauty in the Cliffside course is the enormous greens, and even Crenshaw himself admits there are few easy reads on them.
Horseshoe Bay Resort, Apple Rock
Located about an hour from Austin and about 1.5 hours from San Antonio, the three-course Horseshoe Bay Resort is home to three Robert Trent Jones Sr. designs full of aesthetic touches and of equal quality but possess some different attributes. The Horseshoe Bay Resort's Apple Rock is considered by many to be the most scenic of the lot with panoramic views from the 10th tee and holes down around Lake L.B.J.
For the toughest test at Horseshoe Bay, tee it up at the Ram Rock course next door.
Hill Country Golf Club at the Hyatt Regency Hill Country, San Antonio
Arthur Hills-designed Hill Country Golf Club at the Hyatt Regency Hill Country features 27 holes just outside of San Antonio on less severe hill country terrain compared to nearby La Cantera's two courses.
The draw here is more traditional, shady mix of parkland and rolling hill country landscape over 200 acres.
The Wildflower Spa (charmingly housed in an old school house), just a short walk from the golf course, adds to the Hyatt's relaxed vibe.
TPC of San Antonio
We're jumping the gun on the TPC of San Antonio because this newest TPC won't open until Jan. 22, 2010, with two championship courses: a Pete Dye design and Greg Norman and Sergio Garcia collaboration.
That said, all signs point to this two-course facility and JW Marriott resort (with a sports bar being described as so massive Vegas hotel sports books will blush) as becoming the Hill Country's top draw. The Valero Texas Open will move to the TPC next May, so be sure to tune in and get a sneak peak before you book your own golf trip here.
More photos
«
»
October 7, 2009
Brandon Tucker is the Managing Editor for Golf Advisor. To date, his golf travels have taken him to over two dozen countries and over 500 golf courses worldwide. While he's played some of the most prestigious courses in the world, Tucker's favorite way to play the game is on a great muni in under three hours. Follow Brandon on Twitter at @BrandonTucker and on Instagram at BrandonTuckerGC.