Golf in Tenerlife in the Canary Islands: More about dogs and doglegs than birds and birdies

By
Clive Agran
,
Contributor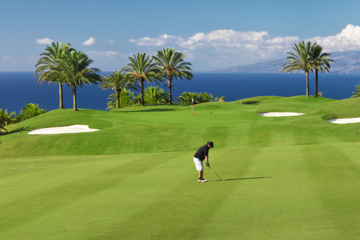 View large image | More photos
Wide fairways and white bunkers await on No. 6 at Abama Golf & Spa Resort. (Courtesy of Abama Golf & Spa Resort)
With near-perfect climate -- and top golf courses such as Abama Golf & Spa Resort and Las Americas Golf Course -- Tenerlife in the Canary Islands is a year-round golf treat
Judging by the nomenclature, golf has long been linked to the avian world. The tradition began perhaps with the featherie and was reinforced by such terms as birdie, eagle and albatross.
So it's not altogether surprising that the Canary Islands are proving a popular destination for golfers who are flocking over there in great numbers, especially in the winter months when the weather is extraordinarily benign.
However, visitors hoping to see loads of little yellow birds singing merrily from the clubhouse roofs will be disappointed as the name is derived from the Latin "Insular Canaria," meaning Island of the Dogs. It is believed that the dense population of an endemic breed of large and fierce dogs was the characteristic that most struck the few ancient Romans who landed here back in the BC days.
Although these nasty dogs are no longer around, you might still want to not climb over any fences to retrieve even a moderately new Titleist.
Romans
Possibly kept awake by constant barking, the Romans never really settled in the Canaries and left colonization to the Spanish, who took control in the 15th century. They encountered several indigenous populations living at what has been described as a Neolithic level of technology -- hickory shafts and all that sort of thing.
Horatio Nelson, no less, launched an attack on the islands on July 25, 1797, but was hit by a musket ball. He had his badly broken right arm amputated, sustained his only ever naval defeat and suffered the indignity of having his handicap adjusted upwards.
The history lesson over, let's move on to geography. The seven volcanic islands that together comprise the Canaries lie just off the northwest coast of Africa. The nearest island to the mainland is a little less than 70 miles from the coast of Morocco. Tenerife is the biggest, most populated Canary Island and boasts the highest peak, Mount Teide, which dominates the island and is the third largest volcano in the world.
Don't worry, it's more than 40 years since the last eruption, and none of the volcanoes on the Canaries is thought to pose an imminent threat.
Abama Golf & Spa Resort
The ever-present breezes, year-round sunshine and average temperatures of around 23 degrees Celsius not only provide a near-perfect climate for golf but are also why Tenerife is often referred to as the Island of Eternal Spring.
The combination of ideal weather and suitable topography goes some way to explaining why nine quality courses have sprung up on the island, mostly on the south and southwestern coasts.
With its dramatic cliff-top location, panoramic views over the Atlantic, crystal white bunkers, huge greens, 22 lakes, 25,000 palm trees and spectacular waterfalls, Abama Golf & Spa Resort is undoubtedly one of the most beautiful and very best in Tenerife.
Like a lot of great golf courses, it simply exudes class and quality. But it's tough, and although the slope rating will inflate your handicap, you'll need every shot you can grab, not least because the slick greens are intimidating and four putts not infrequent.
Abama benefits from plenty of elevation, and there's no shortage of lofty tees affording glorious views down to the fairway, green and sea beyond. Turn around, and majestic mountains tower behind. In fact, there is about 800 feet difference between the lowest and the highest point on the course, and a buggy is therefore strongly recommended.
Since opening in 2005, this Dave Thomas design has hosted both men's and women's European Tour events and is always presented in truly immaculate condition.
Amarilla Golf
Designed by Donald Steel and opened in 1989, Amarilla Golf is on the southern coast squeezed between the Atlantic and Mount Tiede and enjoys great views of both.
Precision rather than power is the principal prerequisite to a good round here, as missing the fairway frequently leads to an unwelcome visit to inhospitable areas of volcanic rock. Even the fact that they are lateral hazards from which escape is possible at the cost of a penalty shot is little consolation.
The front nine is particularly tough, and more balls are lost on it in a day than there are shrimps in a giant paella. The fabulous fifth -- a shortish par 3 across the sea -- is the unmistakeable signature hole that will test your nerve as well as your aim. The pros loved it when competing here in a European Tour event back in 1991 -- and so will you.
Las Americas Golf Course
Possibly the most popular course on the island is lovely Las Americas Golf Course.
With masses of beautiful flowers, gorgeous water features, generous fairways and super-smooth greens, it will challenge but not beat you up. Eminently walkable and hugely enjoyable, Las Americas is a stunningly pretty parkland layout that is fairly forgiving, but with water featured on no fewer than eight holes, it's certainly no pushover.
Ducks, geese and swans add to the delightful atmosphere, but, somewhat sadly, the resident ostrich was thrown off the course and into a bird sanctuary for repeatedly nicking golf balls.
More photos
«
»
May 8, 2012
Although in his 60s, with a handicap of 15 and lifetime earnings comfortably below $100, Clive Agran nevertheless still believes he can win a major. Arguably England's most gifted golf writer, when not dreaming of glory he's scouring the globe simultaneously searching for lost balls and great golf courses. Follow Clive on Twitter at @cliveagran.