Tempe has golf to make its more famous Arizona neighbors proud
By
S. Adam Cardais
,
Contributor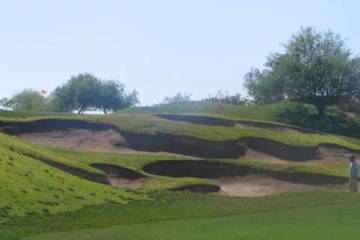 View large image | More photos
The bunkers at Phantom Horse, just a few minutes from Tempe, add to the challenge of this memorable track. (GolfPublisher.com)
Close at is it is to the Phoenix-Scottsdale area, Tempe is often overshadowed as a golf destination.
This college town is better known for its rowdy nightlife, laid-back atmosphere and great bars like the The Library, which was featured on The E Network's Wild On program.
"The Library is part of a Tempe nightlife scene that's decidedly less sophisticated, sleek and snobby than Scottsdale's black-clad, model-frequented hotspots," Chris Baldwin wrote in a recent GolfArizona.com feature. "[M]ore golfers are turning to this often-afterthought town of 160,000 that borders both Scottsdale and Phoenix for its simpler night rhythms."
Tempe has its own golf scene too, if an understated one compared to Scottsdale's. The city is home to Arizona State University's Karsten Golf Course and several other low-key tracks. And if you get itchy for something a little more upscale, well, Phoenix-Scottsdale is just minutes away.
Here's a look at what Tempe has to offer on the course.
Karsten Golf Course: Run by Arizona State, where Phil Mickelson played, Karsten is known as one of the most difficult college courses. For proof, look no further than the bunkering.
Karsten's No. 8 "isn't a bunker as much as it's a rite of passage," Baldwin wrote in a 2005 review. "Running along a huge chunk on the left side of the 380-yard par 4, sunken into the earth like a Martian crater, it looks more architectural dig than obstacle. The Brown Mile, if you will."
This kind of devilishly frustrating hazard isn't unusual on a Pete Dye course. Given that his son Perry is widely believed to have done much of the work, it appears the Dye love of trickery runs in the family.
Phantom Horse Golf Club: Lots of courses shoot to create holes golfers will remember for a lifetime. Few manage to have one. Phantom Horse, less than a 10-minute drive from Tempe in the Pointe South Mountain resort, has two.
"Play Phantom Horse once and you'll anticipate the Jailhouse Steps No. 12 hole and the Alcatraz No. 18 hole on a return visit a decade later," Baldwin wrote in a review last year. "Yes, this is one of those courses that annoyingly named every single hole. Only in this case, it's actually worth it."
The 6,336-yard track is a traditional design that plays longer than its yardage, but the relative lack of length also makes it a pleasure to play for women or senior golfers.
Ken McDonald Golf Course: Opened in 1975, this 18-hole municipal track measures 6,743 yards. It has a slope rating of 125 and was designed by Arthur Jack Snyder.
Rio Salado Golf Club: This is one of the only full-length nine-hole courses in the area. Rio Salado is 2,700 yards from the back tees and was designed by Mike Morely. The course has lush, spacious fairways and fast mid-sized greens.
More photos
«
»
November 13, 2006