TaylorMade 'Operation Game On' lands in southern California, brings golf to combat-injured troops

By
David Weiss
,
Contributor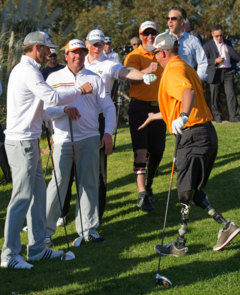 View large image
Operation Game On joined forces with TaylorMade PGA Tour pros at the Heroes Golf Course. (Courtesy of TaylorMade)
TaylorMade Golf may have stirred up a spate of UFO reports recently in the skies above southern California, as a quartet of intrepid parachutists dove out of a chopper hovering at 6,000 feet above the Heroes Golf Course, a nine-hole par-3 layout adjacent to the Los Angeles VA Hospital.
What, one may reasonably wonder, does earthbound golf have to do with celestial skydiving? Well, it seems some of the marketing gurus at TM wanted to add a bit of drama to the introduction of their new R1 driver, so they hauled some of their marquee pros down the road from Riviera Country Club (where the Northern Trust Open was being played) to participate in a moving tribute to wounded war veterans.
TaylorMade has teamed with Operation Game On -- a great non-profit organization offering golf instruction and gear to combat-injured troops -- to concoct a form of therapy that takes healing out of the antiseptic corridors of the hospital and replaces it with blue skies and green turf. OGO is headed up by proud dad Tony Perez, whose son Pat is a TM guy and played at Riviera.
The PGA Tour has kicked in some love as well, hosting a Military Appreciation Day at Riviera recently, where tour pro's joined with OGO veterans to promote the R1 and show appreciation for the sacrifices made by our young men and women in uniform.
Thus the aero-spectacular in the skies above the Heroes Golf Course, as four daredevils made perfect landings before the assembled veterans and pro golfers. Of course, they did not come empty handed -- each of them had R1 gear in hand and presented same to the tour luminaries and OGO vets. Sergio Garcia, Pat Perez, Retief Goosen and Dustin Johnson represented the TM name with humility and grace.
Those selfsame luminaries played R1 drivers last week that had been emblazoned with the name of a soldier from the OGO program. In a nice touch, pros and veterans each lined up to swing for the fences at the end of the event, aiming for a green some 300 yards from the tee.
One of the vets -- looking stone-steady on two prosthetic limbs -- nuked his R1, and smiles and tear-ducts erupted on all the assembled faces. Sergio offered a fist bump and a hug, a small gesture that meant the world to a brave young man.
February 18, 2013
David Weiss, a Detroit native, divides his time equally between the worlds of golf and music. In the former, he was west coast editor and frequent contributor to Golf & Travel magazine, and in the latter he is known as David Was, half of the writing/producing team that created the band Was (Not Was).