Get pain free and improve your golf swing with the new Swingback stabilizer

By
Brandon Tucker
,
Managing Editor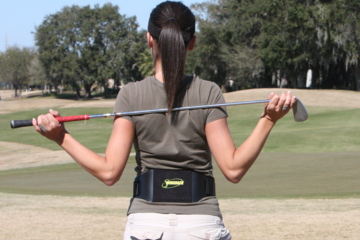 View large image | More photos
More than a simple brace, the Swingback acts as a supportive exoskeleton that improves posture. (Courtesy of Swingback USA )
Few health problems can be as crippling to one's golf game as back pain.
Once your back starts failing, not only are you not enjoying your game as much, but it causes problems in all facets of your life. Suddenly such mundane tasks as taking the trash out become a painful ordeal.
So when a brand new device promises not only to alleviate back pain but to improve your golf swing, it's certainly worth trying.
Brand new for 2009, the Swingback is a back stabilizer that can be worn either over or under your clothing and is designed to offer relief and support to people suffering from back pain.
Swingback USA President Bill Cavalieri says he has received tremendous feedback since he's been demonstrating the aid to golf professionals across the country.
"Once you set up to the ball, it immediately corrects your posture," Cavelieri said of the Swingback. "All golfers will tell you, they assume the position with the SwingBack on and say, 'My golf pro's been trying to get me like this for five years.'"
Swingback is designed to improve posture
The Swingback is much more than a simple back brace, belt or wrap that you might see movers using as they lug around heavy furniture. Those braces don't provide any stable support. The Swingback, on the other hand, is worn on the lower back and has a slim front plate and a rigid back plate that are held in place by two adjustable straps that immediately improve your posture and add support.
These two plates serve as a firmer exoskeleton, or what they call "exterior scaffolding," which provides additional structure and support for the musculoskeletal system in the lower lumbar region. Everything within the Swingback is ergonomically designed to improve your posture, so you're swinging the golf club better and becoming more mobile around the house and the office, too.
A brace like this may sound too restrictive to make a thorough golf swing. But in fact, it's designed to keep you in perfect position to address the ball, keep your back in line throughout the golf swing and allow perfect lateral movement and flexibility. Swinging will also become easier.
"As a golf aid, all the pros we talked to said the Swingback put them in the correct position without slouching or restricting their swing in anyway." Cavalieri said.
Also, your muscles won't suffer any atrophy from extended use. In fact, since your posture will be better, a more efficient golf swing is a likely result, which means you stand to be fresher than ever when you're walking down the 18th fairway. You don't have to take the Swingback off after the round either. Wear it all day if you'd like.
Swingback: Not just for golfers
And if you've tried a brace or wrap in the past with no results, you're not alone. But don't let that lead you to believe you'll experience similar failure with the Swingback. The Journal of American Medicine released a study a few years back saying those braces did nothing to actually help back support. In fact, its false sense of security meant it could do more harm to the lumbar than good.
On the other hand, the University of South Florida recently tested the Swingback and reported a 100 percent success rate of preventing injuries and lowering the pain threshold, according to Cavalieri.
"We've met people who have not only been unable to finish 18 holes of golf but had been reduced to couch potatoes," Cavalieri said. "Now they're back on the golf course and enjoying the game again."
The Swingback is a one-size-fits-all device for both men and women to use, and it doesn't have to be used for just golfers. Among the many athletes to respond well to the Swingback are tennis players, canoers and kayakers.
More photos
«
»
March 26, 2009
Brandon Tucker is the Managing Editor for Golf Advisor. To date, his golf travels have taken him to over two dozen countries and over 500 golf courses worldwide. While he's played some of the most prestigious courses in the world, Tucker's favorite way to play the game is on a great muni in under three hours. Follow Brandon on Twitter at @BrandonTucker and on Instagram at BrandonTuckerGC.