Swan Lake Resort: Indiana National Golf Club and much more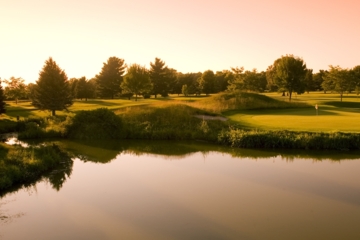 View large image | More photos
Swan Lake Resort is home to the United States Golf Academy, Indiana National Golf Club and the Midwest's only Sam Snead's Tavern & Grill. (Courtesy Swan Lake Resort)
Located in beautiful northern Indiana, Swan Lake Resort is home to the United States Golf Academy, Indiana National Golf Club and the Midwest's only Sam Snead's Tavern & Grill. Just as appealing as the skillfully manicured grounds and golf courses are the pristine Pool & Fitness Center and the newly renovated guest rooms, cottages and log cabins. Swan Lake's 20,000 sq. ft. Conference Center hosts corporate meetings, weddings and various social events year-round and can accommodate up to 1,200 guests. For business events, the facility boasts a full range of digital audio-visual equipment and wireless connectivity. Accommodations at Swan Lake Resort consist of 92 luxurious hotel rooms, as well as beautiful new log cabins and academy cottages, all newly renovated with amenities such as flat screen TVs. Swan Lake offers golf and academy packages for the avid golfer and the beginner alike. For the golfer or non-golfer, our indoor and outdoor pools, saunas, whirlpools, fitness center and massage treatments provide guests with leisure time activities to rejuvenate. Swan Lake Resort is a centrally located Midwest spot, situated approximately 100 miles from Chicago, 115 miles from Indianapolis, and 35 miles from South Bend.
Meetings and Conferences at Swan Lake Resort
Swan Lake Resort's state-of-the-art Convention Center boasts more than 20,000 sq. ft. of versatile function space with the centerpiece being the Grand Ballroom featuring a full range of built-in audio-visual and digital equipment. Complementing the largest room is a series of smaller areas that will accommodate small and moderate-sized groups, both indoors and on the lawn. There is installed audio-visual equipment, as well as a collection of equipment in stock to help make your presentation effective and seamless. An overhead projector, DVD players, VCRs, LCD projector, multi-amp sound system, flip charts, speakers and 12 sq. ft. screens are among the items available.
Groups can dine in Sam Snead's Tavern & Grill ala carte or in adjacent rooms still enjoying the distinctive décor and menu of this one-of-a-kind restaurant in northern Indiana. When business is done for the day, a stage and lighted dance floor, an indoor spa with heated pool, whirlpool sauna, and two championship quality golf courses can be used to energize and reward your team. All at a cost that even the most weary CFO can see value in.
Weddings at Swan Lake Resort
Swan Lake Resort is synonymous with great weddings. Each one is unique. Whatever style wedding your heart may desire, Swan Lake Resort makes it happen with world-class facilities, mouth-watering cuisine and unbeatable wedding services that are as spectacular as our location. A Swan Lake Resort Wedding Professional can take care of all of the details of your celebration and advise you on special touches that will make it more personal and uniquely your own. Whatever style ceremony, celebration and honeymoon you choose, Swan Lake Resort offers picture-perfect solutions every time. As unique as your love, a Swan Lake Resort wedding is forever yours. Swan Lake Resort is more than a hotel—it's a destination.
Indiana National Golf Course and United States Golf Academy
Swan Lake Resort is home to Indiana National Golf Club and the United States Golf Academy. Indiana National Golf Club is the cornerstone of Indiana's most complete golf resort. Its two championship courses are designed for the enjoyment of both seasoned golfers and those still learning the game. The East Course is the Championship Course and will be the home to both the 2006-2007 Indiana State Senior Open and the 2007-2008 NAIA Men's National Championships. The West Course offers the same championship conditions, but with wider fairways and larger greens. Celebrating 36 years of quality golf instruction, the United States Golf Academy continues to aid players of all skill levels to achieve their personal goals. Led by PGA Professionals, the Academy uses state-of-the-art technology to enhance the learning experience. Whether you are an accomplished player or just a beginner, we can custom design a program for you. Each Academy day begins with guided instruction at the practice facility, progressing through a comprehensive and time-proven program that helps develop and sharpen skills. Every scholar leaves with an improvement in their swing, knowledge to apply for further learning, new friends and a permanent improvement in their game.
More photos
«
»
February 12, 2007