2014 summer golf reading list: Learn about yourself, your game and people you'll never meet

By
Kiel Christianson
,
Senior Writer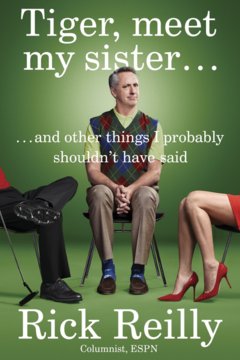 View large image | More photos
In "Tiger Meet My Sister," Rick Reilly staggers blurs the line between actual info and gratuitous name-dropping. (Courtesy of Blue Rider Press)
After a long winter that was noteworthy for the fact that it was as cold and snowy as most winters were several decades ago, you're probably chomping at your sand wedge to get back out onto the links. The last thing on your thawing mind is holing up inside with a good book.
But just in case the weather sours yet again, or the pop-up thundershower turns the fairways temporarily into bogs, here are a few choice tomes to occupy yourself with until the skies clear and the greens dry:
'Tiger Meet My Sister ...' by Rick Reilly
It is the job of sports commentators to fill column inches and airtime with the antics and accomplishments of athletes and celebrities. But there is a fine line between actual information and gratuitous name-dropping.
Rick Reilly staggers back and forth across that line throughout his new book -- "Tiger Meet My Sister ... and Other Things I Probably Shouldn't Have Said" -- like an NFL linebacker taking a field sobriety test. When he succeeds, his stories are illuminating and entertaining. And even when he fails, he's not quite as silly as, say, Stephan A. Smith's habitual hyperbole ("Charles Barkley is the best friend I have ever known. Charles Barkley performs my wife's pap smears!").
Nevertheless, Reilly introduces this large collection of his columns (77 of them) with a rather hubristic, moderately humorous imagining of his own funeral. Perhaps this is his way of letting critics and friends alike know that reports of his journalistic death have been greatly exaggerated. Perhaps it is a plea for the Angel of Death to take him now. Who knows?
In any case, the one thing you have to say about Reilly is that when he's wrong, he admits it. (And he's wrong quite a lot, actually.) The first column reprinted here is all about Lance Armstrong, whom Reilly defended adamantly until Armstrong admitted his longtime doping to Oprah. It is an honest piece in which the reader feels the sting of personal betrayal.
I also found Reilly's appeal for sane gun control laws in the wake of the Newtown massacre to be heartfelt and measured -- and gutsy. More than one sports writer has spoken out about important social issues and been slapped down. Reilly is clearly not afraid of public backlash, and I am glad he is not.
Oh, and hey, there are a few golf-centric columns, too.
One minor thing I found sort of irritating, however, was Reilly's pride in writing "sentences that nobody's ever uttered." Really, this isn't so hard. Go ahead, Google the sentence "Try Googling this sentence and see what comes up" (in quotes). At the time of this writing, it returned 0 hits from the billions and billions of pages on the Internet, just like the vast majority of sentences longer than, say, 8+ words.
'A Difficult Par' by James R. Hansen
Modern golf-course architecture arguably owes more to Robert Trent Jones Sr. than to any other person. Jones designed or redesigned more than 400 courses across the US and in 28 other countries. "A Difficult Par" is an expansive study of Jones' life and work, and it is authoritative and meticulously researched. Yes, it's perhaps a bit dense for the casual golf reader, but for the course architecture aficionado, it is a revelatory dissertation.
Among Jones' innovations are some of the very aspects of modern golf-course design that we take for granted today: long tee boxes that allow a second (or third, fourth, fifth and sixth) set of tees, contoured greens with multiple possible pin placement positions, tree-lined fairways, elevation changes, and bunkers and fairways positioned and shaped to challenge better golfers but to leave the lesser-skilled player relatively unmolested.
Like most modern golf course architects, Jones took many cues from The Old Course at St. Andrews, along with other timeless links courses in British Isles. His designs famously also incorporated the occasional "heroic" hole into overall strategic layouts. The heroic hole, which one can argue was pioneered by Jones, presents golfers with the choice of trying to hit a long, perfect shot or bailing out to a safer position farther away from the green.
This is the "risk-reward" feature we associate with most of the best modern courses, and it epitomizes his mantra -- a difficult par but an easy bogey -- from which the book takes its title.
'Own Your Game' by Dave Stockton
Dave Stockton is the most sought-after putting coach on the planet. Based on all I've heard about him, and on what is contained in this slim and easily digestible volume -- "Own Your Game" -- he is also an expert mental coach. After all, it is often observed that golf is a game played on the five-inch course between your ears.
If I were to pick one line that best sums up Stockton's approach, it's one at the end of the second chapter: "I want you to think way, way less about how you do it, and way, way more about what you're going to do." Although Stockton cites little to no actual scientific data to support his approach, he echoes many of the insights that have been recently supported by experimental psychologists.
Dr. Sian Beilock's recent book, "Choke," comes immediately to mind. She describes "paralysis by analysis" phenomena in everything from golf to math tests. Stockton's tips and advice focus on removing the analysis.
'Every Shot Counts' by Mark Broadie
Mark Broadie is an academic who works with "big data." He, along with the PGA and a team from MIT, helped develop the "strokes gained" statistic that is all the rage among tour pros and golf analysts.
The idea underlying all big data approaches is that there are patterns within any data set, but these patterns are hard to recognize without massive numbers of data points. Furthermore, the data needs to be exhaustively coded so that relationships between various measures can be examined. If one has enough data and is clever enough to look in the right places, the patterns lurking in the data give rise to behaviors, assumptions, rules, performance, etc. -- depending on the domain in which you're working.
We humans are very good, it seems, at learning implicitly from the "priors," or previously encountered patterns, in the data we encounter every day of our lives. But the paradox is that we are apparently very poor at applying the knowledge that emerges from the collected statistical patterns in any given situation. Instead, we tend to apply "heuristics" (i.e., gut feelings) when posed with a decision. (Broadie doesn't use precisely this terminology, but there is a large body of cognitive psychology behind all of this, trust me.)
As a concrete example, imagine you're facing a 180-yard carry over water to the green, out from underneath low-hanging branches that will force your ball flight to never get above seven-feet high. Your decision is to punch out to the middle of the fairway and try to get up and down from there or to try the heroic shot over the water. If you've pulled off the heroic shot once in the past, you will remember that better than the several times you've taken the safe route (or the times you've failed to execute the heroic shot), due to a salience or availability heuristic. In "Every Shot Counts," Broadie argues that awareness of your own strokes gained statistics allows you to overcome the gut feeling and play the odds.
All of this statistical tracking and data analysis sounds antithetical to the approach that Stockton takes in the book summarized immediately above. In fact, it is not -- not if applied correctly. Broadie would argue that knowing your own statistical patterns is critical for practicing the parts of your game that need the most work. And he would also argue that these patterns should inform your conscious decision-making on the course. But I think he would also agree that the last thing you want to do is focus on statistics in the middle of your backswing. Here he and Stockton would agree: Make your decision based on your own game; see the shot, then make the swing with that shot's outcome as the only thing in your mind.
Broadie's text is a bit dense and a bit dry, but it is about as readable as applied big data work can get. You don't have to be a genius to understand the basic idea or to apply the principles to your own game, especially to the way you approach practice and strategy.
Senior writer Kiel Christianson also holds a PhD in cognitive science. He teaches experimental psychology and directs a research laboratory at the University of Illinois, Urbana-Champaign.
More photos
«
»
April 25, 2014
Kiel Christianson has lived, worked, traveled and golfed extensively on three continents. As senior writer and equipment editor for WorldGolf.com, he has reviewed courses, resorts, and golf academies from California to Ireland, including his home course, Lake of the Woods G.C. in Mahomet, Ill. Read his golf blog here and follow him on Twitter @GolfWriterKiel.