Shivas Irons Society founder Steve Cohen on the SIS, Ballyneal, Bandon Dunes, and more

By
Zachary Michael Jack
,
Contributor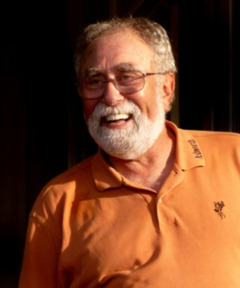 View large image
"It's harder to find a hardcore golfer that has never heard of us," Shivas Irons Society founder Steve Cohen says. (Courtesy of Hilton Tudhope)
SAND CITY, Calif. - Steve Cohen happily serves as founder and president of one of the world's most novel golf associations, the Shivas Irons Society.
During the 1992 U.S. Open at Pebble Beach, Cohen, a former food-service manager and gestalt practitioner at Michael Murphy's Esalen Institute in Big Sur, Calif., launched SIS.
With big-name backing from the likes of former USGA presidents Sandy Tatum and Grant Spaeth, and golf author and coach Fred Shoemaker, they named it after the transformative, mystical Scottish golf pro who plays philosophical protagonist and provocateur in Murphy's novel, "Golf in the Kingdom." The international society, with annual membership near 1,000, is "founded in metaphoric qualities of sport, especially golf, (to) provide limitless opportunities for learning, self-discovery and transformation."
In advance of the U.S. Open's return to Pebble Beach in 2010, I sat down with Cohen at a Sand City, Calif., coffee shop across the street from the society's offices, angling for an update on popular Shivas Irons Society golf outings, his favorite Shivas-spirited layouts and the evolving philanthropic and philosophical mission of the SIS.
In 2009, the non-profit corporation based in Carmel, Calif., hosted events at Scotland's St. Andrews, Colorado's Ballyneal, Wisconsin's Whistling Straits and Oregon's Bandon Dunes, among others. Bandon Dunes ranks as a favorite of the society and serves as a shooting location for the upcoming feature-length film, "Golf in the Kingdom."
WorldGolf.com: You mention that the economy has taken a toll, but where do you stand now in terms of active members?
Steve Cohen: "We have around 900 active members. We had been up as many as 1,400. The book ("Golf in the Kingdom") had kind of been peaking, and now it's not written about as much. But more and more, you go places, and it's harder to find a hardcore golfer that has never heard of us. We want to create a model of an organization that doesn't necessarily depend on membership for support, so people will donate to our scholarship program and do other things. It's very important to me not to have money be a barrier to participating in what we do. So if somebody says, 'Yeah, I'd like to join, but ...,' I say, 'Just fill out the papers and pay what you can afford.' That's for young golf professionals, writers. A lot of people are members like that."
WorldGolf.com: How much are you playing these days, and where are you playing?
Steve Cohen: "I play in spurts. I'm very lucky. It's built into my job description to take people on these trips. I was at Ballyneal Golf Club for two days with a small group of people and got to play what I think may be one of the best courses in the country. It's not a hidden gem anymore. It will be right up there near the top.
"(Ballyneal) represents the idea of playing a golf course that has no boundaries. You get to a high point, and there's no out of bounds. When you look as far as you can, you can see there's a silo here or maybe a big truck moving along, but there's no sound. And it's not dead flat. It's absolutely stunning. I have a little, 60-second video on the Shivas Irons Society Web site about Ballyneal. You go to the third green and you walk up a real steep hill, and for the first time the course really reveals itself. It's mind-boggling. Ballyneal is a private club, but it's for golfers. No golf carts allowed. It's just for walking. There's nothing to do there but play golf and eat and talk about golf. You fly into Denver and you basically drive straight for two hours and make a right turn. And you hope you can find it, because there's only a sign six inches tall and 15 inches wide."
WorldGolf.com: Tell me about Bandon Dunes. How did you choose it as one of your key courses? How does it suit the kind of game the society encourages?
Steve Cohen: "In 1993 when the Society was brand new, we participated in the first Golf and the Environment Conference, which was held at Pebble Beach. Howard McKee and Andy Nusbaum, who was, at that time, with Golf Digest and was on our Board of Directors, was one of the organizers. Howard McKee had come to the Esalen Institute in the mid '80s as an architect to help Michael Murphy in a project to possibly help redesign Esalen in a more environmental fashion. I next met him in 1993 at this Golf and the Environment Conference, representing someone who wanted to build a golf course in an environmentally sound way. McKee was the guy who helped Mike Kaiser build Bandon Dunes Golf Resort. He connected with Nusbaum at this conference and they became friends. Andy was head of the sports and entertainment division at Golf Digest and a PGA pro, and he was on the PGA curricular committee. Fast-forward to a few years later. Howard calls Andy when the first course at Bandon Dunes is about two-thirds built and says, 'You've got to come up here and see this!' Next thing I know, I get a call from Andy saying, 'I am standing on the most beautiful peace of golf land in the world.'
"It was through these connections that (the SIS) ended up at Bandon. Before they ever opened, we planned an event there with Michael Murphy. The Shivas Irons Society was the first group to ever do a group event at Bandon. Now they've grown, so that when we come in there, we're just a small group, but we still get treated well. McKee passed away in 2007. There's a place up there called McKee's Pub that's a tribute to him. And the book 'Dream Golf' about the building of Bandon Dunes makes special mention of the Shivas Irons Society and Mike Kaiser's relationship to the book 'Golf in the Kingdom.' So we do have a special relationship with Bandon Dunes. We did a whole bunch of workshops up there, and that evolved when we wanted to revive the Shivas Irons Games of the Links, which I do with Fred Shoemaker."
WorldGolf.com: Could you list your top-five or top-10 favorite Shivas-friendly or Shivas-inspired golf courses?
Steve Cohen: "I think it might be more meaningful to consider the qualities that Murphy's character, Shivas, would look for and enjoy in a golf course, such as natural beauty, appropriate use of the land as a resource, walkability, fun and playability for people of varying skill levels, affordability and accessibility, friendliness and a place to gather after the round for singing the praises of the game. I am sure there are more. These are not in any order. (That) would be impossible to do in any meaningful way. Also, (this list) is not meant to be inclusive."
- Ballyneal Golf and Hunt Club, Holyoke, Colo.
- Sand Hills Golf Club, Mullen, Neb.
- Pacific Dunes, Bandon, Ore.
- Bandon Dunes, Bandon, Ore.
- Bandon Trails, Bandon, Ore.
- Old Macdonald, Bandon, Ore. (Based on completing only 10 holes in September 2009.)
- The Dunes Club, New Buffalo, Mich. (Nine unbelievably great holes.)
- Pebble Beach Golf Links, Pebble Beach, Calif. (It's Michael Murphy's favorite.)
- The Shore Course at Monterey Peninsula Country Club, Monterey, Calif. (Probably the Dunes Course as well.)
- Cypress Point Club, Pebble Beach, Calif.
- Fishers Island Golf and Country Club, Fishers Island, N.Y.
- National Golf Links of America, Southampton, N.Y.
- Pasatiempo Golf Club, Santa Cruz, Calif.
For more information on the Shivas Irons Society, visit www.shivas.org.

March 2, 2010
Former newspaper sports writer and editor Zachary Michael Jack is the editor of many essay collections on the environment and outdoor life. He specializes in writing about golf. Zachary is the author of "The Links of Evalon" and edited "Inside the Ropes: Sportswriters Get Their Game On."