St. Kitts Marriott Resort & The Royal Beach Casino is a golf hot spot on St. Kitts

By
Jason Scott Deegan
,
Senior Staff Writer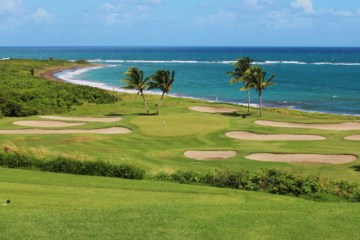 View large image | More photos
The bunkers on the 15th hole at Royal St. Kitts Golf Club are made to look like the ocean waves rolling in. (Jason Scott Deegan/TravelGolf)
FRIGATE BAY, St. Kitts -- There's not much to this island situated in the Lesser Antilles about 1,300 miles southeast of Miami.
St. Kitts is a drumstick-shaped piece of rugged land, home to just 35,000 people and one dormant volcano, Mount Liamuiga. But what Christopher Columbus found in the West Indies and claimed for Spain in 1493 is truly special.
With friendly natives, swaying palm trees on pristine beaches and spectacular weather year-round, it's a true Caribbean experience that more and more vacationers are discovering. The sugarcane industry that used to dominate the island shut down in 2005, forcing a refocused effort on growing tourism.
The island's largest port, Basseterre, regularly attracts large cruise ships to dock for the day. American college students relocate to St. Kitts for the chance to live the island life while studying at three local colleges: the Ross University School of Veterinary Medicine, the Windsor University School of Medicine and the International University of Health Sciences.
The St. Kitts Marriott Resort & The Royal Beach Casino serves as the centerpiece of the island's activity. Built in 2003, it's the only major resort and a source of endless entertainment. The beaches, pools, spa, restaurants and sprawling guest rooms and suites make any stay a good one. If you can't find something fun to do at this resort, check your pulse.
St. Kitts Marriott Resort & The Royal Beach Casino: The resort
The St. Kitts Marriott Resort boasts 393 guest rooms and suites -- all of them oversized to provide maximum comfort. The Frigate Bay House, which is the main hotel, features guest rooms and one-bedroom suites with traditional West Indian accents. One- and two-bedroom suites are available in three-story garden houses just a short walk away.
The casino is the largest Vegas-style casino in the Caribbean. It can get especially rowdy during conventions or major sporting events. While I was there, it was jumping for late-night boxing and mixed martial arts fights, presumably from those who bet at the sports book.
Three pools are spread throughout the resort courtyard near the North Frigate Bay Beach. A revitalizing spa, a fitness center, meeting facilities, eight restaurants, three lounges and a kids club program give the Marriott a diversity that caters to most any traveler.
The Blu Seafood Restaurant, Royal Grille Steakhouse and La Cucina are the best restaurants on the property. The Pizza Shack serves convenient lunches by the main pool. After dinner, try The Keys Cigar & Rum Bar or the Blue Martini Piano Bar, which is open Thursdays through Saturdays starting Dec. 1. To get a real feel for the locals, head out on a pub crawl to the tiny beach bar shacks -- appropriately named Ziggy's Beach Bar & Grill, Mr. X's Shiggidy Shack Bar & Grill, Monkey Bar and others along the South Frigate Bay Beach.
Royal St. Kitts Golf Club
A 2003 redesign by Canadian Thomas McBroom transformed the Frigate Bay Golf Club, a Peter Thomson course from 1976, into a spellbinding new par-71 layout that is home to 12 lakes and 83 bunkers.
Joel McEachrane, the head professional at Royal St. Kitts Golf Club, grew up playing Frigate Bay, setting the course record. McBroom built nine new holes, including six on the back nine. Both nines feature strong, waterlogged par 5s, nasty par 3s over lakes and interesting risk-reward, drivable par 4s. It's the dynamic 14th where sensory overload takes over. The elevated green features some severe slopes back to front, but it's hard to concentrate with the ocean waves crashing in the distance. McBroom stacked bunkers on either side of the 15th green below to mimic the lapping ocean waves. It's gorgeous.
The par-4 16th and 17th holes play directly along the shore. It's a dynamite finish on a well-kept Caribbean secret (not ranked among the top 50 courses of the Caribbean and Mexico by Golfweek).
Director of Golf Sean Gradowski said the course's difficulty depends on how windy it is.
"Every day is different on this golf course," he said.
Island entertainment
There's just one golf course on St. Kitts -- courses by Tom Fazio and Ian Woosnam are currently under construction but likely several years away. For more golf, a side trip to Nevis, a pleasant 45-minute ferry ride, leads to a course at the Four Seasons Resort.
Ocean excursions for fishing or sightseeing are popular. Blue Water Safaris runs a fabulous sunset catamaran trip. With Bob Marley blaring on the radio, you can drink Carib, the local lager of choice, and munch on hors d'oeuvres, while taking in the sights and fresh ocean air before darkness settles in. On our trip, the catamaran dropped us off on Cockleshell Beach for dinner at Spice Mill Restaurant, a remote dining destination worth the effort to find. The open-air restaurant serves up some of the best food on the island. The rock lobster looked more like a whale it was so big. Others raved about the Cajun shrimp pasta. They were out of the Truffle Pumpkin Risotto, a signature dish that I wanted to try.
Adventurers can hike up Mount Liamuiga. A visit to St. Kitts isn't complete with a tour of Brimstone Hill Fortress National Park, a cliff-top fort that is a UNESCO World Heritage site. The views over the water and the countryside, which looks like Jurassic Park, extend for miles.
It's just another reminder of why St. Kitts is so special.
More photos
«
»
November 28, 2011
Jason Scott Deegan has reviewed more than 700 courses and golf destinations for some of the industry's biggest publications. His work has been honored by the Golf Writer's Association of America and the Michigan Press Association. Follow him on Twitter at @WorldGolfer.