Golf can be spooky at some of the world's most haunted golf courses

By
William K. Wolfrum
,
Contributor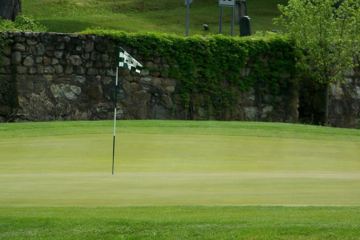 View large image | More photos
At The Garrison Golf Club in New York, the 14th green is surrounded by gravestones overhead on the hill. (Courtesy of The Garrison G.C.)
Golf is a spooky game. Just ask golfers at Garrison Golf Club in New York, at Trilogy at Vistancia out in the Phoenix-Scottsdale area, or down in Myrtle Beach at Willbrook Plantation. Ghosts inhabit courses in Europe as well, including the Old Course at St. Andrews and at Church Stretton Golf Club in England.
Just on its own, golf can be a rather spooky game. If you have any doubts of that, remember the last time you were faced with a long forced-carry to a green. Or faced with water all the way down the side of the fairway -- the side that you always slice toward. It can be downright harrowing, really.
But there is spooky and there's spooky.
Because while some golf courses will chill you with difficult layouts, others can frighten the dickens out of a player with things that border on the supernatural.
All around the globe there are golf courses such as this, where graveyards and native burial grounds play host to your round. Or where ghosts make their homes amongst the bunkers and fairways.
Here's a look at a few golf courses that give the term "spooky" a whole other element.
Golf frighteners
Having a much longer history than the West Coast, the East Coast of the U.S. is chock-full of areas scary locations and golf courses. One such example is the Hudson River Valley in New York, and notably Garrison Golf Club.
Your round at Garrison should be calm and relaxed -- until you reach hole no. 14. Because not only will the 215-yard par 3 give you some chills, but so will the tombstones from the 19th-century graveyard overlooking the greens.
"I was doing all right till I saw the graves," golfer Joe Izora told GolfNewYork.com about the hole. "I think they spooked my driver or something."
Of course, don't forget, that Hudson River Valley is also home to the Headless Horseman of "The Legend of Sleepy Hallow" fame. But when playing, remember to keep your head down, if you dare.
Of course, the West coast has its own courses that will get the goosebumps rising on golfers. In the Phoenix-Scottsdale area, Trilogy at Vistancia will have swirling winds that may seem harmless at first, until you remember the Native American history of the area. Sometimes, it seems, some restless spirits will interrupt your round.
"On this day, our group saw two different whirlwinds -- what Native Americans call restless spirits. Whipping around in the distance, with winds hitting 60 to 70 mph in the whirling, small funnels, these forces are a sight to behold," wrote Chris Baldwin in a review of the course for GolfArizona.com.
Myrtle Beach, S.C. is known for being one of the greatest golf destinations on earth. But it also has a history that can trickle its way to golf courses and frighten unwitting golfers. The numerous "plantations" of the Grand Strand are all about golf now, but they were once places where slaves were forced to labor the fields, and their spirits still remain.
Take Willbrook Plantation, for instance. Around the eighth hole you'll see a historical plaque (one of many on the course) that will tell you all about a slave graveyard. If there are such things as restless spirits, you can be sure they are haunting the area.
In Kansas, at Fort Leavenworth, ghosts are a part of the natural landscape, it seems. At Trails West Golf Course on the grounds, there have been reports of sightings of the ghost of Catherine Sutter, who was traveling west in the 1880s when her children and husband disappeared. Sutter later died, and legend has it that she still wanders the grounds, looking for her lost family.
In Europe, of course, the whole continent is haunted, according to some. Even the legendary St. Andrews has its share of frights, including Martyr's Monument behind the 18th hole of the Old Course at St. Andrews. The monument commemorates five 15th- and 16th-century Protestant martyrs who were burned at the stake there. And for golfers that wouldn't mind being haunted by a golf legend, at St. Andrews you'll be near the area where Old Tom Morris died. While looking for a restroom at the New Club, he plunged down a flight of steps and succumbed to a fractured skull.
More haunted golf
For years the city park golf courses of New Orleans have received numerous sightings of ghosts. ... In England, after you play a round at Church Stretton Golf Club, ask the locals in the clubhouse about the ghost that haunts the course. ... Canada has its share of golfing ghost stories, including at the Victoria Golf Club, where Doris Gravlin was murdered in 1936 and still is a "presence" at the golf course. ... In California, at Aetna Springs Golf Course, witnesses have reported seeing the ghosts of eight monks traipsing across fairways.
More photos
«
»
October 26, 2007
William K. Wolfrum keeps one eye on the PGA Tour and another watching golf vacation hotspots and letting travelers in on the best place to vacation. You can follow him on Twitter @Wolfrum.