Costa Del Sol, Spain's top golf courses rival the best anywhere

By
Brandon Tucker
,
Managing Editor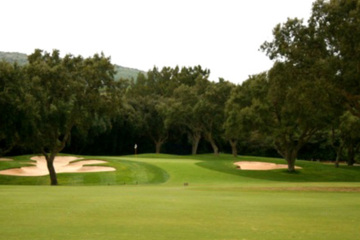 View large image | More photos
The Costa Del Sol is home to Europe's most coveted parkland: Valderrama Golf Club, offering limited daily public play. (Brandon Tucker/TravelGolf)
SAN ROQUE, Spain - Spain's Costa Del Sol - which is home to the majority of the 130 golf courses in Andalucia - has a course around every corner for every budget.
Its top shelf is as good as any golf destination in the world when you couple the area's finest courses with ultra-posh accommodations and Spanish and Andalucian gastronomy (especially if you like the informal tapas bars found around every corner).
The top upscale golf clubs are all in practically the same neighborhood, and many have fairways visible from an adjacent course.
"It's quite simple how the lay of the golf is on the Costa Del Sol," noted local tour operator Jonathan Snell of SimplyGolfVacations.com. "Generally speaking, from Malaga, the courses gradually get better and better as you pass through Marbella, and finally into Sotogrande and San Roque, home to the finest clubs on the coast."
Despite their proximity to one another, these courses boast distinct playing styles, from the ultra-tight cork forests of Valderrama to the dramatic new and open Finca Cortesin, which has panoramic views of the mountains and Mediterranean Sea.
Top-shelf Costa Del Sol golf
Valderrama Golf Club: Valderrama is Spain's most famous course. In fact, it was the first continental European course to host the Ryder Cup Matches, in 2002.
This Robert Trent Jones Jr. design winds tightly through a cork tree forest, with ultra-tight fairways and greens the size of a thumbtack. The par-5 17th hole, with the slick peninsula green that rolls into the water, steals the headlines. But the course offers plenty of jaw-dropping moments, including the signature par-5 fourth, "La Cascada," with a cascading waterfall on its small green. Other holes, like the short, narrow, par-4 eighth, are tight enough to walk the edge of insanity.
Despite being a members' club with exceptional conditioning (you feel guilty taking divots out of these aprons), Valderrama offers limited public play between noon and 2 p.m., so try and book 90 days in advance.
Finca Cortesin Golf Resort: One of the new kids on the block about nine miles from Valderrama, Finca Cortesin has emerged on the Costa Del Sol golf scene and is set to host the Volvo World Match Play Championships this fall. The Cabell B. Robinson design is mostly wide open, set along mountainsides where thick bush usually lurks off fairways. There are five par 5s, none of which are straightforward birdie opportunities and require more brain than brawn to score on, including a tumbling and dog-legging 519-meter 18th hole with bunkers scattered all around the green.
The Old Course at San Roque Club: One of the coast's most respected golf courses, thanks in part to a sterling golf club with top-rate facilities and a 1990 course design that used Seve Ballesteros to assist in the redrafting of bunkers, the Old Course is a beautiful walk amid the foothills, where many green locations show off the Sierra Bermeja mountains and overlook the Mediterranean at other high points.
Perry Dye recently added a second 18 holes to San Roque. Host to the 2006 Spanish Open, it's a quintessential Dye family design with steep grades, railroad ties and plenty of bunkers.
La Reserva Golf Club: Another one of the coast's new, upscale facilities is the new La Reserva in Sotogrande, tucked away in a gated community on the same hillside just minutes from Valderrama, which you'll see in the distance from the high points on this course. But this Cabell Robinson design offers much wider fairways and some steeply downhill tee shots, plus a massive country house clubhouse overlooking the course that spares no expense.
Almanara Golf Resort: Ideal for the group looking for on-site golf and accommodations, the new 27-hole Almanara, designed by Dave Thomas, lies between Sotogrande and Valderrama. While playing tight with plenty of water in some spots, it affords some of the area's best views, especially from the lofty hotel and clubhouse.
Real Golf Club de Sotogrande: This members-only club offers very limited public play on weekdays, but is a Robert Trent Jones Sr. design from 1964 considered one of continental Europe's finest just behind nearby Valderrama.
Stay and play in style on the Costa Del Sol: The Finca Cortesin Golf Resort & Spa
For the best accommodations the Costa Del Sol has to offer, stay at the brand new, five-star Finca Cortesin Golf Resort & Spa, just opened at the end of 2008. It will knock off even the most affluent and well-traveled golfer's socks.
The Andalucian-themed property, which mixes a blend of Moroccan and Spanish decor, is spacious and open. Even the smallest guest rooms are enormous, with four-meter-high ceilings and balcony or patio views. Some ground level suites even come with a private pool.
The spa adds to this grand setting. There are two Olympic-sized pools (one indoor, one outdoor), and among the many treatment rooms and baths is a snow room (located next to the sauna, of course).
If you're looking to save money on accommodations to spend big on golf, consider the Almenara Golf Resort, an official host hotel to the Volvo Masters. Or stay near the heart of Marbella at the Hotel Andalucia Plaza, just a short walk to all the action of Puerto Banus.
More photos
«
»
April 3, 2009
Brandon Tucker is the Managing Editor for Golf Advisor. To date, his golf travels have taken him to over two dozen countries and over 500 golf courses worldwide. While he's played some of the most prestigious courses in the world, Tucker's favorite way to play the game is on a great muni in under three hours. Follow Brandon on Twitter at @BrandonTucker and on Instagram at BrandonTuckerGC.