Spain's best golf resorts feature sun, siestas and shot-making
By
S. Adam Cardais
,
Contributor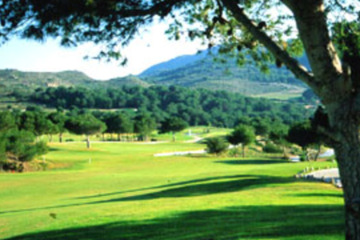 View large image
The La Manga Club has won three World Travel Awards as a top European golf resort. (Courtesy La Manga Club)
Talk about golf in Europe and the conversation usually turns to Ireland or Scotland. Destinations on the continent have long received little attention.
That has started to change.
Spain, with a century of golf heritage, is starting to turn heads. The country found itself in the international golfing spotlight in 1997, when Sotogrande's Valderrama course was selected to host the Ryder Cup Matches.
"Skeptics and believers alike watched in wonderment as a course called Valderrama unveiled its classic finesse and confounded the best players on the planet," David Brice wrote in a story for GolfWeb. "Impressed golfers began speaking of Spain in the same breath as they did Scotland or Ireland - Spanish golf had arrived."
Today Spain boasts some of the most luxurious golf resorts in Europe, and the warm, sunny climate makes it a pleasure to hit the links. Many of the most sought-after spots are in Costa del Sol - or Costa del Golf, as it has come to be called - and they are without a doubt world class.
La Manga Club: Located in Murcia, La Manga won World Travel Awards as Europe's Leading Golf Resort in 2001, 2003 and 2005. Its three 18-hole courses have played host to many international events, including the Spanish Open and the Spanish PGA Championship.
The club recently spent millions renovating its North, South and West courses. The North and South, lined by private villas, are dotted with palm trees and other features that make them picturesque as well as challenging to play.
"Lakes and large, sculpted bunkers add to the visual delight of both courses while the criss-crossing of deep barrancas - storm gullies which are dry for most of the year - adds a challenging aspect requiring careful play to avoid," Peter Ellegard wrote in a 2004 review for WorldGolf.com.
The resort also has premier accommodation in the Hyatt Regency La Manga, which offers a spa and a mammoth (28-court) tennis facility.
Marbella Club Hotel, Golf Resort and Spa: On the southern coast of Spain in the "Golden Mile" between Marbella and Puerto Banus, this resort was named one of the Best Hotels in the World in 2004 and 2005 by Travel & Leisure.
Each of the 121 rooms has a balcony or terrace with views of the coast. Marbella's 18-hole golf course, designed by Dave Thomas and located about 20 minutes from the hotel and spa, has lush undulating fairways and many well-placed bunkers. The clubhouse is perched over the 18th green.
La Cala Resort: This Costa del Sol resort advertises itself as the largest golf complex in Spain. It has three 18-hole golf courses, Campo America, Campo Asia and Campo Europa, the last opened only last year.
Designed by Cabell Robinson, Campo Europa is well-bunkered, but the spacious fairways and large greens make it more accessible to a range of skill levels than the other two courses. The Ojen River runs through the 6,576-yard track, cutting over the wide fairways three times.
The resort has a five-star hotel with 107 rooms and also rents luxury apartments and villas. Sample a bit of Spanish cuisine at Restaurant La Terraza and get an Indian head massage at the Caracala Spa.
Click here for Spain tee times and package information.
October 2, 2006