Southwest Louisiana golf vacation guide: Courses, restaurants, more
By
Steve Habel
,
Contributor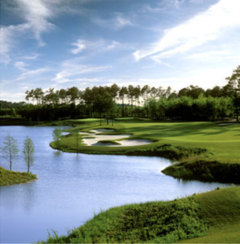 View large image | More photos
The front side at Contraband Bayou ends with the 421-yard, par-4 ninth, a slight dogleg left up a hill that suffered Rita's wrath. (Courtesy Contraband Bayou Golf Club)
Southwest Louisiana has golf courses like Gray Plantation and destinations like the Coushatta Casino Resort to make it a solid option for a golf vacation.
LAKE CHARLES, La. - Let's get one thing on the record right away: southwest Louisiana is back.
The devastating hurricanes of two years ago are now memories, albeit painful ones, and the region has resurfaced with top notch golf courses, casinos and restaurants - and that's helping to bring golf vacation seekers back.
The hub of southwest Louisiana golf and gaming is the city of Lake Charles, which has increased its tourism spending in recent years to bring in new visitors.
Here's a guide to how to make the most of a golf vacation in southwest Louisiana.
Southwest Louisiana golf courses: Must plays
Contraband Bayou Golf Club - This Tom Fazio-designed track in Lake Charles emphasizes the area's marsh and lowland features of the natural Louisiana environment to enhance its unique 7,036-yard, par-71 championship layout.
The site, next to the main property of the L'Auberge and built out of 227-acres of land that used to be underwater as part of the Calcasieu Waterway, presented many obstacles in its design and construction, the most challenging of which was building a golf course in swamp-like terrain. More than 400,000 cubic yards of dirt were moved to construct this course.
Contraband Bayou features all the attributes that make Fazio courses so appealing: there are the plenty of favorable bounces incorporated into the long par 3s, long par 4s, short par 4s and the one monster par 5 on the golf course, the 10th.
"What I like best about Contraband Bayou is the playability of the golf course," Billy Rase, the course's director of golf. "When a golfer leaves here he is not drained. Also for the most part a group can play in four hours or less. It's an enjoyable outing."
Koasati Pines at the Coushatta Casino Resort - This Kevin Foster design, located about 45 miles from Lake Charles in Kinder, is an 18-hole, par-72 championship course, with more than 50 acres of looking-glass lakes. Nestled in the natural wetlands of South Central Louisiana, at Koasati Pines you will be surrounded by stately pines and huge live oaks.
It can be a real bear to play, especially because of its taxing length (at 7,617 yards, it is the longest course in the Pelican State) and the seemingly constant winds. But with its six different sets of tees, you need only bite off as much of Koasati Pines as you think you can chew, while keeping in mind the quality and pleasure you are having while you are at it.
"There are many great qualities to this course, but my favorite two would be playability and variety of challenge," said Matt Jones, the Koasati Pines' director of golf. "In other words, it is a very playable course, depending on which tees you play, and the challenges that arise also change depending on which tees you play."
Koasati Pines even has a real 19th hole, not just the place to grab a cold one after the round. It is a 137-yard tester with an island green that can be used to settle ties or just to have a little more fun.
Southwest Louisiana golf courses: Solid second
Gray Plantation - Built in 1999 and renovated by the winds and waters of Hurricane Rita, Gray Plantation is a beautifully landscaped 18-hole, 7,200-yard semi-private golf course that challenges pros and entertains amateurs of all skill levels. The course was designed by internationally respected golf course architect William "Rocky" Roquemore, and Golf Magazine describes Gray Plantation as "a delicate mix of Southern charm and Cajun fire."
The natural beauty of Louisiana's Bayou Country is an integral part of Gray Plantation's unique charm and challenge. Water, both the adjacent Calcasieu Waterway and via the course's 60 acres of man-made lakes, is a major factor in the level of difficulty as well as contributing to the aesthetic quality of the track. The wet stuff comes into play - literally - on 11 of the course's 18 holes.
If you are not really ready for the challenges Gray Plantation has in store, you are made award of them very quickly. There's plenty of trouble, along with all that water there are 94 bunkers, but there are few forced carries off the tee and most of the trouble can be avoided with conservative play as Roquemore put an emphasis on tough par 3s, creating two with island-like greens.
Southwest Louisiana off the golf course
Lake Charles has earned its nickname the "Festival Capital of Louisiana" for hosting more than 75 fairs and festivals annually. Check this VisitLakeCharles.org for dates of upcoming events. The Isle of Capri Casino has welcomed headliners such as Toby Keith and Willie Nelson, among others.
The Creole Nature Trail, a 186-mile stretch of roadway that starts in Sulphur and ends in Lake Charles, is a haven for alligators, birds and wildflowers. Bird watchers consider the trail, known as "Louisiana's Outback," a world-class destination.
The 2004 Ryder Cup captain, Hal Sutton, a Louisiana native and an avid outdoorsman, is one of thousands of hunters who flock to the area to shoot duck, deer, wild turkey, dove and other game. Freshwater fishermen often find the big catch in local lakes, rivers, bayous and marshes.
And let's not forget, the 26 miles of beaches are always a draw for families.
Southwest Louisiana dining
If you are staying at one the casinos, try eating there - you won't be disappointed.
There are a bevy of great restaurants in Lake Charles. For a night on the town, Steamboat Bill's on the Lake was voted the area's No. 1 seafood haunt. Pujo Street Café offers more than 30 wines to wash down steaks and Cajun fare.
Tony's Pizza gets the nod for its Italian menu that specializes in pizza, deli sandwiches, salads and home-made pasta and its friendly, family-oriented atmosphere, and Pat's of Henderson, with a Cajun and American menu, specializing in rib-eye steak, stuffed snapper and seafood also is lauded. Check out the Colonial design with walnut paneling and framed portraits while you are there.
For the hometown feel, try Hackett's Cajun Kitchen, as its proprietor, Charles Hackett, grew up making boudin at his daddy's grocery down in Sweetlake. He now offers the traditional family recipe, along with four flavors of his own creation.
More photos
«
»
December 18, 2007