Sophie Sandolo continues to turn golf fans' heads with calendar

By
William K. Wolfrum
,
Contributor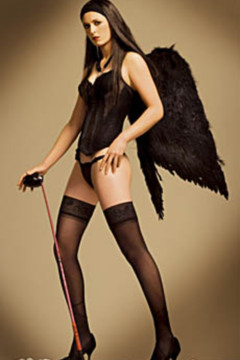 View large image | More photos
Sophie Sandolo is once again tempting golf fans with the release of her sexy 2007 calendar. (Courtesy www.sophiesandolo.it)
New Year's Day is swiftly approaching, and 2007 promises to be a year full of change. Luckily for many golf fans, one thing will remain the same: You can once again mark off the days on a sexy Sophie Sandolo golf calendar.
"I was not too 'hot' about the idea of making the 3rd edition of my calendar - as my friends know I always love to make new things - but thousands of requests and messages from my fans convinced me to make another one again," Sandolo wrote on her official Web site. "And I can assure you are going to have some surprises!"
As her many fans can attest, when Sandolo says you can expect surprises, she means it. Particular when it comes to her calendars, which showcase the former UCLA marketing major in various golf-related photos in various minimal amounts of clothing. Expect more of Sophie, in more ways than one, in the 2007 edition.
2006 was an interesting year for Sandolo. She turned 30, and collected her first victory as a professional, taking the Princess Lalla Meriem Cup at the Royal Dar es Salaam Golf Club in Rabat, Morocco, in a five-hole playoff.
"The year was very satisfying, even if I still think that, with a bit more luck, it could have been even better," Sandolo wrote. "I must say that I'm very happy with the results in golf and in the fashion world. I always give everything I've got to achieve as much success as possible in any domain."
Sandolo also managed to transcend the game in other ways, as she was nominated for ESPN Page 2's Hottest Female Athlete of the year along with Tanith Belbin, Gretchen Bleiler, Swin Cash, Vonetta Flowers, Natalie Gulbis, Lindsey Jacobellis, Kristi Leskinen, Danica Patrick and Maria Sharapova. Sandolo didn't get the win, but the increased exposure helped, and her Web site now consistently receives more than 1,000 hits per day.
With three top-10 finishes in 2006, Sandolo will enter 2007 looking to show more results on the golf course. "It's nice to be known for looking good - but I want to prove myself on the golf course too," said Sandolo prior to the Dubai Ladies Masters, where she finished 14th.
For the year she finished 30th on the Ladies European Tour Money list, down from her high-water mark of 12th, which she attained in 2005. And while famed photographer Paolo Ranzani has done his part to help her look amazing in her calendar, Sandolo is hoping to combine looks and victories in 2007.
"I still have the same objective of bringing greater visibility and glamour to women's golf, putting it in the spotlight in a modern and feminine context," she wrote at her site. "The results I've seen prove to me that I'm on the right path, but we still have a long way to go."
The Ladies European Tour seems to agree with Sandolo, hailing the release of her new calendar on the front page of its Web site and increasingly spotlighting the Italian national, currently resident in Monaco.
Sandolo's calendar can be purchased for €16 (plus shipping) at her Web site (she takes PayPal); you can get both the 2006 and '07 models for €25.
More photos
«
»
December 7, 2006
William K. Wolfrum keeps one eye on the PGA Tour and another watching golf vacation hotspots and letting travelers in on the best place to vacation. You can follow him on Twitter @Wolfrum.