Tom Fazio on raising the bar with Vegas' Shadow Creek golf course

By Jack Sheehan,
Contributor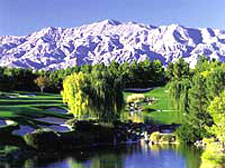 View large image | More photos
Tom Fazio asked Steve Wynn what kind of budget he'd be working with at Shadow Creek. The answer? "Whatever you need." (Courtesy photo)
The epic Shadow Creek golf course in North Las Vegas, Nev. will close down May 19 through December for an enhancement project led by the course's designer, Tom Fazio. One official with the course said "Shadow Creek will be restored to its initial glory." We recently sat down with Fazio to discuss the course that's come to be viewed as "a modern-day wonder."
From the day it opened in 1989, Shadow Creek has been regarded by the golfing media and public at large with a sense of awe and wonder.
How could a brilliant course, considered to be among the best in the world, be located on a patch of barren desert land? It seemed unimaginable.
And yet as writers and professional golfers and celebrities and high-rolling hotel guests played Shadow Creek in that first year, and reported back to their friends, the message spread through the golfing world that a miracle had been molded out of a stark wasteland just minutes from the fabled Las Vegas Strip.
The principal designer of the course, Tom Fazio, not long ago gave his first interview to me regarding the challenge and pleasure of building Shadow Creek. He also put into perspective what the creation of the course meant to the golf course industry as a whole and to the state of modern design.
"When I was first approached by Steve Wynn about the project in 1987, I turned it down," Fazio says. "I had recently completed The Vintage Club in Palm Springs, and I didn't want to spend that much time away from my family in North Carolina again. But the conversations continued, and about a year later I visited the 310-acre parcel upon which the course was to be built. The nicest thing you could say about it was that it was uninteresting. And yet the desire was to build a golf course that was as good as anything in the world. Obviously, I had to ask myself, 'Is this doable?'"
Fazio says the conventional approach a developer uses when enticing a top golf course architect like himself is to rave about the natural terrain and beauty of his land, and how it will lend itself to making a magnificent course.
"Steve took the exact opposite approach with Shadow Creek," Fazio says. "He told me the land was flat and boring, one of the ugliest plots of ground I would ever see. It was a parcel that only tumbleweeds sought out. But he also said if we created something beautiful from it, then God and nature would get none of the credit, and golfers would see we had created a wonderful course out of nothing. That was a pretty appealing come-on line."
This would not be merely a case of turning a sow's ear into a silk purse, but transforming a wallflower into Charlize Theron.
It soon became apparent to Fazio that he had a rare opportunity to do something he'd never done before as a designer, work with a blank canvas. And when he asked Wynn what kind of budget he'd be working with, the answer came back "Whatever you need." (The final estimated cost was $47 million in 1988 dollars.)
"There was no single moment when I told Steve, 'Yes, I'll do it,'" Fazio says.
"We just started to put things on paper and let it evolve from there. And as we progressed I saw that we could create a great course, that it was indeed possible. Yet that challenge soon became intimidating. What if I screwed up? Would it ruin my reputation?"
It was determined early on that Shadow Creek would have no weak holes.
"If you think about great courses you've played, you usually come away thinking there are one or two holes that aren't very good," Fazio says. "And that sometimes happens because the environment is restrictive, or the budget is limited. We were determined that this was not going to happen at Shadow Creek because we had no restrictions. The only restriction would be our lack of imagination."
Creating a sense of intimacy at Shadow Creek
One of the first decisions made was to create a sense of intimacy on the golf course. This would be achieved by framing each hole carefully so the golfer would see only the hole laid out in front of him, and not adjacent fairways and greens. A sense of narrowness was achieved, in contrast to many courses in the West which boast of being wide open. More than 21,000 trees and plants were imported, which would have the dual effect of bordering the golf course and blocking it from the stark terrain of the surrounding desert. This provided a "walk in the park" for players, so they could enjoy the scenery as much as the recreation. Hundreds of colorful Chinese pheasants and swans and geese were brought in to enhance the mood. In the first two years, Wynn even had Australian Wallabies bounding across the fairways.
The intent was never to build the most difficult golf course, but rather the most enjoyable.
"I don't believe that golf has to be hard to be dramatic and enjoyable," Fazio says. "Had I been asked to build the most beautiful and hardest course in the world at Shadow Creek, I would have passed."
It was also decided that the par-three and par-five holes would provide the Wow Factor that would leave the most memorable lasting impressions.
"We feel we have 10 strong and distinctive par-four holes," Fazio says. "They're all different and challenging, with features that make them special. But with the short and long holes - four of each -we took the opportunity to provide the most drama. We used all the components that would do that: lovely creeks, trees, plants, flowers, the pleasant shaping of fairways, using the colors in the mountains and the sky as a backdrop, and understanding how the shadows would play on the green grass and blue water at different times of day. Nothing happened by accident at Shadow Creek. I wouldn't say that we took an inordinate amount of time on the small details, just the necessary amount. And I can tell you that every square foot of that 310 acres, from property line to property line, north-south-east-west, was handcrafted. There is not one inch of soil that was not touched physically by a human. We had the total freedom to create an environment, and we did it."
Shadow Creek: The best golf course in the world
The result is a masterpiece that the Robb Report called "The Best Golf Course in the World," beating out finalists like Augusta National, Cypress Point, Pebble Beach, Pine Valley, and the Old Course at St. Andrews. The article went on to say that "there may not be a place on the planet where the golf experience is as sublime as it is at Shadow Creek in Las Vegas."
Of course, Fazio is flattered by the praise heaped upon his masterpiece, but he realizes that a golf course is a highly subjective experience.
"I think there are a thousand golf courses that can claim they belong in the top 100," he says. "And probably a hundred that can argue they're the best. Shadow Creek is certainly in the top rank of them all."
The impact of the finished product cannot be overstated. On a local level, there have been more than 30 golf courses built in the Las Vegas area since Shadow Creek opened 11 years ago, and nearly all are better than the best courses that existed in or near the city beforehand.
Fazio says the influence can be seen on a national level as well.
"Just as Tiger Woods has raised the standard at which professional golf is played, so Shadow Creek raised the bar on the golf course design industry," he says. "It was viewed as a modern-day wonder and created higher budgets and higher standards for all new courses since it opened.
"I'll tell you, it was a unique and pleasurable experience for me," Fazio concludes. "I doubt I'll ever have a chance to build another like it."
Shadow Creek quick facts:
Location: North Las Vegas, 12 minutes from downtown Las Vegas

Opened: Oct. 21, 1989

Designers: Tom Fazio and Steve Wynn

Par: 72
Honors: Named by Robb Report, June 2000 issue, as "Best Golf Course in the World." Named by Golf Magazine, Sept. 2000, in Top Ten for "Best Courses You Can Play." Year after year, ranked by Golf Digest in to 30 for "Best Courses in the U.S."
Availability to golfers: A limited number of tee times are available Monday through Thursday at Shadow Creek for $500 for guests of any of the MGMMirage resort properties. Limousine transportation to and from the course, a golf cart, and a caddie are included in the green fee. Call ahead to Mirage (702) 791-7111 to verify availability. The course may be closed in summer and fall of 2008 for major renovations.
Most idyllic setting: The 145-yard eighth hole, the shortest on the course, was inspired by the secret hideaway in Lost Horizon, where travelers find everlasting youth and wisdom. It is reached via tunnel, and has the isolation of a private garden. The green is surrounded by ivy and rosemary and the pathway to the green is bordered with a magnificent palette of blooming plants.
Best view: Again, we'll choose a par-three, the 164-yard 17th. Golfers play from one of several tees perched on top of a ridge to a green surrounded by rock and water. A waterfall behind the green drops into a pool that cascades into a greenside bubbling creek. The hour of day determines the length of shadows across the green and adds texture to the drama.
More photos
«
»
May 7, 2008
An author, professional keynote speaker, celebrity host, and humorist, Jack Sheehan is a 30-year Vegas insider. He is a New York Times best-selling author and screenwriter, with more than 11 books in print, including two with professional golfer Peter Jacobsen, Buried Lies and Embedded Balls.