Seattle golf courses: Cheap greens fees, no waits, plenty of unexpected joy
By
S. Adam Cardais
,
Contributor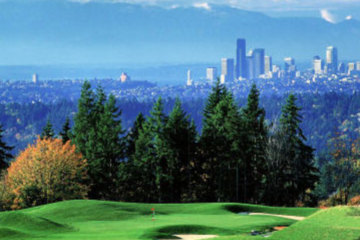 View large image
The Golf Club at Newcastle boasts panoramic views of Seattle, Lake Washington and the Olympic Mountains. (Courtesy The Golf Club at Newcastle)
High supply, low demand. That's the most fitting description of Seattle as a golf destination, which is excellent news for duffers traveling to the Emerald City.
"Despite the Northwest beauty in its midst - towering pines, glistening lakes, you name it - Seattle isn't much of a golf town," Chris Baldwin wrote in TravelGolf.com feature.
"Oh, it has the golf courses. It just doesn't have the golfers to fill them. This means cheap green fees, few waits and plenty of unexpected joy. Sometimes being in a town where golf isn't hip is just the trip."
Indeed, golfers can get on some of the finest tracks in Seattle and its environs, including Druids Glen Golf Club in Kent, for around $50 on weekends. Some of Seattle's best municipal golf courses are even cheaper, putting excellent West Coast golf well within the average duffer's reach.
Here's a quick guide to a few must-play golf courses in Seattle:
Jefferson Park Golf Course
The oldest golf course in Seattle (opened in 1912), Jefferson Park Golf Course was designed designed by Thomas Bendelow. Golfers are treated to stunning views of downtown Seattle and Mount Rainier while navigating the tight fairways on this 6,182-yard course.
The Golf Club at Newcastle
The Golf Club at Newcastle's signature Coal Creek course is a Bob Cupp-Fred Couples design measuring just over 7,000 yards and featuring 300 feet of elevation change.
Much of the golf course offers panoramic views of the city, Lake Washington or the Olympic Mountains. Watch out for the opener, a 621-yard bruiser of a hole.
Sibling track China Creek was named a "Top 50 Course in the U.S." by Golf for Women. The 6,632 yards of undulating fairways, strategic bunkers and superbly conditioned, true-rolling greens also sport more trees than does its big brother, most notably on No. 14.
The club has an 18-hole bentgrass putting course called the Rusty Putter, a pro shop and The Calcutta Grill, which serves daily lunch and dinner and Sunday brunch.
Jackson Park Golf Club
The municipal Jackson Park Golf Club opened in 1930 and claims to be the driest round of golf in Seattle. Playing to 6,186 yards from the back tees, Jackson Park features tight, tree-lined fairways and doglegs that can challenge even seasoned golfers.
Druids Glen Golf Club
Set against the backdrop of Mount Rainier, Druids Glen Golf Club is widely considered one of the most difficult rounds of golf in Washington. Its 7,146 yards take golfers through rolling terrain filled with massive evergreens and numerous ponds.
Watch out for the forced-carry par 3s, but don't be put off if you're not a scratch golfer: Four sets of tees make Druids Glen accessible to a range of skill levels.
Washington National Golf Club
Washington National Golf Club, home to the University of Washington's men's and women's golf teams, was designed by John Fought. The golf course can play as long as 7,300 yards or just over 5,100 yards, depending on which set of tees you choose.
The facility includes a practice center with a teeing ground, a practice bunker and an 11,000 square-foot putting green. There is also a full pro shop.
June 12, 2007