Sassy Swings: Bringing luxury to the golf glove

By Alan Katz,
Contributor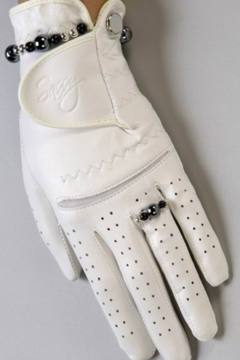 View large image | More photos
"No longer do women want to look like men on the golf course," says Sassy Swings co-founder Tina Siebenman. (Courtesy Sassy Swings)
When a customer goes into a store to buy a golf glove, the decision is viewed in practical terms - size, comfort, durability and price. Style doesn't play a part in the decision because a golf glove is inherently unglamorous. It's just something to help the golfer grip the club while protecting the skin from blisters.
Two women from Missouri hope to change that perception with their new Sassy Swings line of beaded golf gloves for women, which they introduced at the PGA Merchandise Show in Orlando, Fla. The gloves are adorned with gold, sterling silver and Swarovski crystal beads in the form of bracelets which perform a practical function: They're stroke counters.
"When we took our gloves to the (PGA) show, the reaction was: 'Finally something new, and a great idea,'" said Tina Siebenman, a former medical equipment salesman.
Siebenman said she and her business partner, Lisa Sacco, were playing around with beads and a glove one day and came up with the idea for a line of simple but stylish golf gloves to be sold at the high end of the market. After filing for a patent and finding a glove maker in Taiwan, they were in business.
Two months after the show in Orlando, their gloves are sold in 12 states and five countries. The biggest obstacle so far has been the male mindset.
"Men run the pro shops, and they don't understand why a woman would pay $49 for a glove when they can get one for $15," Siebenman said. "But the merchandisers and apparel buyers are women - and they get it. They love the idea because the trend in women's golf apparel is changing. No longer do women want to look like men on the golf course. They don't want a traditional polo shirt cut like a man's.
"Golf used to be a way for women to move up in the corporate world. Now it's more social - like at their bridge games, women want to wear something a little different from what other women have."
Still, $49 may seem steep for a single glove that has to endure stains and wear and tear. But according to Siebenman, the gloves are washable with Woolite and "hold up as well as a Callaway glove, or better."
"My mother-in-law plays golf about 65 times a year, and she's wearing her glove for a second season," Siebenman said. "Do we market it as the only glove you'll ever need? No. It's for women who want fine, unique things."
Siebenman added: "It's a great gift for a man to buy his wife, mother or daughter if he doesn't want to spend a lot of money on jewelry."
The gloves come in three sizes and four styles. They're available over the Internet at sassyswings.com
More photos
«
»
March 21, 2006