San Diego has golf courses ready for when you step off that airplane
By
S. Adam Cardais
,
Contributor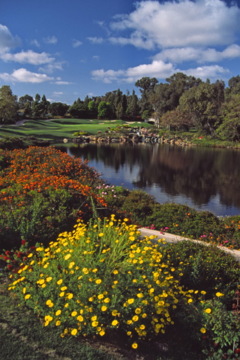 View large image
Don't let the pretty flowers fool you: Four Seasons Aviara Golf Club is one of Arnold Palmer's tougher designs. (Courtesy Aviara Golf Club)
Waiting for a connection in San Diego International Airport, surrounded by irritable travelers, all-purpose one-stop-shops and tacky restaurants, you might well ask yourself: What the hell am I doing in here?
Not a bad question, considering you're in sunny San Diego, one of the most popular cities in California, if not the country. Many exhibits make up San Diego's case to be placed in the first rank of U.S. destinations, and golf is one of them.
The city and its environs boast many great tracks, most notably U.S. Open site Torrey Pines. And many are near the airport, making it easy to squeeze in a round on a layover.
Here are some of the best courses to try out near San Diego International Airport.
Flying in for San Diego golf
Mission Bay Golf Course: Just a 10-minute drive from the airport, this is one of San Diego's only tracks with night lighting. The course sits on beachfront property, so the views are spectacular.
So is the wind - short holes require extra loft. Overall, though, the course is a pleasure to play, and should go a long way toward getting your mind off that next flight.
The Grand Golf Club: Just under 15 miles from San Diego International, this Tom Fazio design at the Grand Del Mar resort is surely one of the most impeccably maintained courses in San Diego.
"The few holes you see while driving up to the clubhouse literally give you goose bumps," Ben Malone wrote in a GolfCalifornia.com review. "Perfectly manicured fairways give way to plush greens that have more undulations than the Pacific Ocean."
With 78 strategically placed bunkers, The Grand is no pushover, but its famously top-notch service means you'll leave satisfied no matter what kind of a beating you take on the course.
Four Seasons Aviara Golf Club: Walking this Arnold Palmer track about a half-hour from the airport is like strolling through a garden.
Palmer filled Aviara with flowers, brushes and shrubs to compensate for the lack of natural scenery at the site in Carlsbad, just north of San Diego. But the beautiful fauna masks a course that belies his reputation for player-friendly designs. The enormous bunkers and lightning-fast greens will test your skills.
Torrey Pines Golf Course: This 36-hole municipal club about a 20-minute drive from the airport hosts the annual Buick Invitational. The South course, redesigned in 2001 by Rees Jones, will host the 2008 U.S. Open.
A muni it may be, but Torrey Pines is arguably the best course in San Diego.
"First-timers to Torrey Pines should forget every negative thought they may have about city golf courses," Art Stricklin wrote in a review for GolfCalifornia.com.
"Forget the old crumbling clubhouse, forget the nonexistent maintenance, the over-baked greens, the fairway browns and the bunkers with little sand and water fountains which haven't worked in years. [Torrey Pines] will shatter all your misconceptions about poor municipal layouts."
November 24, 2006