Heading to Ryder Cup, golf gods are smiling on team Europe
By
S. Adam Cardais
,
Contributor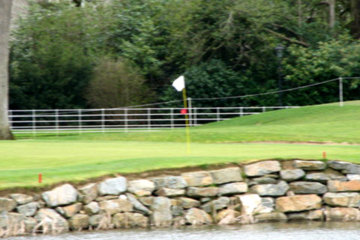 View large image
Irish fans will likely be out in force at the K Club to cheer on their compatriots. (GolfPublisher.com)
With the 36th Ryder Cup Matches rapidly approaching, the Europeans seem to have everything going for them.
The Sept. 22-24 tournament at the K Club will mark the Ryder's Ireland debut - and with three Irishmen on the Europe team, attendance and fan support will likely be huge.
The squad itself, led by captain Ian Woosnam, is more experienced and has a higher mean world ranking than the Americans. The Europeans also enter with the confidence that comes with winning four of the last five Ryder Cups.
All this adds up to Europe going into the Ryder as the favorite for the first time in years. Hopes are so high that Woosnam has had to warn against complacency, saying this Ryder Cup, like others past, will be a tough fight.
"For the first time we've been put as favorites, but I think you've only got to look back," he said earlier this month. "All of these matches have gone down to the wire, and I expect it to go down to the wire again. But you know we're on home ground and hopefully we can keep the cup in Europe."
For their part, the Americans seem comfortable being cast as underdogs.
"The cup isn't ours; the cup is theirs," U.S. captain Tom Lehman said at the PGA Championship last month. "So that puts us in a different role, I think. But I don't mind that at all. I 'd say let them be the favorites. Let them deal with that. That's fine with me."
Lehman's apparent confidence isn't ungrounded. His team boasts the world's three top players in Tiger Woods, Jim Furyk and Phil Mickelson, and Woods is coming off a phenomenal season.
The team also seems determined to bring the cup back to America. Last month Woods and Mickelson both rejiggered their schedules to participate in a two-day reconnaissance mission to the K Club, effectively quashing any lingering questions about Woods' commitment to the biennial event.
Regardless of who comes out on top, the 36th Ryder Cup Matches are likely to be one of the most emotionally charged in the event's history - due not just of the Ireland connection, but to Darren Clarke's addition to the European team.
Woosnam selected Clarke as a captain's pick a few weeks ago despite the fact he hasn't played much since his wife Heather's death following a battle with cancer. Clarke has said repeatedly that he'll be ready to compete. Just as important, his presence is likely to make the European team, which historically has played as a strong unit, more closely knit than ever.
The Americans are going to have their hands full.
September 19, 2006