With 2008 Ryder Cup out of the way, attention turns to Celtic Manor Resort in Wales in 2010

By
Brandon Tucker
,
Managing Editor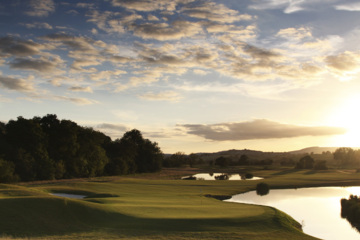 View large image | More photos
The spotlight turns to the Twenty Ten Course at Celtic Manor Resort in Wales. (Courtesy of Celtic Manor)
LOUISVILLE, Ky. - Suddenly, the Ryder Cup Matches are competitive again. After three consecutive European routs, the once hapless United States team is a formidable foe.
In Wales, they couldn't be happier for the Yanks.
"We're in a win-win situation, really," said Welshman Roger Pride earlier this week. "If the Americans win, then it will probably create even more interest for the next one."
That's because the "next one," at long last, comes to Wales. Perhaps more than any Ryder Cup Matches in history, the 2010 venue at the Celtic Manor Resort in Newport is greatly important to the host nation, using the event as a platform to showcase its tiny slice of earth to the masses. It's just a tiny nation of fewer than 3 million people and never more than 70 miles from the coast. And of all the countries in the British Isles, it's the least known to the rest of the world.
Country officials aren't shrugging off how important the event will be. They built a new golf course specifically for the event and named it the "Twenty Ten" Course. With the help of Scotsman and Ryder Cup legend Colin Montgomerie, Celtic Manor built a third course that opened in 2007, making it one of Britain's most impressive golf resorts, all while upgrading the four-star hotel sitting atop a bluff and where ancient Romans once ruled the land.
At the closing ceremonies at Valhalla Golf Club Sunday night, Wales' First Minister Lt. Hon. Rhodri Morgan invited Americans to come play the course before the pros.
Morgan says Americans, in particular, should feel right at home.
"Americans have the perception that British people are very standoffish and reserved," he noted. "But we're very open in Wales the way most Americans are."
Wales' marketing is infant, but not its golf links
Though many golfers probably haven't heard much until recent tremors over the last few years, Wales is by no means a "new" golf destination. Golf clubs were sprouting up along the coastline in the late 1800s as the railways were built around the same time as they were in England and Scotland.
Though not always on the front page, pound-for-pound Wales' history in the game can stack up with anywhere in the world.
Borth & Ynyslas Golf Club and Tenby Golf Club are the nation's oldest recognized golf clubs, both formed in the 1880s. Just up the road from Borth, in a tiny fishing and holiday village, Aberdovey Golf Club was founded just a few years later in 1892, right next to the village train station. History books report they had been playing golf with jam jars since the 1880s. It was also the home club to the world's first golf writer: Bernard Darwin.
One course in particular may be the most visually captivating golf course in all the British Isles: Nefyn & District Golf Club. Set on a peninsula hundreds of feet above the sea, the only time you don't see the sea is when you blink.
While Nefyn also boasts holes undeniably quirky, nearby Royal St. David's Golf Club in Harlech plays beneath a 12th century castle ruin and lays claim to what most consider Wales' sternest and purest links test.
To the south, Pennard Golf Club near Swansea couples clifftop scenery and a collection of raw, links holes entertaining enough to be earn the nickname "Links in the Sky." No one forgets their round here.
Then there is the crown jewel of Wales' links: Royal Porthcawl Golf Club. It hosted the Walker Cup Matches in 1995 when Tiger Woods competed. Porthcawl is just about 20 minutes from Celtic Manor, and together with nearby Southerndown Golf Club and Pyle & Kenfig Golf Club, it serves up a trio of links well worth the voyage.
Wales delegation learns from Valhalla
"We're not a sophisticated nation," said 2010 Ryder Cup Chairman John Jermaine, a former Welsh national team golfer. "Our heart is on our sleeve. But we feel we can enhance the value of the Ryder Cup."
Jermaine was part of a large delegation from Wales in Louisville this week, not only promoting their slice of the world but also learning from Valhalla, a venue with plenty of experience hosting a major event.
"We learned some new ideas here. I didn't know what a 'pep rally' was," Jermaine said, referring to the American team's rally in downtown Louisville the night before the match.
Jermaine and his crew were amazed with the level of volunteers on hand for the week and also their dedication.
"They never left their post," said Jermaine. "They would be there from seven in the morning until seven at night."
Some aspects of Valhalla are Valhalla's alone. But one aspect is a lock to be done better by Celtic Manor. On Sunday at Valhalla, thousands of fans sat around the 18th green all day and only witnessed one match come through. That won't be a problem on the Twenty Ten Course, as the final three holes play along a steep mountainside, which creates a natural amphitheater for more than 40,000 fans. No fan will be left out of the action.
And no golfer will be shunned off its courses. Wales' courses are still largely unknown compared to Scotland and Ireland, though after 2010, everyone will know about Wales.
For more information on Wales, see www.visitwales.com.
More photos
«
»
September 22, 2008
Brandon Tucker is the Managing Editor for Golf Advisor. To date, his golf travels have taken him to over two dozen countries and over 500 golf courses worldwide. While he's played some of the most prestigious courses in the world, Tucker's favorite way to play the game is on a great muni in under three hours. Follow Brandon on Twitter at @BrandonTucker and on Instagram at BrandonTuckerGC.