With a wealth of variety of activities and resorts, it's easy to love golf in Mexico's Riviera Maya

By Larry Olmsted,
Special Contributor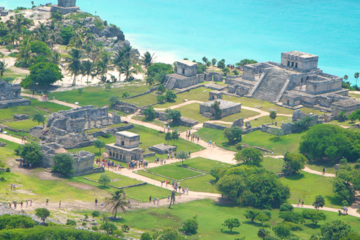 View large image | More photos
The Riviera Maya boasts a plethora of Mayan ruins as well as bountiful golf and activities. (Courtesy of RivieraMaya.com)
There are plenty of warm, sunny, sandy places to play golf. But there is only one Riviera Maya -- and it is among the top vacation destinations in the world.
This 80-mile stretch of coastline on Mexico's Yucatan Peninsula, beginning just south of Cancun and stretching south to Tulum -- the only Mayan city built on the coast -- is jam packed with things to see and do.
You fly into Cancun, which is easy, but the region does not include Cancun, which is significant, since the Riviera Maya is a world apart from the crass, Spring Break atmosphere and characterless development of the city's aptly named "Hotel Zone."
This difference is profound, and compared to Cancun, the Riviera Maya's main city, Playa del Carmen, is a charming small town -- 20 years ago it still had dirt streets and nary a spotlight. It is centered on a main pedestrian drag, Fifth Avenue, which is a pleasure to stroll, and home to lots of affordable but luxurious beachfront condos, plenty of cheap food, drink and refreshing quaintness.
But Playa del Carmen is merely the epicenter of an unrivaled destination that has far more than open-air bars, sandy beaches and great golf courses. So what makes the Rivera Maya, in my humble opinion, one of the world's great golf-vacation destinations?
Lots to do in Riviera Maya
It is trite in the travel business to say a place has something for everyone, but here it is true. The biggest attraction is an incredible array of Mayan ruins, with towering pyramids and jungle-choked lost cities. This is big stuff, on a scale you would normally have to go to far-flung Guatemala or Cambodia to see, with multiple impressive sites. The biggies are Tulum, Chichen Itza and Coba, all worth visiting, but there are other, lesser-known sites for history buffs.
There is an incredible assortment of hotels and resorts here, every style and price point: lots of all-inclusives, from budget to five-star, plus lavish conventional resorts, off-the-grid beachfront eco escapes, jungle resorts and in-town condos. There is an equally diverse and immense array of attractions and adventurous activities: Mexico's answer to Disney is Mayan-themed, eco-adventure parks such as Xcaret, which are fun rather than hokey. There are ATV trips, horseback riding, zip lines, parasailing, and world-class offshore sport fishing.
But you don't need to be active. Foodies will also love the region, which has first-rate Mexican "fast food" staples such as quesadillas, as well as a vast array of more upscale (but still very affordable) fresh fish and creative modern Mexican cuisine, much of it served along the beach. In general, food here is fresh, tasty and cheap. The going price for four beers for your golf group is less than eight bucks. Try that in Scottsdale, Ariz., or Scotland!
Watersports fans have it made, with the world's second largest barrier reef (after Australia's), just offshore. The entire Riviera Maya is one beach after another, many of which have superlative snorkeling. There are also countless snorkeling, diving, sightseeing and cocktail cruises, while SCUBA enthusiasts come from all over the world for the drift diving off Cozumel, the stuff of legends. In season, you can swim with whale sharks, the world's largest fish, or alongside giant sea turtles.
The aquatic fun continues inland -- the entire Yucatan peninsula is a giant limestone anomaly with water underneath, riddled with hundreds of sinkholes called cenotes that make the world's most awesome swimming holes. These natural pools are clean, filled with fish and fun to swim or snorkel in, while many connect underground in such a unique cave network that "cenote diving" is its own SCUBA niche.
But anyone who loves a rope swing can enjoy the cenotes. They are used as golf course hazards -- Greg Norman built the first fairway of his El Camaleon, host of Mexico's sole PGA Tour event, the Mayakoba Classic, around one.
Riviera Maya golf courses
Besides the excellent El Camaleon at Mayakoba, which hosts Mexico's only PGA Tour event, there are several standout courses, most notably the Jack Nicklaus-designed Riviera Cancun Golf & Resorts and the Iberostar Playa Paraiso Golf Club, a labor of love by Spanish-fluent P.B. Dye, who spent more than a year on site for his wonderful project.
The Iberostar is one of the top all-inclusive resorts in the area, and golf is run the same way, including the beverage cart -- you can't pay for food or drink, and every time you walk to the green to putt your cart seems magically restocked with cold cervezas.
The same is true at the 27-hole Nicklaus signature course at the all-inclusive Moon Palace Golf & Spa Resort, the other marquee golf resort here, which includes over-the-the top golf villas for groups (complete with full, free bars). Nicklaus' other signature course, Riviera Cancun Golf Resort, is even better, but it's a standalone, with no on-site resort or real estate (yet), so many overlook it. That's a shame, because it may be the best in the Yucatan, carved through a unique setting of stark dunes and mangrove marshes, and operated by the golf team at Moon Palace.
While these courses would be standouts anywhere in the world -- and there are other fun options such as the Kukulcan course, a third Nicklaus layout on the island of Cozumel, and the newest, Grand Coral Golf Club, a Nick Price design.
This is not the place for a 36-hole per day golf vacation -- there is simply too much other great stuff to see and do. That's why I love the Riviera Maya.
More photos
«
»
January 7, 2013
Larry Olmsted has written more than 1,000 articles on golf and golf travel, for the likes of Golf Magazine, T&L Golf, LINKS, Golf & Travel, Men's Health, Men's Journal, USA Today, and many others. He broke the Guinness World Record for golf travel and wrote Getting into Guinness, as well as Golf Travel by Design. He was the founding editor of The Golf Insider, and the golf columnist for both USA Today.com and US Airways Magazine. Follow Larry on Twitter at @TravelFoodGuy.