Reynolds Plantation: Georgia golf community gives access to the land of privilege

By
Lisa Allen
,
Contributor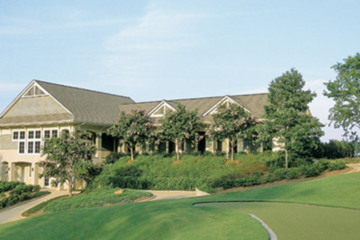 View large image | More photos
In addition to outstanding golf courses, Reynolds Plantation is also home to the Reynolds Golf Academy. (Courtesy of reynoldsplantation.com)
GREENSBORO, Ga. - As one just approaches Reynolds Plantation, the attention to detail is apparent. The signs are tasteful and the directions right on.
The entrance announces itself with a riot of begonias, impeccable landscaping and monochromatic turf, freshly mowed, trimmed and edged. That level of maintenance continues throughout the property, without exception.
Once officially on the property named after the family that used the many acres as it own retreat, the road swoops and bends, putting you on notice that you, literally, have arrived.
With 2,000 residents over thousands of acres around Georgia's second largest lake, there isn't an undesirable spot on the Plantation. Initiation fees, depending on membership levels, range from $25,000 to $95,000.
And as the old American Express commercial once stated, membership has its privileges. Indeed it does, whether as a homeowner or a guest in one of 76 rental condos or duplexes, called cottages, the smallest of which includes two bedrooms and two baths, each with daily maid service.
At the very least, one has access to four outstanding golf courses, once the acclaimed Great Waters course reopens next year with rebuilt greens. None is shabby. Designers include Bob Cupp (Plantation Course), Tom Fazio (National Course), Jack Nicklaus (Great Waters) and Rees Jones (Oconee Course).
A separate membership, for homeowners only, will get you into the Creek Club, designed by Jim Engh, which opened in 2007. Pete Dye is designing a sixth course. Also on site is the Reynolds Golf Academy, led by GOLF Magazine Top 100 instructor Charlie King.
Of course, there is much more than golf in the Reynolds Plantation community. Count three marinas, several pools, miles of measured walking/biking trails, a library, croquet courts and open spaces for picnics and gatherings.
Membership also is available at the the Lake Club fitness and tennis facility with eight tennis courts, hard and soft surface, an indoor Olympic-sized pool and an outdoor pool, a restaurant and fitness center.
The Reynolds Plantation staff plans a robust social calendar with events that rotate through the community.
Restaurants include the Great Waters Overlook Room and the Plantation Clubhouse Dining Room or Grille. A recent fire claimed the Oconee Clubhouse and its Linger Longer Steakhouse. It soon will be rebuilt.
Also on the premises is the 251-room Ritz-Carlton Lodge with its restaurants: the four-star Georgia's, the Linger Longer Bar and Grill, and Gaby's by the Lake.
The Reynolds Plantation staff numbers 600 and is friendly. The staff gets to know members' and guests' names in a day or two and subtly anticipates and delivers what one might need or want.
So, just 70 miles from Atlanta is an oasis of privilege and pampering. It's well worth a visit. Chances are pretty good that you'll want to stay.
More photos
«
»
October 19, 2009
Lisa Allen is a golf, travel and business writer based in Beaufort, S.C. She has edited newspapers, magazines and books in Michigan, Indiana and South Carolina. Follow her on Twitter @LAllenSC.