Bettor Golf: Where to gamble and play around Reno-Lake Tahoe

By Brandon Tucker,
Managing Editor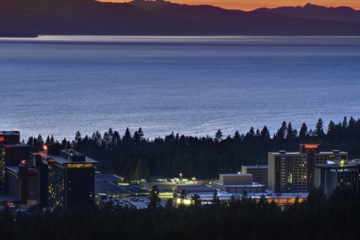 View large image | More photos
South Lake Tahoe boasts numerous casino hotels and spectacular summer mountain golf. (Ron Hanna/Golf the High Sierra)
RENO, Nev. -- When summertime temps scorch the Las Vegas area, the best spot to gamble and play golf in the western United States is around Reno-Lake Tahoe. Reno makes up the largest concentration of casinos in the country outside Vegas, while Lake Tahoe boasts a one-of-a-kind backdrop for golf to go with a handful of large properties.
The diversity of the High Sierra mountain terrain is what makes Reno-Tahoe stand apart. The fact Lake Tahoe straddles the California border, where gaming laws are stricter, means you always need to keep a compass pointed towards Nevada for gambling -- even though some of the best courses themselves are in California.
Here are some of the best casino and golf course options in each pocket of the High Sierra:
Golf and gaming in Reno
The "Biggest Little City in the World" is high on golf and gaming. Reno's main drag, Virgina Street, is home to a smattering of familiar casino brands such as Circus Circus and Harrah's.
These casino-hotels, some of which practically as large as the Vegas behemoths, have stepped up their game in recent years to become more stylish and offer a greater diversity of activities for guests. Peppermill, Silver Legacy and Atlantis are a trio of the best spots in town that have all recently upgraded. Each now offer spas, bars, ultra lounges and new restaurant concepts to go with giant gaming floors. Mix in the city's greater entertainment options after dark, and this is the best place to center a bachelor party around the High Sierra.
Reno-Sparks has a handful of solid courses to play, such as 36 holes at Red Hawk Resort Course, home to the Lakes Course, a Robert Trent Jones Jr. design, or LakeRidge Golf Resort. Meanwhile, semi-private facilities like ArrowCreek Country Club and Sommersett Country Club and are pleasant upscale options.
But the area's weak spot is that it doesn't boast anything worthy of "high roller" distinction like you'd find in Vegas. That said, exceptional summer mountain golf is just a 30-45-minute drive west on I-80 to the small mountain town of Truckee, which is about how long it takes to get to a lot of Vegas-area splurges, too.
The Truckee area is void of casinos but big on semi-private and resort golf. The best splurge experiences in Truckee are at the Golf Club at Gray's Crossing and Old Greenwood Golf Course, which have top championship layouts and facilities. Schaffer's Mill Club is as good as any course in Truckee but has a temporary clubhouse until 2013. Or, you can play bargain mountain golf at Northstar Golf Course.
Golf and gaming on the Lake Tahoe North Shore
Gaming and nightlife on Lake Tahoe's quieter North Shore is nothing like the busier South Shore. However, Incline Village, the largest community in the north, is home to the Hyatt Regency Lake Tahoe Resort, a large hotel with a fantastic restaurant, the Lone Eagle Grill overlooking the lake. Attached to the hotel is a classy, 24-hour casino floor, the Grand Lodge Casino with slots, numerous tables games including a poker room and sports book.
Also a couple minutes away from Incline Village are a couple other small casinos on the state border, Crystal Bay and Cal-Nev Resort & Casino.
For golf, the Incline Village Championship Course is as good of a layout as there is on Lake Tahoe. Opting for a setting up into the mountains rather than on the lake, the terrain rolls up and down, and from the highest points you can see the lake. In addition to this Robert Trent Jones Sr. design, there is also a par-58 Mountain Course at Incline Village, plus the many courses of Truckee a short drive away. If you're in the mood to walk a throwback, Old Brockway Golf Course is a historic nine-hole course that was the original home to the "Bing Crosby Clambake."
Golf and gaming in South Lake Tahoe
South Lake Tahoe is where most of the action is, home to large casino properties Harvey's and Harrah's (connected by an underground passage way under the road) and Montbleu.
Each casino hotel has large main floors with all your table games and sports book; though in the handful of times I've spent the night out on the town, Harrah's tends to have the most action going on -- especially during the American Century Celebrity Classic each week, where Charles Barkley has been known to buy full rooms a shot.
If you score big at the tables, splurge on a round at next door Edgewood Tahoe Golf Course, the signature golf course of Lake Tahoe. With a three-hole closing stretch along the shores to go with towering cook pines on a traditional George and Tom Fazio layout, the scenery is one-of-a-kind and staff knows how to treat high rollers with deliciously crafted bloody mary's on the beverage cart and a fantastic on-course restaurant, Brook's Bar, overlooking the lake.
If you lost big on the tables, the good news is that you can head a few miles over the mountain pass and find the bargain golf courses of the Carson Valley.
Golf and gaming in Carson City
Carson City and the greater Carson Valley lie tucked in the background of Reno and Lake Tahoe -- and that's just how its residents and visitors tend to prefer it. The result is affordable golf courses, small casinos with the best odds and unknown restaurants where you can always get a table.
There are a lot of small casinos that are predominantly slot machines with a handful of tables that are only open on busy nights. One benefit to gaming in Carson City is that the table minimums are low, and you can also find single-deck blackjack that pays 3-to-2. On the road south of town, for example, I stopped into the Fandango Casino and played $2 hands of blackjack.
For golf, Carson Valley is home to the "Divine Nine" -- a collection of golf courses that boast unbeatable area bargains. The best play in the area is Genoa Lakes Golf Club resort, home to two 18-hole courses; while other bargains, such as Dayton Valley Golf Club and Silver Oak Golf Course, offer a good variety and stellar value.
And if you hit it big, you can drive 30-45 minutes in any direction and find some better splurge options around the corner.
More photos
«
»
August 1, 2012
Brandon Tucker is the Managing Editor for Golf Advisor. To date, his golf travels have taken him to over two dozen countries and over 500 golf courses worldwide. While he's played some of the most prestigious courses in the world, Tucker's favorite way to play the game is on a great muni in under three hours. Follow Brandon on Twitter at @BrandonTucker and on Instagram at BrandonTuckerGC.