You can see for miles -- literally -- at Verrado Golf Club just west of Phoenix, Arizona

By Wes Gilbertson,
Contributor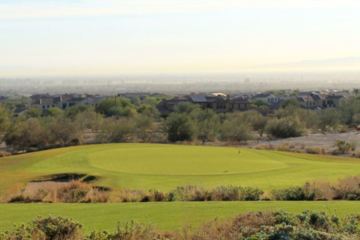 View large image | More photos
From the third tee at Verrado Golf Club, you can see all the way to downtown Phoenix. (Wes Gilbertson/TravelGolf)
BUCKEYE, Ariz. -- Like every other course on the west side of the Valley of the Sun, the staff at Verrado Golf Club spends a lot of time telling golfers it's not that far from Phoenix.
And then, they can show them.
"There's no other golf course in the valley that has the same easterly view as we have," said Doug Foss, the longtime manager of sales and marketing and an enthusiastic ambassador for the 7,258-yard setup. "There's a bunch of other golf courses way on the east side that look back to the west, but we're the only golf course on this side that enjoys those kind of views.
"From the third tee-box, you can see all the way downtown. You can see Cardinal Stadium. You can see, on a good clear day, all the way to Four Peaks mountains way out on the east side of town. And then on the 13th green and 14th tee-box, which is the highest point on the golf course, you can see forever. It's awesome."
For those keeping track, it takes about 35 minutes to put Phoenix in the rear view mirror en route to Verrado Golf Club and approximately the same amount of time -- or even a few minutes less, if you keep your ball on the short stuff -- to climb up to the third tee and catch another glimpse of the downtown skyline.
Verrado Golf Club: The course
Opened in 2004, Verrado Golf Club is the centerpiece of an 8,800-acre community at the base of the White Tank Mountains. This topsy-turvy tract of land was once owned by Caterpillar and used as proving grounds for bulldozers, scrapers and other pieces of machinery.
The last men to move earth on the site were co-designers John Fought and 1996 British Open champion Tom Lehman, and the finished product has earned all sorts of accolades, including a spot on the best-in-state list from almost every major golf publication.
In Arizona, that's saying something. It's a challenge just getting raters out of Scottsdale to Verrado Golf Club, where the only traffic you'll hear is the occasional roar of F-16s from nearby Luke Air Force Base.
"We're their final approach pattern, so they have to come right over us," Foss said. "Especially for folks who don't play here a lot, it's a cool effect, because you don't really get to see fighter jets that close on a regular basis."
The first F-16 might startle you as it zips across the sky, but the battleground below doesn't have to be so scary.
On the 397-yard second hole, which might be the best on the property, golfers can choose between a knee-knocking approach over a ravine or a risk-free bailout just right of the putting surface.
On the 477-yard eighth assignment, marked by a massive rock outcropping that survived the Caterpillar era, the landing area isn't nearly as far off as it might seem from the tee.
Even the 154-yard 17th hole, with water guarding the right side of the dance-floor, has an alternate route for high-handicappers or folks with a limited amount of ammo in their bag.
"Although it's a desert layout, it doesn't really play like a desert golf course," Foss said. "Sometimes, I think people get a little scared or put off by the term 'desert golf,' because they think you have to hit a perfect shot every time. When Tom Lehman designed the place -- because he really loves the British Open feel and being able to hit different types of shots and that includes running the ball up -- he wanted to give people an opportunity to do that."
There is a full practice area at Verrado, and instruction is available.
Verrado Golf Club: The verdict
If you have a thick wallet or a fat bank account, there's probably no reason to leave Scottsdale city limits on your Arizona golf getaway. If value is important, though, Verrado Golf Club should be on your list of must-plays.
Unless it's prime time in peak season, you'll probably need to purchase a hat, a glove or a sleeve of balls to coax your pro-shop receipt into triple digits.
And what about the cost of fuel for your commute to this picturesque part of the valley? Shouldn't be an issue, as long as your rental vehicle isn't an 18-wheeler.
"Especially for people who have never been here before, the comment usually is, 'It certainly is worth the drive, and -- you know what? -- the drive wasn't nearly as bad as I thought it was going to be,'" Foss said.
More photos
«
»
January 3, 2013
Wes Gilbertson covers the NHL's Calgary Flames and writes golf features for Postmedia in Calgary, Alta. When the snow melts, he's living proof that thin mountain air doesn't turn everybody into a long-drive specialist. Follow Wes on Twitter at @WesGilbertson.