Puntacana Resort and Club in the Dominican Republic: An accessible Caribbean golf destination

By
Jason Scott Deegan
,
Senior Staff Writer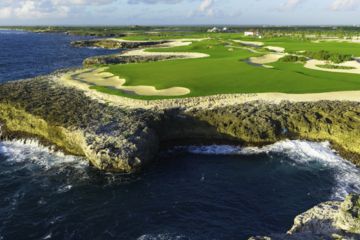 View large image | More photos
The gorgeous eighth hole on the Corales Course at Puntacana Resort and Club in the Dominican Republic. (Courtesy of Puntacana)
PUNTA CANA, Dominican Republic -- Puntacana Resort and Club has it all: An exclusive golf experience (the Corales Course), a forgiving layout on the ocean (the La Cana Course), nine new holes from P.B. Dye (the Hacienda Course), a luxurious boutique hotel in Tortuga Bay, the family friendly Puntacana Hotel, and real estate options galore.
But where this unique resort/real estate development trumps all other Caribbean golf destinations is simple: It owns and operates the nearby Punta Cana International Airport right on the property. Thanks to preferential treatment in a VIP terminal that speeds up customs and baggage claim services, golf groups and important guests playing at Puntacana Resort and Club can hop off their plane and ride a golf cart to the first tee within minutes of landing.
"The access is the story here," said Peter Bonell, the vice president of sales and marketing at Puntacana Resort and Club. "Having 45 holes within three minutes of the airport is pretty incredible."
When it opened in 1984, the airport, now serving 98 cities in 36 countries, changed life in this once-sleepy eastern section of the island. It spurred the growth inside the Puntacana Resort and Club's sprawling 26-square-mile property that continues today. Rival resorts and developments have sprung up in all directions.
"The airport opening, that was the big moment. This was a jungle. You could only land here with a helicopter," said Carla Patricia Valbuena Matheus, the resort's public relations director.
Golf at Puntacana Resort and Club
Golf on the ocean takes center stage at Puntacana, honored as the Golf Resort of the Year by the International Association of Golf Tour Operators in the "world" category in 2010.
Puntacana's La Cana Course, a P.B. Dye design, came on board in 2001, kicking off a mad dash to create a golf destination now revered for its oceanfront holes.
Dye, like his father, is a bit of a mad scientist when it comes to course design. La Cana features his wild imagination, where mounds and tiny pot bunkers erupt out of nowhere. The fourth and the 16th greens flirt with the ocean, while the par-3 fifth, par-4 17th and par-5 18th roam directly along the shore. Island greens on the par-4 seventh (surrounded by sand) and the par-3 12th (surrounded by water) add to the carnival of fun.
Dye's inland Hacienda Course, scheduled to open nine holes by March 2012, uses some of the same tricks.
The real star is Puntacana's Corales Course, an immaculate Tom Fazio design that opened in 2010. Corales, ranked No. 9 among the top golf courses in the Caribbean and Mexico by Golfweek for 2012, offers an exclusive experience where only 48 players a day are allowed to bask in its riches. Plans are to eventually take Corales private.
Corales takes an Augusta-like approach to its conditioning with no blade of grass out of sync. The three-hole finishing stretch starting at No. 16 is called "El Codo Del Diablo," (The Devil's Elbow). These three ocean holes are gorgeous, although the two coastal beauties at the par-4 eighth and par-3 ninth might be even better. Two greens on No. 3 and No. 15 add shot variety and rotate play daily. Celebrities Julio Iglesias and Oscar de la Renta -- two investors at Puntacana -- own secluded homes on the course, and de la Renta designed the understated clubhouse.
"Everywhere you turn, it is a postcard. It is so picturesque," said Jay Overton, the club's director of golf.
Puntacana Resort and Club: The accommodations
Luxury comes in the form of the Tortuga Bay Hotel, an AAA Five Diamond escape with 30 suites in 13 villas, all designed by de la Renta. The Frette linens of the beds are just steps from the Caribbean Sea and the La Cana Course.
There are 170 rooms, junior suites and beach casitas at the Puntacana Hotel. More shops and restaurants reside in the Puntacana village. The Estates Experience offers villas and home for rent with four, five and six bedrooms and private pools.
The 122-room Four Points by Sheraton Punta Cana is scheduled to open in winter 2012 in the village right across from Wendy's, the only "gringo" restaurant in Punta Cana.
More entertainment
Like the rest of the island, Puntacana's soft sandy beach roams for miles, providing endless activities. Resort guests can go horseback riding, kite sailing, swimming, snorkeling, scuba diving and deep-sea fishing. Kayaks and bicycles are free for guests at Tortuga Bay, as is access to a golf cart.
The development is home to a 1,500-acre ecological reserve with 15 natural spring water lagoons, all cared for and studied by U.S. college programs. Ecological tours and Eco-paddle surfing are available. Technology buffs can even try Segway Touring. There's a tennis center and a Six Senses Spa. This spa, the only one in the Americas, uses Asian techniques to heal.
Playa Blanca, the newest restaurant/bar at Puntacana, resides on the beach with live music weekly.
More photos
«
»
November 21, 2011
Jason Scott Deegan has reviewed more than 700 courses and golf destinations for some of the industry's biggest publications. His work has been honored by the Golf Writer's Association of America and the Michigan Press Association. Follow him on Twitter at @WorldGolfer.