When it comes to golf, Prince Edward Island is making up for lost time

By
John Gordon
,
Contributor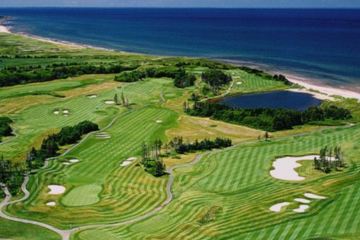 View large image | More photos
Since opening in 1994, the Links at Crowbush Cove has accumulated an impressive list of kudos. (Courtesy of Golf PEI)
Fans of Lucy Maud Montgomery's "Anne of Green Gables" books will recognize the name of this tiny province, population a whopping 138,000, renowned as well for lobster and potatoes.
Golf came relatively late to Prince Edward Island, but the 140-mile-long reddish freckle on the face of the Atlantic made up for lost time and now offers a couple of dozen courses.
The most recognizable names start with the Links at Crowbush Cove, designed by Thomas McBroom of Toronto on the dunes dotting the island's north shore.
Since opening in 1994, it has accumulated an impressive list of kudos: Best new course in the country (ScoreGolf and Golf Digest), and one of the best public courses in North America (Golf Digest).
The seaside layout, just a few miles from the charming provincial capital of Charlottetown, is built on the island's unique red soil and winds around coastal dunes and wetlands. Despite its name, Crowbush is actually a combination of three styles: the opening holes meander through thick stands of native spruce, then there are the wetlands holes, and then, of course, the dunes.
Prior to Crowbush's arrival, there were four courses that first-time visitors usually focused on: Green Gables Golf Course, Belvedere Colf Club, Brudenell River Golf Course, and Mill River Golf Course.
Green Gables is a user-friendly Stanley Thompson design that provides a glimpse of Lucy Maud Montgomery's house, while the oft-underrated, 100-year-old Belvedere is the home of LPGA star Lorie Kane. Mill River is an excellent 6,800-yard parkland test, with a couple of holes overlooking the river of the same name. Renovated by Montrealer Graham Cooke, it is on a par with the original course at Brudenell River.
The elder Brudenell is a 30-year-old track with six par-3s, six par-4s and six par-5s, which become more challenging with the daily arrival of the "Brudenell Breeze" which sweeps off the Atlantic Ocean and funnels up the river.
In 1999, the renowned Ohio design firm of Hurdzan Fry produced a sister course at Brudenell called Dundarave. At 7,300 yards from the tips and with more than 100 bunkers, this is one twisted sister, indeed.
Dundarave signaled a burst of golf development on Prince Edward Island. It was followed in short order by the likes of 6,800-yard Fox Meadow, a golf course where the hospitality of the layout is more than equaled in the clubhouse. Glasgow Hills offers some of the most spectacular views on this scenic, particularly of the River Clyde and Gulf of St. Lawrence. Other island courses include good 18-holers such as the new, expansive, but very walkable Eagles Glenn, and some terrific nine-hole layouts.
Between games, you would be remiss if you didn't make a glutton of yourself at one of the island's famed lobster suppers, often laid out in a local church basement. For a ridiculously low price you get a freshly caught, cold-water lobster weighing from one to two pounds (or occasionally more), plus all-you-can eat steamed mussels, salads, home-baked rolls, and desserts. Prince Edward Island is also justifiably renowned for its superb oysters and crab.
More photos
«
»
John Gordon has been involved fulltime with golf since he became managing editor of Score, Canada's Golf Magazine, in 1985. In 1991, he was recruited by the Royal Canadian Golf Association to create their Member Services and Communications departments, and to revive Golf Canada magazine, their national membersmagazine which had been defunct for a decade. After successfully relaunching Golf Canada and serving as its inaugural editor, he was named executive director of the Ontario Golf Association. He returned to fulltime writing in 1995.