Prince Edward Island competes as a top Canadian golf destination

By
William K. Wolfrum
,
Contributor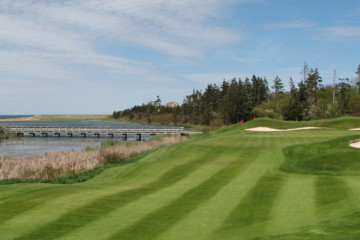 View large image | More photos
The Links at Crowbush Cove opened in 1994, giving notice that Prince Edward Island was a top Canadian golf destination. (Tim McDonald/WorldGolf.com)
Prince Edward Island has been making a name for itself as a Canadian golf destination in recent years. The Links at Crowbush and Brudenell River Golf Course are just a couple of the fine golf courses that make Prince Edward Island golf more than worth the price of a plane ticket.
When it comes to Canadian golf, for many traveling golfers the trip starts and ends in the Atlantic province of Prince Edward Island. And why not? When an authority like the Toronto Star calls it the "top golf destination in Canada," you get the idea: Golf on Prince Edward Island is world class.
More than just the golf, however, Prince Edward Island is an all-purpose golf vacation spot. From the miles of beaches on the Atlantic Ocean, to amazing seafood, to a diverse array of golf courses, to top-of-the-line luxury resorts, Prince Edward Island (Or just PEI to those in the know) has staked its claim as one of North America's prime spots for golfers looking to get the most from a Canadian golf package.
The travel industry has been quick to pick up on this fact. Recently, Delta Airlines introduced a daily nonstop flight from Boston to Charlottetown, the capital of Prince Edward Island, and the sheer amount of advanced bookings quickly proved to Delta that their plan was solid. Here's a look at a few of the golf courses that have golfers making Prince Edward Island a big part of their travel plans.
Prince Edward Island golf
The Links at Crowbush Cove is located in Morel and was named Canada's best new course by Golf Digest in 1994. Set alongside the Gulf of St. Lawrence, Crowbush Cove is the epitome of Prince Edward Island golf, as it combines spectacular scenery with challenging play.
Designed by Canadian golf course architect Thomas McBroom, Crowbush Cove gives players a diverse round. The native spruce will be a companion to golfers on the opening holes, followed by wetlands and finishing with dunes. Put together, the course plays to nearly 7,000 yards from the PGA Tour tees, but three other tee placements make it a challenging run for everyone from high-handicappers to Canadian pros like Mike Weir.
Since Crowbush Cove opened, the golf scene on Prince Edward Island has flourished, with 10 more courses appearing and golf revenue exploding nearly 500 percent.
For golfers who feel a multi-course resort is their best option, the Rodd Brudenell River Resort is the place to be on Prince Edward Island. Brilliant, scenic accommodations compliment 45 holes of golf to make it a popular stop for those looking to make the most of their Canadian golf package. And the two 18-hole championship courses the resort has to offer - Brudenell River and Dundarave Golf Course - are PEI must-plays.
After three decades, Brudenell River Golf Course remains one of Prince Edward Island's most popular golf courses, and it's not hard to see why, as the eclectic layout gives players something completely different: six par threes, six par fours and six par fives. All told, the course plays to just over 6,500 yards with a 137 slope rating.
Dundarave Golf Course was crafted by the imposing golf course design team of Dr. Michael Hurzdan and Dana Fry. Opened in 1999, it gives players a more modern feel than the River Course, playing to a whopping 7,284 yards from the tips with a 76.4 rating. Large fairways will guide players through Dundarave, where lush pines and the river offer not just challenges, but the breathtaking scenery that comes with this part of Canada.
Prince Edward Island golf: Solid seconds
Mill River Golf Course has long drawn raves for its scenery and affordability. You'll be happily lost in the trees as you play through the wide fairways and numerous lakes and streams that helped make this legendary PEI run rated one of the Top Three Best Golf Courses in Atlantic Canada by SCORE magazine.
Belvedere Golf Club is a Canadian course with classical antiquity, as it was established in 1902 and still draws fans today for its classic layout and superb conditioning. If you're staying in Charlottetown, then Fox Meadow Golf & Country Club will be your best bet, as it's located just seven minutes from downtown and managed by the Delta Prince Edward Hotel, ensuring golfers a well-conditioned, interesting round.
More photos
«
»
September 25, 2007
William K. Wolfrum keeps one eye on the PGA Tour and another watching golf vacation hotspots and letting travelers in on the best place to vacation. You can follow him on Twitter @Wolfrum.