After $14 million, Rulewich-led redo, Bermuda's Port Royal Golf Course to host the PGA Grand Slam

By
Katharine Dyson
,
Special Contributor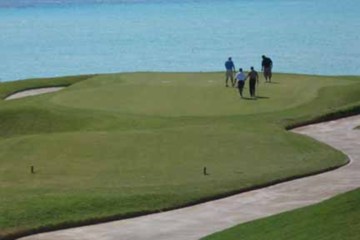 View large image | More photos
The 16th hole at Port Royal Golf Course, a par 3, requires a precision shot with the sea threatening all along the left. (Katharine Dyson/WorldGolf.com)
Coming fresh off a Roger Rulewich-led redesign, Port Royal Golf Course in Bermuda kicks off with a bang, hosting the 2009 PGA Grand Slam of Golf.
The PGA Grand Slam of Golf's shootout between the winners of the year's four majors is considered the most difficult tournament in the world for which to qualify. As such, it deserves to be played on a stellar golf course.
For the past two years it was held at the Mid Ocean Club, a highly rated private golf course in Bermuda certainly worthy of the event. Two years ago, no one would have dreamed of changing the venue to Port Royal Golf Course, a government-owned public layout on the Southeastern coast of fishhook-shaped Bermuda.
Until now.
Originally designed by Robert Trent Jones Sr. in 1970 and praised over the years for its layout and seaside beauty, Port Royal had gradually deteriorated while courses such as the Mid Ocean Club and newly rebuilt Tucker's Point Golf Club (formerly Castle Harbour Golf Course) became Bermuda's most coveted plays.
Part of Port Royal Golf Course's deterioration stemmed from lack of water. Bermuda does, after all, get most of its water from rainfall. Wind also contributed to the sad decline, raking sand from the bunkers, while additional maintenance issues brought the course down to the status of a shabby step sister to the polished Mid Ocean.
Rulewich polishes up Port Royal Golf Course
With the government pumping $14 million into the project and the Roger Rulewich Group handling the renovations, Port Royal has reemerged as a top-rated seaside beauty, reopening this past July with a gala gathering of Bermuda's important people including Dr. Ewart Brown, Bermuda's prime minister, government members, media and local personalities such as Lee Elder and NBA legends Julius Erving and Bill Russell.
No stranger to Bermuda, Boston-based Rulewich was a slam dunk for the job. He had not only spent several years working for Jones but had worked on the initial construction of Port Royal Golf Course more than 30 years ago. He already knew the island, its winds, topography and weather.
While the golf course was closed for 18 months, Rulewich dug into the reconstruction while retaining the good bones of the original Jones tract. The design is about the same except holes No. 12 and No. 13 have been reversed to pars 4 and 3.
He rebuilt bunkers making them deeper with flatter-bottomed sand contours, worked with the director of agronomy on the plantings replacing Casuarina trees with indigenous Bermuda Cedars thereby opening up more vistas to the sea, and added computerized irrigation to the entire course, which required building some new ponds and lakes.
Port Royal Golf Course's fairways were graded, greens were redesigned and resurfaced with TifEagle grass and the course was lengthened from 6,561 yards to 6,842 yards. David Fleury, a partner in the Roger Rulewich Group, said, "Port Royal will show very well. It has length but is not overpowering.
Rulewich noted that the course now has a more open feeling with 13 holes revealing views of the turquoise water. Hole No. 16, for example, is a breathtaking par 3 where tees barely cling to land with sea all along the left.
Your drive needs to carry 235 yards from the tips (105 from the forwards) to a green you have to hit just about perfectly to avoid bunkers or falling into the rock and water.
Frank Stocek, Elbow Beach Hotel's general manager, playing in the opening scramble cautioned, "You'll need a monster drive. It's a beast, uphill to the clubhouse with a double false front."
So when British Open champion Stewart Cink, Masters champion Angel Cabrera, U.S. Open champion Lucas Glover and PGA Champion Y.E. Yang come to Bermuda to tee up at the oleander-lined Port Royal Golf Course Oct. 19-21, they will find a vastly different track then it was 18 months ago.
After naming Andrew Brooks, a PGA Professional, golf writer and television commentator the new director of golf, putting on his minister of tourism hat, Premier Dr. Ewart Brown told guests, "Our ability to recruit someone of Andrew's caliber speaks to the high quality of golf we are creating at Port Royal.
"I think Bill Pitt (general manager) and Andrew Brooks will lead Port Royal into a new era that will make the members pleased and the country proud."
Certainly hosting the PGA Grand Slam of Golf is a good start: The tournament will be televised to more than 100 countries.
More photos
«
»
September 8, 2009
Katharine Dyson is a golf and travel writer for several national publications as well as guidebook author and radio commentator. Her journeys have taken her around the world playing courses and finding unique places to stay. She is a member of the Golf Writers Association of America, Metropolitan Golf Writers of America; Golf Travel Writers Organization and Society of American Travel Writers. Follow Katharine on Twitter at @kathiegolf.