Heading to Ponte Vedra Beach, Florida for The Players Championship? Don't forget your golf clubs!

By
Lisa Allen
,
Contributor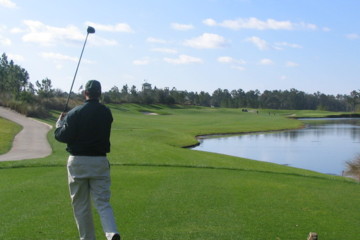 View large image | More photos
The King & Bear at World Golf Village is a true collaboration between Jack Nicklaus and Arnold Palmer. (Tim McDonald/WorldGolf.com)
If you're heading to The Players Championship at TPC Sawgrass in Ponte Vedra Beach, Fla., you'll realize golf is contagious. You'll want to play, too.
Neither course at Sawgrass is available during the tournament, but don't fret, there's plenty of great golf in the Jacksonville area. Florida's First Coast has a plethora of impressive courses, and you can book tee times at all price points.
Proceeding geographically, there's the nearby World Golf Village and its two golf courses.
The King & Bear is the only design collaboration between Arnold Palmer (The King) and Jack Nicklaus (The Bear). It combines Nicklaus' need for length, topping out at 7,279 yards with a 227-yard par 3, with Palmer's love of hazards right where you don't want them. It's a challenging and scenic course that meanders by lakes, loblolly pines and 200-year-old live oaks. King & Bear is also rated among Golf Week's Top Resort Courses.
For World Golf Village's Slammer & Squire course, architect Bobby Weed sought advice from Sam (The Slammer) Snead and Gene (The Squire) Sarazen. The 6,939-yard resort course offers views of the World Golf Hall of Fame and features memorable par 3s, woodlands and wetlands.
You can't go wrong with either course. After all, they're in backyard of the PGA Tour headquarters and TPC Sawgrass. I think there's a little peer pressure at work.
Another twin billing is at the historic Ponte Vedra Inn & Club with its Ocean Course and Lagoon Course, both with a distinct seaside links flavor.
This resort has been setting the resort-golf standard since 1928. The courses feature lagoons, undulating fairways and elevated Bermuda greens protected by steep-faced bunkers. Both courses are frequently rated as some of the best resort golf courses in Florida. With more than 1,500 courses in the state, that's saying a lot.
Next on the list, the Golf Club at South Hampton in St. Augustine is worth a shot or 72. Designed by Mark McCumber, the course includes 16 large lakes and more than 60 contoured bunkers.
Those numbers sound scary, but the course goes easy on your game, with plenty of room off the tee to let your driver out of the bag. McCumber, a Jacksonville native, demonstrates again his ability to lay a course gently on the local terrain.
Lots of great golf near Jacksonville
Closer to Jacksonville is Deercreek Country Club designed by Robert Miller. It's packed with interesting holes, including one with a marsh carry where the green is blocked from view by vegetation. See the tip of the pin? Aim in that general direction and hope for the best.
There is a lot of risk-reward on this course and imaginative hazards. Your game and your problem-solving skills will get a workout at Deercreek.
And if you want to see all a municipal course can be, play Bent Creek Golf Course in Jacksonville. Designed by Bobby Weed, it's an intriguing course where no two holes are alike. Be prepared for lots of mounds, contours and hazards in every configuration.
The course is maintained to resort level, and the staff is adamant that your round conclude in about four hours -- a nice attribute for a public course.
Eagle Landing Golf Club at Oakleaf Plantation, a Clyde Johnston course, is one of the new kids on the block, opening in 2006. In Johnston fashion, each nine starts easy and ends kind of tough.
No. 9 and No. 18 curl around either side of a small lake anchored by an elegant clubhouse, with their offset greens pressed against the lake. The best string of holes is Nos. 15-17, first with a landing area hemmed in by bunkers, then a long par 3 buffeted by breezes and church-pew bunkers on 17.
Golf near the Georgia line
If your travels take you north, Florida has a couple more courses near the Georgia border you might want to try.
The Amelia Island Plantation resort has two courses, one by Pete Dye, the other by Bobby Weed. The Oak Marsh Course is a Pete Dye classic. The course was built in 1972 shortly after Dye completed Harbour Town Golf Links in Hilton Head Island, S.C. It's known for its tight fairways and small greens in a course that bends and twists through salt-marsh creeks and Spanish moss-draped heritage oaks.
Oak Marsh hosted the 1991 PGA Section Championship and 1992 Society of Seniors Championship. It has landed on Golf Digest's list of the "Top 75 Resort Courses in the U.S." and ranked as one of Florida's 50 finest courses by Travel & Leisure.
Its sister course, Ocean Links, is on an Atlantic dune ridge with five oceanfront holes. Other holes push into the salt marsh, and still others pass lagoons or extend into a lake.
The course winds through six miles of natural sand dunes and seaside terrain. The par-70, 6,300-yard course appears easier on paper than it is given its small greens, narrow fairways and ocean winds.
So don't feel bad that you can't play the Sawgrass courses at tournament time. These courses are anything but consolation prizes.
More photos
«
»
April 26, 2011
Lisa Allen is a golf, travel and business writer based in Beaufort, S.C. She has edited newspapers, magazines and books in Michigan, Indiana and South Carolina. Follow her on Twitter @LAllenSC.