With nine golf courses, Plymouth, Massachusetts making a play as a New England golfing destination
By Ben Larsen,
Contributor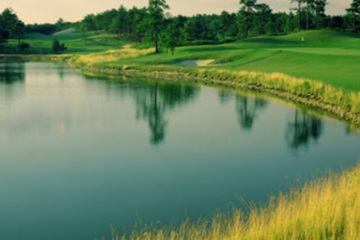 View large image | More photos
Carved out of a sea of pines, Atlantic Country Club remains a top-ranked public course. (Courtesy of atlanticcountryclub.com)
With golf courses like Atlantic Country Club and Pinehills Golf Club - and seven more in town - Plymouth, Massachusetts is making a play as a top New England golf destination.
Plymouth, Mass., is known worldwide for a number of reasons.
It was the site of the Mayflower's landing and the first ever Thanksgiving. It's nicknamed "America's Hometown" and with good reason.
With the recent influx of top-notch golf courses, however, Plymouth may soon be known for another reason - being a top-notch New England golf spot.
"The chamber of commerce is doing a great job of putting together golf packages," said Atlantic Country Club Head Professional Don Daley. "And with the high quality of courses in town, it's certainly becoming a golf destination."
Of the nine golf courses in Plymouth, Atlantic Country Club was among the earliest settlers, opening nine holes in 1994 before unveiling its 18-hole championship course a year later. It has received high praise ever since.
Much like its new neighbors, Atlantic Country Club is carved out of a sea of pines, plays along the natural landscape and remains a top-ranked public course among many publications.
"We didn't know at the time what the Plymouth golf scene would become," Daley said. "But the overall landscape of the town invites high quality courses."
Plymouth may be the largest town in Massachusetts, but the interesting thing about these courses is that they're all within a 20 mile radius of each other — a proximity that truly makes for a destination golfers can treat as a "trail" of sorts.
"With the way it's set up," said John Tuffin, head professional at Pinehills Golf Club. "It's very easy for golfers to make the day-trip from Boston and for vacationers on nearby Cape Cod to come play."
And those visitors certainly have their pick of the local litter.
For instance, Atlantic is just eight miles from Pinehills, the 36-hole resort that features golf courses designed by Rees Jones and Jack Nicklaus.
From Pinehills, Waverly Oaks Golf Club is just across the highway, a mere 2.8 miles. After Waverly Oaks, golfers can visit Crosswinds Golf Club, which is its next-door neighbor. Also in close range is Southers Marsh Golf Club and Squirrel Run Country Club, two of the area's less expensive courses.
The influx of high-quality courses nearby could have easily damaged what had been working for Atlantic Country Club, nestled in the southern-most portion of Plymouth. But that's not how Daley and company are looking at it.
Pinehills Golf Club brings golfers to Plymouth
"The big name is definitely The Pinehills," Daley said. "They advertise everywhere and bring a lot of golfers to the area.
"But if golfers come to the area to play The Pinehills and then stop by our course, we're more than fine with that."
And most of those golfers and their money come from bustling Boston, which lies 40 miles north or Cape Cod, flooded with tourists from Memorial Day through Labor Day. For the business types living or visiting Boston, a golf paradise is just a short drive away. Vacationing golfers on the Cape can escape the traffic and enjoy a different type of golf just a few miles up the highway.
And the Plymouth golf courses wouldn't have it any other way.
With that said, the goal of making money can only become a reality with a quality product. And the courses that make up what is becoming a golf destination are truly of the highest quality.
The aforementioned Cornish-designed Atlantic Country Club and Jones-Nicklaus 36-hole layout at The Pinehills are joined by three other top-notch facilities.
Waverly Oaks, which opened in 1998, arrived on the golf scene with much acclaim — and it lived up to those early expectations. With a number of holes clearly visible from Route 3, which spans the much-traveled Boston-to-Cape Cod route, Waverly Oaks helped set the stage for what turned out to be an upscale golf boom in Plymouth.
Less than a mile away is Crosswinds, which boasts three separate nine-hole tracks that make up three very different and very difficult championship courses. Each nine is named after a legend of the game. Jones opened in 2002, Ouimet in 2003 and Zaharias in 2006.
A few miles up the road is Southers Marsh, a unique par 61 set on and around several cranberry bogs. After opening in 2001, it was clear Southers Marsh was unlike its fellow Plymouth courses. But that certainly doesn't mean it can't add to the overall appeal.
Of course, the varying types of golfers interested in the region as a whole means more money coming in. In fact, a major motion picture studio will soon take over the land currently occupied by Waverly Oaks and its 27-hole layout.
Plymouth Rock Studios has recently agreed with Waverly Oaks to be the site of its 240-acre facility and plans to build film and television production studios, 14 sound stages, a theater, hotel and offices. Waverly will remain open during much of the building process but will cease operations following next summer.
As upset as some local golfers have been, however, the sale of the course and planned project speak to just how far Plymouth has come.
"It was a tough decision," Waverly Oaks owner Mark Ridder told The Patriot Ledger in July. "But this is a great opportunity not only for us but for the town."
While the town may have lost one of its flagship courses, the amount of business being brought in from the studios may become even more important to Plymouth and its golf courses.
More photos
«
»
July 30, 2008