Move over Las Vegas: Nevada golf touts plenty of other destinations

By
William K. Wolfrum
,
Contributor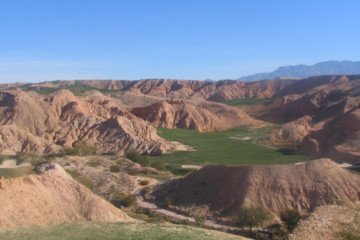 View large image | More photos
Many golfers rate Wolf Creek Golf Club in Mesquite the most scenic course in all Nevada. (Chris Baldwin/WorldGolf.com)
Vegas isn't the only game in Nevada golf. Fabulous scenery and great golf courses like Wolf Creek Golf Club and Lakeridge make Mesquite, Laughlin and the High Sierras terrific golf destinations in their own right.
The state of Nevada long ago ceded most of its identity to Las Vegas, and fiscally, at least, it's the right call. This glittering desert tribute to the human ID is a cash cow unlike any other, a perpetual jackpot for local and state coffers.
Sin City also means business as a golf destination, home to some of the best course designers' best courses.
But there's much more to Nevada golf than Sin City. The Silver State retains its aura of western beauty, and golf architects have taken full advantage of the desert landscape and mountain passes to create courses that well warrant a trip away from the Strip.
The best Nevada golf outside Las Vegas
Located about 80 miles from Vegas, Mesquite is making a golf name for itself with the awe-inspiring Wolf Creek Golf Club. Opened in 2001 with a Dennis and John Rider design, Wolf Creek has dazzled golfers with its amazing eye candy.
"Just an awesome golf experience!" wrote WorldGolf.com reader Bill Fitzgerald. "You cannot put this course into words, you have to play it to have any understanding of how spectacular it is. ... Top of the line golfing!"
While you're in town, take time out for a round at Falcon Ridge Golf Club, which lacks the hype of Wolf Creek but also earns plaudits for its views.
The High Sierras up north attract visitors mainly for their breathtaking mountains and rushing rivers, but in-the-know golfers swear by this underrated golf destination that packs more than 60 courses within a 60-mile radius covering areas as diverse as Lake Tahoe and Reno.
Reno's Lakeridge Golf Course, a Robert Trent Jones Sr. design, is a golf treat elevated to must-play status by its thrilling 15th hole. This brilliant par-3 shoots down 200 feet to a natural island green.
Heading south from Las Vegas takes you to the point where Nevada, Arizona and California meet in the pleasant Colorado River gambling community of Laughlin. This is a town that has spurted by leaps and bounds, and is now getting the golf its growth warrants.
Laughlin Ranch Golf Course is actually located in Bullhead City, Ariz., but it's literally a stone's throw from the Nevada border. This ultra-modern track plays to 7,155 yards from the tips with a 132 slope rating and plenty of risk-reward opportunities.
"There are a lot of elevation changes," assistant professional Paul Carr said. "It can be as hard or easy as you want - you just need to know your limitations."
When it comes to golf in Nevada, though, it's best to throw aside your limitations. You won't want to miss any of the golf opportunities in all corners of this grand state.
More photos
«
»
May 29, 2007
William K. Wolfrum keeps one eye on the PGA Tour and another watching golf vacation hotspots and letting travelers in on the best place to vacation. You can follow him on Twitter @Wolfrum.