Pinehurst Resort remains the Carolinas' sanctified golf grounds, but don't overlook nearby National

By John Daly,
Correspondent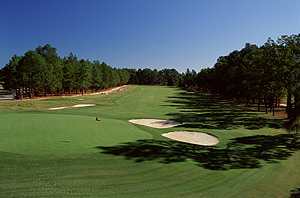 View large image | More photos
The late Payne Stewart won the 2000 U.S. Open on Pinehurst Resort's famed No. 2 course. (Courtesy of Pinehurst Resort)
PINEHURST, N.C. - A golf trip to Pinehurst has become a mini tradition for me thanks to the Jimmy V Celebrity Golf Classic. I can't recall the number of times I've been here, but each visit brings something new.
This year was no different. For the first time, I played No. 1, one of the oldest golf courses here, and No. 4 at Pinehurst, one of the venues for the upcoming U.S. Amateur. That means course No. 6 is the only course there I haven't played. Plus, we got a chance to play Pinehurst's National Golf Club, a Jack Nicklaus design.
One thing that hasn't changed for me is a visit to say hello to Payne Stewart. His statue overlooks the 18th green at on Pinehurst No. 2 where he won his U.S. Open in 2000. I had briefly met Stewart months after his U.S. Open win here and months before he died. Even though I barely knew him, I feel his image best represents what Pinehurst stands for: fun and golf.
Because of Payne's victory and his subsequent death, plus the bucolic setting at Pinehurst, you sense a reverence here. Actor Kevin Sorbo told me that Pinehurst seems like hallowed grounds. "It's almost second to religion."
Losing your religion on Pinehurst's greens
You can also lose your religion on some of the greens. The Donald Ross designs - especially on Pinehurst Nos. 1, 2, 4 and 8 - remind me of an elephant burial ground. I'm fairly proficient with the flat-stick, but Pinehurst had me guessing all weekend. I didn't shove any putts off the greens, but no matter what I read with the grain and the slope, it was wrong. I barely singed the edges of the holes.
If you get a chance after the U.S. Amateur is completed, go play course No. 4, which is being used along with No. 2. Members there say No. 4 is as good as No. 2. You won't get much argument from me. I've always said No. 2 is fair from tee to green but unfair around the greens. No. 4, on the other hand, is fairly tough from tee to green in addition to having No. 2-like greens.
I may have to qualify that, though. We played No. 4 two weeks before the Amateur when it was in U.S. Open shape. The rough was at least four inches deep; the fairways were narrow and tapered even further as you get closer to the green. The team who played with me included my wife Teri, singer Javier Colon, actor Dennis Haskins, N.C. State Assistant Basketball Coach Larry Harris. We weren't real smart. We were playing a Texas Scramble; you take the best drive of the team and everyone plays their own ball for the rest of the hole. We were hitting from the white tees, which made the holes relatively short. However, we continued to take out drivers and hit the ball into the massive rough. We finished in ninth place. Looking back, I should have been hitting a 5-wood to the 150 marker every time.
If you have the chance, play Course No. 1 at Pinehurst as well. This is Donald Ross' early creation. It is not a spectacular layout until you realize the course was built using horses and plows in the 1890s.
Checking out Pinehurst's National Golf Club
We always try to play a course or two outside Pinehurst Resort to mix things up. One year we played Pine Needles Resort & Golf Club, another Donald Ross design, where the Women's U.S. Open was played a couple of times. It's a great track that was redesigned a few years ago to go back to the original Ross design.
This year, our alternative was National Golf Club. Our Jimmy V host Rick Meadows made the suggestion. And it was a good one.
National is a Nicklaus design. And I can't figure out if Jack was being frugal or a little nasty. In certain places, there are trees in the middle of fairways and even on a tee box. To hit from the tips on a couple of holes, you will need to bend the ball. Ken Crow, National's general manager, sticks up for Jack. He says Jack "worked with the land he was given. This is one of the few golf courses where little earth was moved."
Typical of Jack, this course can be played by golfers of all handicaps. The five tee locations gives you anywhere from 5,000 to 7,300 yards in length.
The signature hole is number 5 - Batten's Wall - another typical Jack move. The drive on this par 4 is slightly uphill. The landing flattens out, but the approach is a 50-foot drop to a narrow green guarded by a creek, a stone wall (thus the name) and a bunker. Although not as spectacular as Pebble Beach's eighth hole, which Jack describes as the greatest second shot in golf, National's fifth hole will make you reset the swing a few times. Fortunately, I only missed a 12-foot birdie putt.
Pinehurst vacation advice
I recommend this course and the eight golf courses at Pinehurst Resort any time of year. If you're going to Pinehurst during the high season - spring and autumn - then make reservations at least six months in advance. However, playing golf at Pinehurst around Christmas time might be a little like playing golf in Britain or Ireland - something that appeals mainly to me. At that time of year, you could probably get a tee time right away.
If you're looking for a swinging night life, Pinehurst is not the spot. It's great for a couple's trip - even if one of you doesn't golf. Pinehurst has a world-class spa, quaint shops and plenty of places to sit and read. I don't have enough time to discuss the restaurants, but the food has always been top-class.
We sent my in-laws to Pinehurst for one of their anniversaries. I only wish I could have joined them.
My best suggestion for you guys: Grab seven of your buddies and do a long weekend of 36 holes a day, great meals and plenty of cheer. Guaranteed, Payne will be smiling. By the way, if you need an extra, call me.
John Daly, known internationally as host of Real-TV and House Detective (HGTV), is a long-time Las Vegas resident. He sports a 6.9 handicap and has played every golf course in Vegas. You can read John's golf blog here.
More photos
«
»
August 29, 2008
John Daly, known internationally as host of Real-TV and House Detective (HGTV), is a long-time Las Vegas resident. He sports a 6.9 handicap and has played every golf course in Vegas. You can read John's golf blog here