Phoenix-Scottsdale has golf packages to warm a winter golfer

By
William K. Wolfrum
,
Contributor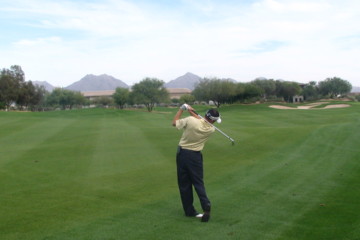 View large image
Kierland Golf Club in Scottsdale will have golfers enjoying the warm winter months on three separate nines. (Chris Baldwin/GolfPublisher.com)
As the temperatures around the nation start to cool, there are still a few places in the U.S. where traveling golfers will be flocking to get in all the golf their hearts desire. One of those places is Arizona, which has long been known as the winter golf hangout for millions of Americans looking to stay warm during those cold winter months.
But the "snowbirds," as they're called, are not the only ones who can enjoy the great weather and climate of Arizona. Arizona golf packages in the booming Phoenix and Scottsdale areas are setting golfers up left and right to enjoy some great golf courses at discount prices. With room, board and golf taken care of in one deal, it's easy to see why so many people take the easy route and hook themselves up with a package to take care of their needs.
Arizona Golf Packages is one of the prominent golf packagers in the state, and they have a virtual cornucopia of deals for golfers looking to both enjoy the warm Phoenix-Scottsdale weather and save money while golfing. And while golf packages to this golf mecca can be designed for any traveler, here are just a couple of the tasty offers golf travelers can take advantage of during the robust winter months in Phoenix-Scottsdale.
Legacy Golf Club
The Legacy Golf Club exemplifies so much that is good about the Phoenix-Scottsdale golf scene.
Just minutes from downtown Phoenix, the resort is a true example of the Southwestern lifestyle, as the Spanish mission style theme adorns the 12 individual buildings which house more than 300 suites. The suites are designed for prolonged and accommodating stays - each come with full kitchen or kitchenette to go along with balconies or patios that give guests sprawling mountain views.
As for golf, the Legacy Golf Course is a Gary Panks creation designed to give golfers a scenic and challenging day on the course. Well-manicured fairways and greens will have golfers working to score, while the native vegetation and trees make the rolling terrain shine at this golf course that measures out to just over 6,800 yards from the back tees.
Also playing: The Legacy Golf Club Package, which gives golfers three days stay at the resort, offers a round at the Legacy Golf Course, as well as rounds at Phantom Horse Golf Club and Kokopelli Golf Course.
Cost: $455-$655.
Westin Kierland Resort
Located in Scottsdale, the Westin Kierland Resort offers travelers a stay replete with luxuries. And the Westin Kierland Resort Package gives golfers a chance to truly drink in that luxury while enjoying world-class golf opportunities.
The Westin Kierland Resort & Spa is the perfect resort for the entire family, as not only are there 27 holes of golf to play, but a spa that focuses on the health and wellness of old Arizona, a waterpark with waterslide, numerous dining options, live entertainment, and much more.
For the golf at Kierland Golf Club, players not only can attack the three separate nine-hole runs designed by Scott Miller, but they can also get a sense of privilege, as this is a run that stands out from the rest when it comes to amenities. From the bagpiper at the starting hole, to air-conditioned carts that will keep a player cool during the warm Scottsdale winter, Kierland Golf Club has something for everyone.
"With its bagpiper, air conditioned carts and experiments with Segway scooters as golf carts, Kierland's attracted a reputation as something of a different thinker in Phoenix-Scottsdale golf," wrote Chris Baldwin in his review at GolfArizona.com. "Maybe that explains why the crowd seems to be a little more diverse here. On this afternoon, there were more women, beginners and juniors out playing Kierland's three nines than you see at many Arizona courses in an entire week.
Also playing: All told, the Westin Kierland Package offers traveling golfers a three-night stay at the resort and rounds of golf at the Kierland course, as well as at Legend Trail Golf Club and Dinosaur Mountain at Gold Canyon Golf Resort.
Cost: $930 - $1210
October 15, 2007
William K. Wolfrum keeps one eye on the PGA Tour and another watching golf vacation hotspots and letting travelers in on the best place to vacation. You can follow him on Twitter @Wolfrum.