Hit the links in Arizona: Phoenix-Scottsdale is a winter wonderland of great golf

By William K. Wolfrum,
Contributor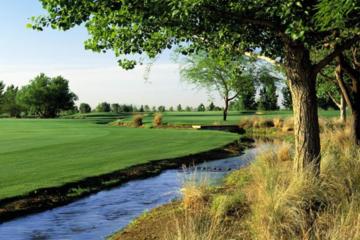 View large image | More photos
Golfers give Talking Stick Golf Club high marks, not just for the quality of play, but for the scenery as well. (Courtesy of Talking Stick G.C.)
For many golfers, a winter trip to attack the golf courses of Arizona is an ultimate fantasy. Imagine being elbow deep in snow up north, hopping on a plane, then having your biggest worry be to keep that same elbow straight on a great Arizona golf course.
Such is the beauty of Arizona, particularly in the golf-rich Phoenix-Scottsdale area.
Winter doesn't come home to roost in these parts, meaning golf is always an option. And not just golf, but world-class golf at that. Few areas on the globe receive such consistent high praise from such a wide variety of sources as the Phoenix-Scottsdale area.
So while you're staring at the map, wondering if this is the year you'll be spending some of your frigid winter in the sunny climes of Arizona, lets take a look at a few of the praiseworthy golf courses awaiting you, and see what all the fuss is about.
Talking Stick Golf Club
Created by Ben Crenshaw and Bill Coore, the designers of the famous Sand Hills Golf Club in Nebraska, Talking Stick has been a haven for golfers looking for a traditional day on the course.
Golfers have given Talking Stick Golf Club's North course and South course high marks, not just for the quality of play, but for the scenic qualities built into it by Coore and Crenshaw. The flat, treeless layout offers players prawling views of Camelback Mountain, the McDowell Mountains and Pinnacle Peak with a flat landscape and no trees.
"I have played the course several times and it is challenging although at times it can be deceiving. Many of the holes require some strategy and playing on the edge of the desert is enjoyable. To play a course that has the same architects as the Sand Hills is rewarding!" said reader David Weiner.
Raven Golf Club at South Mountain
Open for a little more than a decade, Raven Golf Club at South Mountain has piled up the press clippings as a course that won't destroy the fragile egos of the average hacker, while giving low-handicappers plenty of the challenges they are after.
The more than 5,000 pine trees planted by designers David Graham and Gary Panks have slowly matured, helping to add their influence to Raven. While there are more dynamic courses in the area, Raven is the type of course real golfers go - it's reasonably priced, has large greens, and will give you a solid 18 holes of play.
"The Raven Golf Club at South Mountain is a nice course, with lots of pine trees which are unique for Phoenix. The service is great and it's an all-around good place," wrote reader Kristof.
We-Ko-Pa Golf Club
When it comes to scenery, We-Ko-Pa steals the show in the Phoenix-Scottsdale area. Built on a Native American reservation, golfers are just as thrilled about what they don't see at this Scott Miller run - houses.
With no homes and desert views of the Four Peaks and three different mountain ranges - the McDowell, Red and Superstition, We-Ko-Pa boldly splashes the Arizona golf scene with its own style.
Plenty of forced carries along with the typical desert dangers, as well as immaculate conditioning make the Saguaro course at We-Ko-Pa Golf Club a must play in nearly everyone's book.
"Everyone should make it out to the reservation to play a round. It is worth the trip. Forget about the price. It is the best course in Arizona, even better than Troon - trust me, I've played both. Troon is nice, but We-Ko-Pa is better," wrote GolfArizona.com reader Chase King.
Also be sure to check out the Cholla course at We-Ko-Pa Golf Club.
More photos
«
»
February 1, 2007
William K. Wolfrum keeps one eye on the PGA Tour and another watching golf vacation hotspots and letting travelers in on the best place to vacation. You can follow him on Twitter @Wolfrum.