Top Phoenix-Scottsdale resorts boast golf tailor-made for a corporate outing
By
S. Adam Cardais
,
Contributor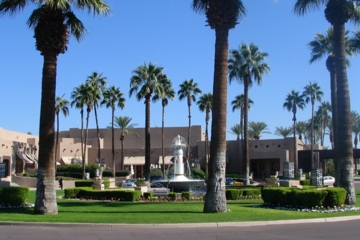 View large image | More photos
With nearly 40,000 square feet of meeting space, the Wigwam Resort and Golf Club is an excellent place to gather the team for a Phoenix-Scottsdale corporate golf getaway. (Chris Baldwin/WorldGolf.com)
For a first-rate corporate golf retreat, two things are required: an excellent place to stay and great golf courses.
Phoenix-Scottsdale has both.
The area is one of the most resort-rich in America, boasting complexes such as the revered Wigwam Resort and Golf Club. Add to that world-class public tracks such as Karsten Golf Course, and you've got a recipe for one heck of a corporate golf getaway.
Here are a few tips on where to meet and play golf.
Phoenix-Scottsdale Resorts
Wigwam Resort and Golf Club: With 38,000 square feet of indoor and outdoor meeting facilities, this resort services more than 70,000 meeting guests every year. But the real attraction is Wigwam's three on-site golf courses: The Gold, Patriot and Red courses.
More than 76 years in operation, the Wigwam boasts 331 guest rooms, including 72 luxury suites, three pools, the Red Door Spa by Elizabeth Arden and the Jim McLean Golf School.
Red's Steakhouse serves excellent steaks, chops, chicken, seafood and signature desserts by chef John Garcia. The restaurant boasts a large wine cellar, a bar and lounge with pool tables and flat screen televisions and an outdoor patio with a fire pit.
JW Marriott Desert Ridge: Located in Phoenix, this is another great option, with 200,000 square feet of wireless event space. Desert Ridge is one of the city's largest and newest resorts, boasting 950 rooms, and has proximity to 36 holes of golf at the Wildfire Golf Club and a playground of off-course entertainment, with great restaurants, shopping and even a water park nearby.
The AAA Four-Diamond-rated Ristiorante Tuscany serves grilled meats and seafood and, of course, pastas. The dining room opens to a large outdoor waterside patio with views of the resort's Isle of Capri. The restaurant also boasts an expansive wine list.
Phoenix-Scottsdale Golf Courses
Gold Course and Patriot Course at Wigwam Resort and Golf Club: Originally designed by Robert Trent Jones Sr., the Gold and Patriot courses recently underwent a $5 million makeover. Forrest Richardson, a renovation architect, used aerial photos from the 1960s to recreate Jones' original bunkering.
The Patriot course had the most done to it, but the renovation had more of an impact on the Gold. The now 7,300-yard golf course came out of the facelift with some seriously daunting Jones-style bunkers.
"The Gold Course renovation, while not as dramatic in some ways, is liable to intrigue recreational golfers even more" than the Patriot Course, Chris Baldwin wrote in a review for GolfArizona.com. "For on the Gold all the bunkers have been completely redone to make it play like Jones designed it to play."
Karsten Golf Course: Only about 10 minutes from the airport, Karsten Golf Course is run by Arizona State University, where little known golfer Phil Mickelson cut his teeth. Karsten is considered one of the toughest college courses in the nation because of its bunkering. The hazard on the 380-yard No. 8 resembles a Martian crater more than a bunker.
The punishing hazards shouldn't come as a surprise, as Pete Dye is credited with designing Karsten.
The Phoenician: If you want the team to unwind with a quick round after a long meeting, why not play nine? The Phoenician has three excellent nine hole courses: The Canyon, Desert and Oasis. The Oasis guides golfers through a tour of the facility, then into a housing development before bringing them back to the hotel at No. 9, where the resort sits behind the green. Watch out for the formidable water hazard there.
The Canyon boasts views of Scottsdale and is the easiest of the three courses, with water on only four holes. The Desert course will challenge you with its length and the surrounding desert landscape.
More photos
«
»
July 10, 2007