PGA Merchandise Show full of drivers, gadgets and more
By Staff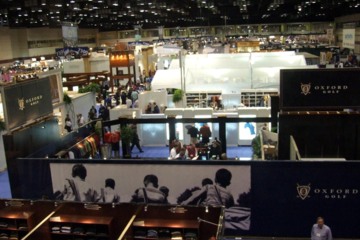 View large image | More photos
This year's PGA Merchandise Show featured 1,250 exhibits and 400 companies new to the show. (GolfPublisher.com)
More than 1,200 interactive exhibits, 43,000 attendees and 500,000 square feet were required to mount the 2007 PGA Merchandise Show in Orlando. Some 400 companies were rookies to the spectacle of equipment, gadgets and more, each with a distinctive way of setting themselves apart from the crowd.
It was a lot to take in, even with four days to do it (including demo day at Orange County National). WorldGolf.com and TravelGolf.com reporters were on hand to sort it all out and bring you the best and worst for 2007.
Travelgolf.com's Tim McDonald capped the show by offering a brief list of his "best-ofs", including Best Driver (MacGregor MacTec NGV2), Best Putter (Heavy Putter) and Best Gimmick (Advisor's GPS in a Hat).
Demo day kicked off the show. While McDonald was hitting everything he could get his hands on, WorldGolf.com's Brandon Tucker was capturing all the sights and sounds.
While many manufacturers labor to push the envelope of golf-ball technology, one company has taken a step of revolutionary simplicity: a dimple-less ball. The smooth-surfaced Caesar Golf Ball promises greater accuracy (but less distance).
Square drivers were the big show on the range, but Taylor Made isn't biting - and isn't shy about broadcasting its skepticism, according to TravelGolf.com's Chris Baldwin.
"Company reps are virtually waging an anti-square driver campaign. They'll knock them to anyone who's willing to listen," Baldwin blogged. 'There's a couple of things with the square,' TaylorMade's Brian Bazzel said. 'We still like the traditional look and shape. And any gain in MOI [moment of inertia] with the square comes back to bite you in backspin on miss shots.'"
The driver demos were noticeably short of women, as McDonald reported. According to Tucker, the X-chromosome crowd stayed stuck to the fashion and apparel wing of the show:
"It isn't surprising the apparel wing is dominated by flashy women's attire. You'll find everything from bright pink bathrobes to bright magenta sun hats to shoe selections that would make Al Bundy groan. Puma even has some kind of trendy moon boot-type golf shoe that looks more fitting for Aspen."
As always, the show had no shortage of head-turning gadgets and novelties. Rangefinders promising accurate yardage and faster play. Specialty golf carts, including a Hummer H3 that runs close to $40,000.
And you could find just about any kind of golf simulator, from instructional to recreational (those were the ones featuring Hollywood celebs). Many are priced far beyond most golfer's budgets (think $20,000-$40,000), but WorldGolf.com blogger CB Maxwell something in his price range:
"Dancing Dogg has the answer at less than $400! Oh my … there goes the industry! Sorry to say, but technology has caught up with golf in this respect much like the calculator. The technology is flawless and has the support of a world-class software guy with affordable high-speed infra-red readers which measure everything."
There was even a golf-travel section, dominated by Ireland, with representatives from just about every corner of the Emerald Isle. But several would-be meccas were also vying for attention, including China, Malaysia, Costa Rica and Alberta, Canada.
More photos
«
»
February 5, 2007