Papago Golf Course renovation highlights Phoenix municipal golf

By
William K. Wolfrum
,
Contributor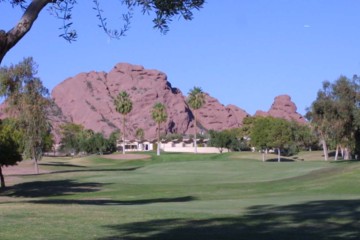 View large image | More photos
The ninth hole at Papago Golf Course, which will be soon receiving an $8-million renovation. (Courtesy of phoenix.gov)
Papago Golf Course has long had the reputation of being the finest municipal golf course in all of Arizona. And while the years have taken away some of its charm, a new, $8-million renovation looks to bring the course back to its former glory.
Designed by William Bell and opened in 1963, Papago is located just off the 202 Freeway and was redesigned by Jack Snyder in 1977. In its prime, the course received more than 100,000 rounds per year. The years have slowly caught up with it, notably in the irrigation system, which, at 44 years, is as old as the course itself.
The City of Phoenix will work in a joint venture with the Arizona Golf Association on the renovation, and the plan consists of overhauling the irrigation system, improving the greens, fairways, bunkers and tee boxes, as well as restoring the practice facilities and pruning many of the overly mature trees.
"We are on borrowed time," Rob Harman of the Phoenix City Parks and Recreation Department told the Arizona Republic. "And we want to be ahead of the curve where we can take care of some of these issues so people will be proud to play it again."
The renovation plan calls for Papago to be shut down on April 1, 2008 and re-open in December 2008. Currently green fees are $28 with a cart fee of $15, but they are expected to rise to help defray the costs, though residents will likely receive a substantial discount. Those in the Arizona golf industry seem pleased about the plan.
William Godfrey, who wrote the book "Papago Park, The Golf Course and its History," told the Arizona Republic that the renovation is timely.
"I feel this is a defining moment for public and municipal golf in Arizona. It has huge implications," said Godfrey. "If the partnership is successful, there will be more municipal courses in the state that follow this public/private joint venture. If it fails, I feel the number of municipal courses will dwindle."
Of course, Papago is just one of several municipal golf courses in Phoenix. Here's a look at a few others.
Phoenix municipal golf courses
Encanto Park Golf Course: Encanto, which came to life in 1935, is the third oldest course in all of Arizona. Wide fairways and mature palm and salt cedar trees frame your round, which offers views of downtown Phoenix. Playing to a slope rating of 111 from the back tees, Encanto is a popular stop for those looking to sharpen their games in a relaxed environment, while not spending much to play 18.
Cave Creek Golf Course: Built as a landfill reclamation project in 1983, Cave Creek is currently the most popular municipal run in Phoenix, receiving more than 100,000 rounds annually. A well-staffed pro shop and a course that plays to a slope rating of 122 make it a popular place for golfers of all skill levels.
Aguila Golf Course: The newest of the Phoenix municipal golf course family, Aquila has an 18-hole championship run to go along with a nine-hole par-3 course. Designed by well-known golf course architect Gary Panks, Aquila offers golfers scenic views to go along with a challenging run that plays to a respectable 125 slope rating, meaning even scratch golfers know they'll be getting a challenge. Lessons are available and a post-round meal can be enjoyed at the Eagle's Nest Cafe.
More photos
«
»
October 19, 2007
William K. Wolfrum keeps one eye on the PGA Tour and another watching golf vacation hotspots and letting travelers in on the best place to vacation. You can follow him on Twitter @Wolfrum.