Golf in northwest England: So tough even the pros are scaredGolf in northwest England: So tough even the pros are scared
By
S. Adam Cardais
,
Contributor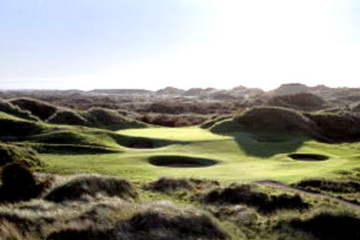 View large image
Royal Birkdale's tough terrain and sea winds make it one of northwest England's most challenging plays. (Courtesy Alan C. Birch)
Some golfers play for relaxation, some for challenge. Then there are those who play for pain. If you're the latter, England's northwest coast is a dream golf destination.
The region's top golf courses, including famed Royal Birkdale, are tough enough to have hosted some 30 British Opens over the past century, so the average duffer is in for a test. Here's a rundown of some of the most difficult tracks on England's "golf coast."
Hillside Golf Club: Even the pros are scared of this 6,800-yard track. Rod Pampling said Hillside at the 1998 Open qualifying was the toughest course he'd ever played. Famed British golf commentator Peter Alliss termed the first nine holes "frightening, particularly when the wind blows from right to left," according to the Web site England's Golf Coast.
Hillside is more than just a punisher, though. It is a revered track that has hosted numerous world-class events, including the British Ladies Championship and the European PGA Championship. Greg Norman called the course's back nine the best in Britain.
Royal Birkdale Golf Club: Nearly 6,700 yards of high dunes and high winds, Royal Birkdale has been the site of Ryder Cups and next year will host its ninth British Open.
Like many links courses, Royal Birkdale's difficulty is in its environment. Gusts blowing in off the sea are a factor most days. The course also features one of the longest par-4s in championship golf, the 498-yard 13th.
Royal Lytham & St. Annes Golf Club: With more than 200 bunkers on the fairways and greens, Royal Lytham is a precision course that will test your accuracy.
Founded in 1886, it has hosted two Ryder Cups and 10 Open Championships. George Lowe, the club's first professional, designed the layout, which has remained largely unchanged since a 1919 revision by Harry Colt.
Royal Lytham's Web site frankly acknowledges the course isn't a beauty, "surrounded as it is by suburban housing and flanked by a railway line," but it is nevertheless considered one of England's best. Following the 2001 British Open here, former European Ryder Cup captain Mark James said it should be the model for all British Open courses.
Formby Golf Club: If you're not long off the tee, you'll have trouble at this 7,024-yard track near the Irish Sea coast, founded by a group of local businessmen in 1884.
But brawn isn't all that matters here. Accuracy is important too. Heather and rough form a natural boundary on every hole, and bunkers and sand hills dot the course.
April 3, 2007