Wales is home to some exceptional, and undiscovered, golf

By
Andrew Penner
,
Contributor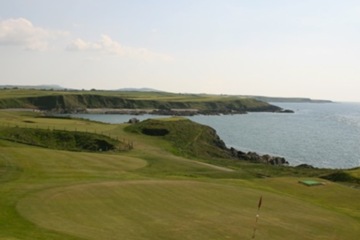 View large image | More photos
Nefyn & District Golf Club's par-4 12th hole is one of the more perplexing holes in golf. (Brandon Tucker/TravelGolf)
The Welsh discovered America. Elvis Presley was a Welshman. Many of the world's best links courses are found in Wales. All these things, and more, I recently discovered on a trip to Wales. Were they pulling my leg on those discoveries? Well, perhaps a decent argument could be made against some of those 'facts.' But, you know what? The Welsh are pretty darn good when it comes to backing up their claims - especially when it comes to their golf.
The gorgeous country called Wales, a rocky and rolling, sheep-strewn swath of land squeezed between England and the Irish sea, is, in every stretch of the imagination, home to exceptional - and widely undiscovered - golf. From the southern shores of Swansea, the lush valleys of the interior, to the castle-lined shores of the north, Wales has plenty of inspiring options when it comes to knocking around the gutty.
While Wales has a plethora of bold and historic links courses that golfers can sink their pegs into, it's actually this country's golfing future that's getting much of the attention these days. In seven years the grandest arena for golf will arrive in Wales. The Celtic Manor Resort, plunked into a lush valley near the capital, Cardiff, will host the Ryder Cup in 2010. Are they excited about that? Did they discover America?
Oops. Of course, most of the world is widely unaware of one Prince Madoc, the real discoverer of America. In 1170, so the story goes, Prince Madoc, an heir to the throne fleeing his war-ravaged country of Wales, set sail to the unknown West. He came back a number of years later and talked of a vast, undiscovered country and, a short time later, went back with a great fleet of Welsh settlers. They were never seen again. Today, the legendary story is authenticated by the remnants - castle ruins built in the exact same style of Welsh castles from that era - still visible near Mobile, Alabama.
But we'll let the historians deliberate on that one - as they most certainly are. Of course, if it's true they'll have to reprint an awful lot of text books - and perhaps rename the United States of America. Shouldn't cause too much tension.
There may be no other area of the world that contains more undiscovered sea-side gems than in Northern Wales. The Celtic Manors, the Royal Porthcawls, the Pennards, the Tenbys; they are fabulous courses that shouldn't be missed in the south. But the north of the country - high, rugged, wave-battered coastlines that feel the fury of the Irish Sea every day, lush, sheep-dotted fields bordered with ageless rock walls - aye, this is golf country.
One of the most unbelievable settings for golf the world over is found at a place called Nefyn. Dating back to 1907, the Nefyn & District Golf Club is a place not to miss. While there are a couple of awkward holes squeezed into spots that make play somewhat cramped, the cliff-side holes that crawl out into the sea on a rugged spit of land - six of them, in all - are something to behold and worthy of the journey alone. The highlight of this stretch comes in the form of a do-or-die par-4, the 415-yard 13th, which beckons the bravest of the brave to blast one over a massive cove that tears into the landing area 240 yards out. From there, golfers hit to a slender green that's pinched between rock and sea.
Nefyn is not your typical layout. It's rather quirky, rather old, and rather frustrating at times, but it is entirely unique and completely spectacular. "Like playing golf on the deck of an aircraft carrier," claimed a former honorary secretary. Throw in a quick pint at the tiny pub that's tucked into a picturesque cove (accessible after playing the 12th and 15th ), and you've got an experience that you'll remember for years to come.
High on the wind-whipped peninsula with nary a dune in sight, Nefyn is not actually a true links course. However, three other fabulous courses come to mind when considering the north of the country - Aberdovey, Conwy, and Royal St. David's - and they most certainly are.
Royal St. David's Golf Club, the host course for the Wales Senior Open on the European Tour, is nothing short of a classic links route - the epitome of links golf, if you will. Playing to a par of 69 - perhaps the toughest par-69 in the world - with the stoic grandeur of Harlech Castle hanging above the course, and fairways woven through massive dunes that shield golfers from the sea, the setting at Royal St. David's is simply stirring. The last five holes boomerang around some particularly impressive dunes and provide for a dramatic finish to what many would consider the best test of golf in the entire country.
Conwy Golf Club, which recently was chosen as a qualifying site for the 2006 British Open at Royal Liverpool, is another solid links test. The club's history dates back to 1869 when a few rough holes were laid out on marshy land at the mouth of the River Conwy. It's possible that this is the site where golf was first played on Welsh soil. Conwy is a fairly stern, gorse-riddled test that belts out the same warning as every other links course on the planet: when the wind starts howling, look out! Those qualifiers seeking glory in the British Open in 2006 will have their hands full here.
Aberdovey Golf Club, yet another wind-battered links route, is a place with much esteem. It was here, in the late 1880s, that literary giant Bernard Darwin fell in love with the game. He was Aberdovey's first Club Captain. Also, Ian Woosnam, perhaps the best player to have come from Wales, was also captivated by the charm, challenge, and beauty of Aberdovey. From time to time, when needing respite from a busy schedule, Woosie can been seen sauntering around the famous links.
Oh, and considering that he's a Welshman, you'd think there might be the odd Elvis sighting at Aberdovey as well (apparently Elvis' family roots can be traced back to "the valleys" of mid-Wales). But perhaps we'll expand on that next time.
What has been sighted in Northern Wales, however, is a relatively unchanged game that speaks volumes of this country's tremendous beauty. Courses, castles, and country inns - mounted along the coastlines, tucked into valleys, the green fairways shadowed by the mountains of Snowdonia and Conwy. One thing is certain, of all the discoveries that will be etched in your memory, the golf will run the deepest.
Off course in Wales
Wales has numerous castles and historic buildings to explore. Harlech, Caerphilly, Beaumaris, Conwy, and Caernarfon are a few of the most famous castles in Wales. Also, don't miss a visit to Portmeirion, which is one of the most impressive architectural achievements in Wales. Portmeirion is a beautiful, secluded, cliff-top village built in classical and Palladian themes. Another area of supreme beauty is Snowdonia, a mountainous region in Northern Wales. This is the ultimate region for outdoor enthusiasts. Here hiking, fishing, biking, and climbing take center stage.
More photos
«
»
Andrew Penner is a freelance writer and photographer based in Calgary, Alberta. His work has appeared in newspapers and magazines throughout North America and Europe. You can see more of his work at www.andrewpenner.com.