Headed to Royal Birkdale for the British Open? The links golf courses of North Wales are calling

By Brandon Tucker,
Managing Editor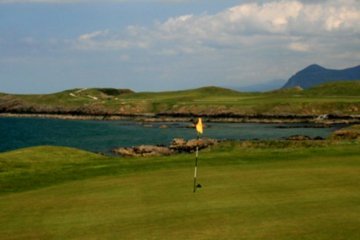 View large image | More photos
Stunning Nefyn & District Golf Club is just a short drive from Liverpool and British Open host Royal Birkdale. (Brandon Tucker/WorldGolf.com)
Have plans to visit England for the British Open? Take a detour to North Wales. From Nefyn & District Golf Club to Royal St. David's Golf Club, Wales features great links golf courses.
HOLYHEAD, Wales - If you've got tickets to the 2008 British Open at the Royal Birkdale Golf Club, or plan on being around the area that week, chances are the golf bug is going to hit hard.
With so many links golf courses both around Liverpool and the rest of the United Kingdom at your disposal, it would be downright cruel to simply watch the action all week without taking your own clubs for a spin or two.
And if you're planning on seeing the action at the Open, it makes perfect sense to book a few rounds of golf on your own both before or after the Open Championship, and the coast of North Wales is a worthy option.
Making the trip down to Wales come with plenty of benefits. Tee times will be easier to come by if you escape the packed, golf-enthused crowds between Manchester and Liverpool. You'll also save some cash. Generally speaking, groups can spend seven days in Wales for the cost of four in England's Northwest.
North Wales is less populated and more old fashioned than the bustling south coast of Wales, which is home to the capital port city of Cardiff, not to mention large hubs like Newport, Swansea and Porthcawl.
It sounds exotic and off the beaten path. But that's hardly the case.
"It sounds remote," says Gethin Morgan, officer of tourism on the Isle of Anglesey. "But it's actually very easy to get to."
The A55 freeway, which extends across Wales northern coast all the way to Holyhead, the northwestern Port on the Isle of Anglesey, is a fast-moving, two-lane motorway and is only about two hours or less from Manchester. It makes the quick jaunt from Birkdale or its surrounding cities a no-brainer.
North Wales' best golf courses
Nefyn & District Golf Club: Though it garners comparisons in scenery to Old Head and Pebble Beach, there is no course quite like Wales' poster child, Nefyn & District.
It has an unusual 26 holes, as it features alternate "back eight" options. The Old Eight tightropes along a peninsula, making for some of the most dramatic - and quirky - golf around. The New Eight play further inland, but you're still in view of the ocean from every spot.
Bull Bay Golf Club: Perhaps Wales' best heathland, Bull Bay Golf Club is the Isle of Anglesey's must-play course, set on land high above the sea, making for some breezy rounds and rolling land played through heavy gorse.
There's a little bit of everything here. No. 2 plays over a public road, while No. 7 requires a shot over a little shed. There is no obstruction on the gorgeous 18th hole, just 446 yards, straight downhill towards the sea.
Royal St. David's Golf Club: Considered by many to be Wales' top pure links test, the 13th century Harlech Castle ruin looming over the club is an enchanting bonus. Just a par 69, the back nine is home to long par 4 after long par 4, making for one of Wales' most grueling links.
Conwy Golf Club: The historic town of Conwy and its neighbor Llandudno are home to three solid golf courses, the best of which is Conwy Golf Club. Its recent redesign by Donald Steele has given it some serious teeth, thanks to the addition of many bunkers, which has made it a popular stop to host some of the country's most prestigious events.
Up the road, North Wales Golf Club is an equally historic 19th century links, though not as challenging. It is home to a collection of remarkable par 3s. Across the street, Maesdu Golf Club is a scenic parkland overlooking the bay.
Aberdovey Golf Club: This course is a little further south and tougher to get to compared to the above courses, occupying a serene piece of Snowdonia National Park along the coast. So, if you've got a tight schedule up at Birkdale, you might have to cross this one off. If not, this is one of Wales' most charming traditional links courses.
Other golf courses in North Wales
Porthmadog Golf Club in North Wales features a rather unassuming front nine parkland course before heading out to true links land for the back side. Holes No. 10 through 16 are set on as rugged and entertaining linksland as you'll find in the isles, including the No. 12 tee shot over beach.
The Isle of Anglesey features a remarkable golf offer: £79 for a pass to five rounds on its golf courses. Play each course once or just play your favorite five times. It's a discount of over half off the list guest price.
Where to stay in North Wales
North Wales is full of top notch accommodation options. There's a much better chance of vacancy around the British Open than up near Birkdale, too.
If you're looking to stay in the heart of vibrant Conwy, the Castle Hotel (Tel: 01492 582800) is your pick. It's a 3-star option with a great location on High Street. Rooms are recently renovated and upgraded, full of style and comfort.
For country houses, the 4-star Plas Dinas Country House (Tel: +44 (0)1286 830214) is ideal. It's the former home of royalty - Princess Margaret - and dates back to the 17th century, and they still have plenty of memorabilia around to prove it. Modern guest room amenities compliment its magnificent Victorian stylings.
Perhaps Wales' most unique luxury resort (and all of the U.K. for that matter) is the Portmeirion Village (Tel: 01766 770000) near Porthmadog. It's a fantasy land built by local architect Clough Williams-Ellis over nearly 50 years ago. There are numerous accommodation options here, from the contemporary Castell Deudraeth to the Portmeirion Hotel along with self-catering cottages.
If you choose to stay on the Isle of Anglesey, the Tre-ysgawan Country House Hotel & Spa (Tel: 01248 750750) is a four-star retreat with a full service spa and fine dining set in a 19th century country house. Its grounds are beautifully manicured for long walks, and the golf courses of Angelsey are all nearby.
For more information on golf in Wales, see www.VisitWales.com.
More photos
«
»
July 7, 2008
Brandon Tucker is the Managing Editor for Golf Advisor. To date, his golf travels have taken him to over two dozen countries and over 500 golf courses worldwide. While he's played some of the most prestigious courses in the world, Tucker's favorite way to play the game is on a great muni in under three hours. Follow Brandon on Twitter at @BrandonTucker and on Instagram at BrandonTuckerGC.